Google Street View – a technology feature that offers panoramic views from positions along many streets and locations in the world – has expanded to Jordan, home to some of the world's oldest and most awe-inspiring ancient ruins. It is the fifth and largest Google Street View project that Google has launched in the Arab world.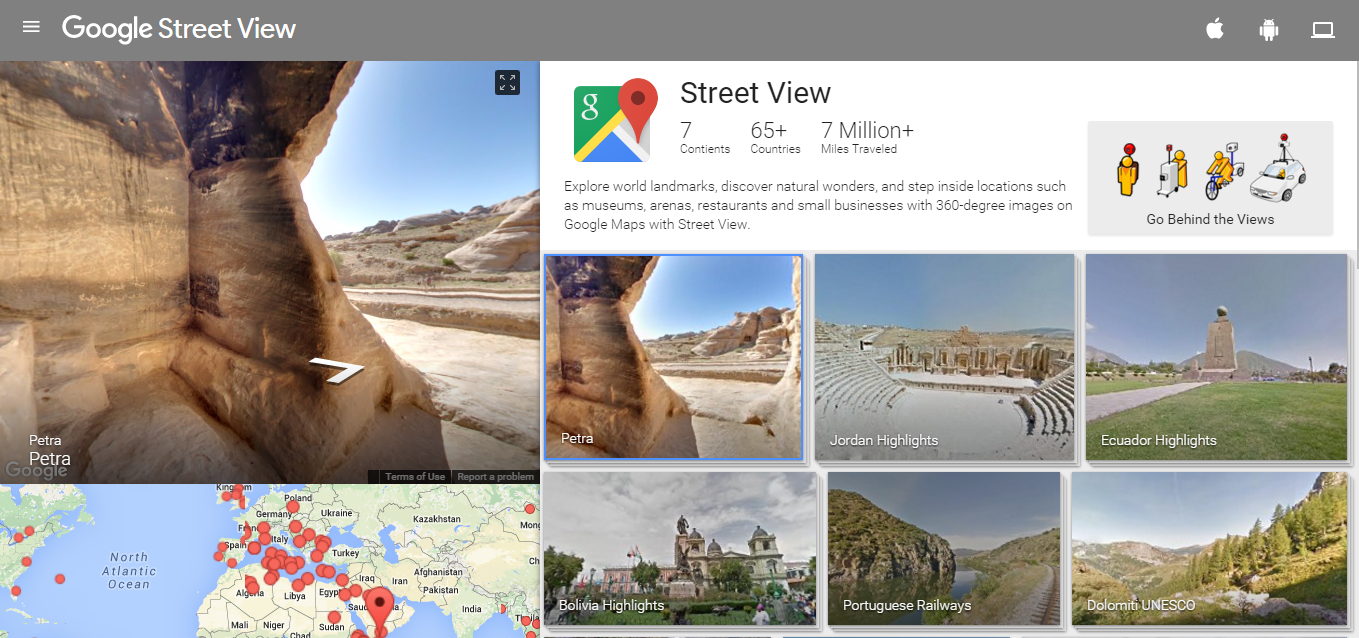 Travellers who wish to explore the Arab world in virtual reality before taking a trip there can now navigate into as many as 30 historical sites across Jordan, including the fascinating landscape of Petra i.e. one of the new Seven Wonders of the World. The landscape of Petra is situated just 150 miles south of Amman, the Jordian capital.
The 2000-year-old city of Petra – also called as the Rose City – is well-known for rugged, pink and white mountainside terrain. The city was built by Nabateans in 312 BC. The ancient ruins of the city were kept concealed from the outside world until the 1800s. Today it is one of the most popular tourist destinations of UAE.
The interesting video below shows the ruins of Petra which has transformed from a stubborn stone into a living sculpture:
According to Queen Rania Abdullah, the video is a 'personal invitation from the Queen to visit Jordan'. In her blog she has mentioned that the video is a great taster of what visitors can expect when they come to Jordan. Focusing on the technology of Google Street View and its relevance, she stated:
"It provides a lens on the past. And when we understand more about each other's stories and cultures and histories, we realise that we are more alike than we are different. That's why we must preserve these treasures for future generations. They're a doorway to our shared narrative."
Other images of Petra in Google Street View include Al Khazanah, The Theatre, The Skull Cave, various tombs and temples as well as a look inside the Petra Museum. Google Street View had earlier released images of Pyramids of Giza, the Liwa Desert and Burj Khalifa of the UAE.
Elaborating on the extension of Google Street View on Jordan, Ulf Spitzer, Global head of the Google Street View Programme quoted:
"The Google Street View team tries to go to amazing places around the world because we know that our users love to see them and experience them online. Jordan is one of the most spectacular places that we have visited — thanks to the amazing support and warm hospitality that was extended. We hope our imagery conveys all the grace, beauty and deep heritage of the country,"
With Petra and Jordan being featured in Google Street View, Google attempts to re-engage interest and give the travellers a chance to get a virtual tour of Jordan from the comfort of their homes. The project took around 12 months to complete and the sites have been selected in consultation with Queen Rania Al Abdullah of Jordan.