Yesterday, I received a promo-emailer from Goibibo, one of the leading B2C travel aggregators of India. The email was apparently sent to all Goibibo users like me and had factoids on the astounding growth of Goibibo as India's largest hotel booking platform. The Gurgaon based travel aggregator states that the research has been conducted by Morgan Stanley and also claims that on the business side, its platform inGoibibo has the largest usage among hoteliers.
For many observers in travel industry, this growth might come across on expected lines as Goibibo has been heavily incentivising its users with huge cashback offers including goCash resulting in overall increase in traction across hotels.
But is there a catch somewhere?
The data by Goibibo is in stark contrast to a recent report on Indian hotel bookings by research agency, Millward Brown. According to their report, MakeMyTrip leads the OTA hotel booking segment with close to 25% market share followed by Goibibo with 18.9%. The report adds that MakeMyTrip currently has 27,500 hotels and guesthouses in India and 255,000 hotels outside India listed on its platform.
MakeMyTrip which had recently received US$180 million in investment from China's leading travel agency Ctrip.com states that funds will go towards aggressively increasing its market share in the online hotel booking space from 25% to 50% in the next 3 years.
Switching back to the research by Morgan Stanley, the graph below shows that the online bookings are inclined in favour of Goibibo across the metro & non-metro clusters. Even in tourist hubs Goibibo's growth graph peaks compared to its competitors.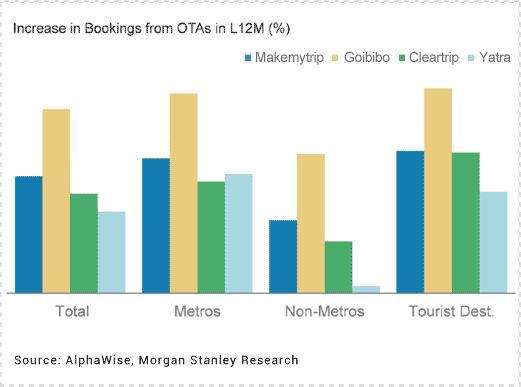 Morgan Stanley's research paints a different representation of the % hotel volume share among OTAs.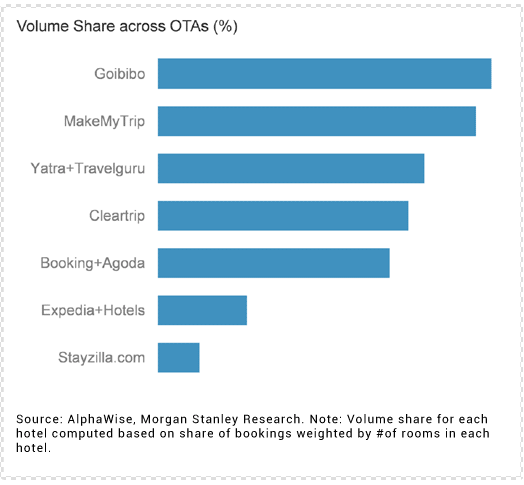 Goibibo's incremental share of bookings is also the highest among all OTAs: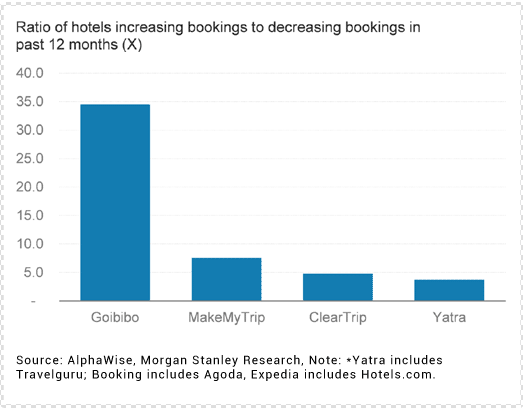 TravHQ Take: The opportunity is huge for an extremely under-penetrated online hotel booking segment in India which currently stands at 25% of which OTAs only account for approximately 19% share. With significantly higher percentage margins compared to online air tickets and the power to run discounts, the hotel booking segment continues to be a lucrative one for all players irrespective of who really owns the largest pie. With PayTM's expected entry in the travel market place, 2016 certainly promises to be an exciting year for India's online travel industry.