It is easy to find an affordable flight when flying over a short distance. Head to any good metasearch engine and you will be served with plenty of options. Putting in time and efforts hardly translate into any significant savings beyond that. However the story is different in case of long distance flights. Frequent travellers always have a trick or two up their sleeve that can save you a lot over the deals you find in your searches. Australia based Flystein would do exactly that for you. They take up the job of finding you a price lower than the best you have found for a small fee. We had a conversation with Vladislav Protasov, Co-Founder of Flystein to know more about the service.

Why Flystein? What was the motivation behind it?
Both of us, the founders have travelled to more than 100 countries in the last few years. We have saved a lot on flights for ourselves. We were also helping friends and their friends to save money on flights. Over time such requests grew considerably and helping others started taking too much time. We started wasting time more as some of these first "clients" were changing their plans or were just daydreaming about travelling. It was time to take it to a new level. After a few months of brainstorming, coding and going through the network of flight hackers we launched Flystein where we brought together the best flight experts from around the world covering most timezones and ready to help clients who are actually ready to book and save on flights.
What sort of customers do you primarily target?
Mostly independent travellers who fly a lot and small/medium size businesses. But we welcome any kind of clients from students and back packers to First class flyers. We have started working with businesses on long term basis and we plan to offer additional personalised services.
Operating manually, how do you plan to cater to the customers as the numbers go up?
If the number of requests goes up we will add more experts from our growing waiting list. We also have a long list of planned improvements to internal automation tools that would help increase productivity of our experts even more.
In flight booking, often time is money. On an average, how much time do you people take from receiving a request to delivering flight deal?
Usually an expert starts working on new trip request in 1-2 hours. It may take another 1-2 hours before the expert submits the first results. We are hoping to speed-up this process by adding voice support for more complex trips.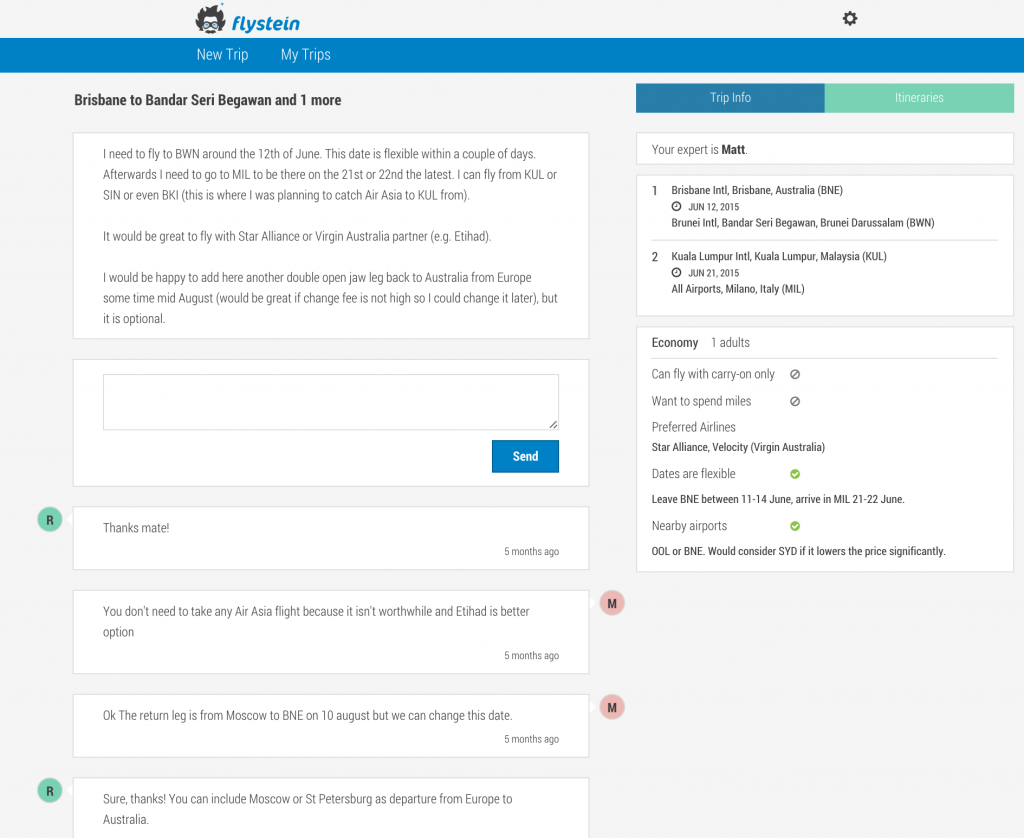 What if you don't end up with a better deal and the original deal is gone by then?
This does not happen often. In any case experts try their best to find alternatives and help the client with booking process. For the international flights from/to USA most booking sites and airlines offer 24h free cancellation. The carriers are required to hold a reservation at quoted fare for 24 hours without payment or allow the reservation to be cancelled within 24 hours without penalty. We had several clients who would book something before creating a trip request and then cancel for free when we would find better options.
How is Flystein different from Flightfox?
We are just at the beginning of our path as a business. Initially we offered features similar to those offered by Flightfox but started leaning more towards a travel concierge service. We have several new features in the pipeline. Some of them are:
Voice support (in addition to live chat – which we had from day one). We are trialling it at the moment.
Subscription based full concierge service for individuals and companies.
Localisation (French is coming first)
Do you think we will see similar services in the market using machine learning and data mining? How long before that?
There are many new startups in the market trying to apply analysis and machine learning techniques to flight data. Their aim is usually to help clients save money on flights. Some of them solve this problem by telling the client what and where to book, where others try to predict price drop and recommend when to book. Each one of them usually tackles a single problem and some get pretty good at it.
We have not yet seen any successful services that try to combine low price with personal preferences of the travellers. And only a few make first steps towards optimising algorithms for multi-city trips. We do believe that sooner or later there will be services that can more or less replace a human, but looking at the pace things are progressing, it does not seem that they will appear in the next 2-3 years.
What are your plans going forward?
We see great potential in travel market for small businesses and early stage startups. These are people who need to travel but they still know the value of the money. We are currently trialling corporate concierge service with a couple of small businesses and our plan is to reinforce our position in this market.
Also we are constantly analysing feedback from customers and experts and researching new ways of making expert-customer interactions more seamless and easy. We've been making small changes to our app practically every week since the launch and we will continue to do so.
We also have several partnerships in development including some major meta-search sites and digital nomad communities.
Flystein is a great service if you are looking to book long distance flights. You don't have to pay the fee if you don't get a saving better than the best deal you originally found. You can try out Flystein at www.flystein.com.