Travelling is a magical experience that pulls you out of your regular lifestyle and gives you an opportunity to discover the beautiful landscapes, magnificent monuments and extraordinary cultures. Since money can be a constraint for enjoying these, we introduce you to an exclusive website called TripDaddy that offers interesting and cheap travel packages at the click of a button.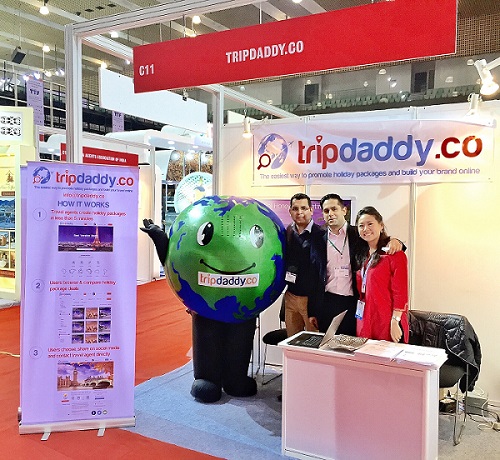 TripDaddy assists travellers in organizing and arranging travel conveniently. It has travel packages for India and other international destinations. Travellers can customise these travel packages as per their requirements. To help you better understand this popular travel brand, we spoke to Meilinda Huang, Founder and CEO of TripDaddy. Here's an excerpt from it:
Can you please introduce yourself to our readers?
I'm the founder and CEO of TripDaddy and currently the only full-time member of the startup. I was born in the United States to entrepreneur parents (immigrants from Taiwan), and am a professionally accomplished ballet dancer and musical performer. I studied Economics at Princeton University and have worked across different industries: Hollywood (international marketing), Economic Research at a leading think (data mining and analysis) and Luxury real estate in New York City (Sales and online marketing). After working for 7 years, I went back to school for my MBA at UCLA Anderson School of Management with a focus on Entrepreneurship, Marketing and Strategy.
I currently work with a team of part-time developers and assistants in India who help me with day-to-day improvements on the website.
What was the incentive behind establishing TripDaddy?
I'm an avid traveller and have lived in 6 countries other than the United States (India, Taiwan, Spain, Hungary, UK and Japan) and visited 31 countries. While living in India with my husband, I discovered the convenience that holiday packages offer. However, I experienced firsthand how tedious it was just to get prices for a vacation package. My husband and I had to call 5 different travel agencies and search on several different websites. Each time, he had to either say or type in the same information (where, when, how many days, how many people, name, email address, phone number, etc.) over and over again. I saw there was a huge pain point and believed there needed to be a simpler way to browse packages; I wanted to make it easy for customers to browse and discover holiday packages and prices.
TripDaddy is a very simple mobile-optimized website that aggregates holiday packages from different travel agencies. Users can browse, search and compare holiday packages anywhere, anytime. As of now, we do not book packages directly on our website. Customers can contact the travel agency through TripDaddy or email and call them directly. Our services are free to use for both the customers and the travel agencies.
Who are the users of your website?
People from all over India ages 18+ are using our website and browsing our 200+ holiday packages. We see that the younger generation (35 years old and younger) is more active on our social media profiles while we have a good mix of visitors on the websites. We get feedback on how much easier it is for people to discover holiday packages now and when people share the holiday packages they like on social media, it inspires others as well.
Travel agencies are happy that we're bringing them more leads and more incoming traffic to their websites. Our website is optimized for SEO (we improve on that every day) and social media. As a consumer internet startup, we're focused on building user traffic. For travel agencies, we can decrease their marketing costs while they can focus on making holiday experiences better and offering a wider range of destinations.
What was your early traction?
We won the Most Innovative Startup Award at TTF 2015 (one of the biggest travel and tourism exhibitions in India). After launching TripDaddy in November 2015, we have seen our traffic growing faster every day. We have spread the word to our friends and families as well as on social media, and are getting feedback that people are finding the website useful and easy to use. The other day we got an email from a bride-to-be about how much easier TripDaddy has made her honeymoon planning and that she's recommending the website to all her friends! We are also adding more new packages every week. I'm very happy and excited about how TripDaddy is growing!
How are you different from others in the fray?
With TripDaddy, you see the prices, the travel agency names, and the reviews and contact info of the travel agencies so you can decide who to contact. You can message them through TripDaddy or email and call them directly once you've found a holiday package deal that you like. We make it very simple to browse, search and share travel packages and focus on a clean and easy user experience.
Other websites focus on a lead generation model so they have to hide the name of the travel agency from the customer and hide the customer name from the travel agency. When you find a holiday package you like, you cannot contact the travel agency directly. You must give your information and requirements and the travel agency that buys your contact info gets to contact you; customers have no control over which travel agent contacts them. Moreover, other travel websites that feature holiday packages are more difficult to navigate and browse.
What are your future plans?
Right now, we are focused on tackling the holiday package discovery problem. Once we are at a stage where TripDaddy has become synonymous with discovery of holiday packages, we have mapped out how to become a full-service platform. We are also getting enquiries from other South East Asian markets (China, Taiwan etc.) about when we will be launching our services in these countries, but for now we're fully focused on the Indian customer.
What more would you like to add before we wrap up this interview?
We're a self-funded startup for now but are open to considering outside funding.
To learn more about TripDaddy, you can visit its website here. Since its inception, it has been a popular travel brand. Try it out and let us know how you found it as a user.