Listening to music while travelling can be a messy affair! If you have earphone cords, they will quickly get entangled and wireless earphones are either out of our budget or make us compromise on the sound quality.
To help you out with this age-old problem, especially while you are on the go, the HELIX Wearable Cuff with Stereo Bluetooth Headphones comes to your rescue. The design is versatile and will suit you in any outfit- anywhere and everywhere.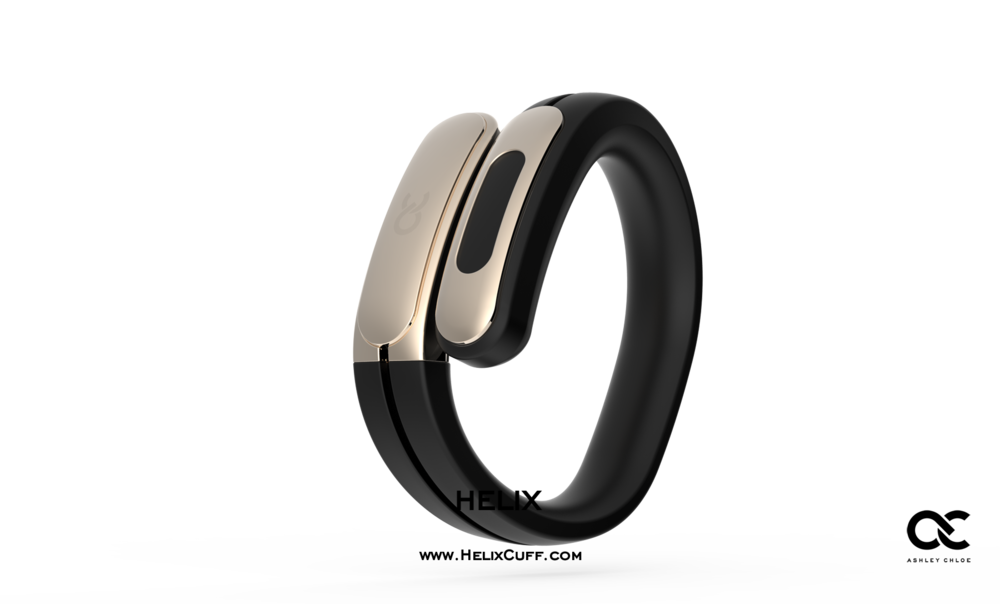 Design:
Its loop design helps HELIX to fit on your wrist appropriately. One side of the loop has three magnets which will attract the other side to balance the cuff to your wrist size. Within seconds, you can wear it and unravel it later. The cuff is quite thin below the wrist so that you can rest your arm comfortably. It is a beautiful device for music-lovers.  The design and the length of the earbuds is perfect that'll fit easily on your wrist and ears. The center of the cuff has a light which will show whether the Bluetooth connectivity is off or on. Also, if your device is ready to use.
Just like the Apple watch, the cuff is made of fluoroelastomer. Anodized aluminum has been used to develop the cuff compartment, control unit, and headphones. It's available in many colors and editions like the simple black and white colors, classic edition, gold edition etc. with 18K plated gold embellishments.
Compatibility:
HELIX is compatible with most of the wearable and mobile devices with the expected play time for up to 3 hours and standby time for nearly up to 200 hours. This is will prove to be one of the most useful feature for a holidaymaker.
Chargeability:
Surprisingly, the device takes less than an hour to charge. So there's no stopping you while you are about to head to your next destination! The designers of this gadget have worked in firms like Nokia and Nest.
According to a report, Mika Nenonen, the Chief Designer of Helix Cuff, had stated "Fundamentally, the marriage of fashion and functional design to create a storage element for headphones simply didn't exist." Thus, they attempted to create a wearable which neither jeopardized the sound quality nor the latest fashion trends.
Helix Wearable Cuff is a trendsetting device as it perfectly brings a wearable technology combined with fashion and function in a stunning way. It's available at an exclusive pre-order price of $99 on KickStarter. The product has been designed by San Francisco based firm Ashley Chloe who have a special penchant for engineering fashionable digital accessories.