Quite often you want to evaluate your brand's performance against competitors and want to judge how your content is faring. In the context of social media, competition evaluation applies to both organic and paid content. To help you out, leading social media analytics company, Socialbakers has come up with a new feature: Promoted Post Detection. Through it, the marketers can compare their competitor's interactions from organic and promoted posts.
It is widely known that brands are paying for a vast majority of their reach on social media platforms like Facebook, Twitter, Google+ etc. The airline and aviation industry is no different, when it comes to promoted content. If you go by data, 14% promoted posts have contributed to approximately 14.8 million interactions (48% of total 31 million interactions).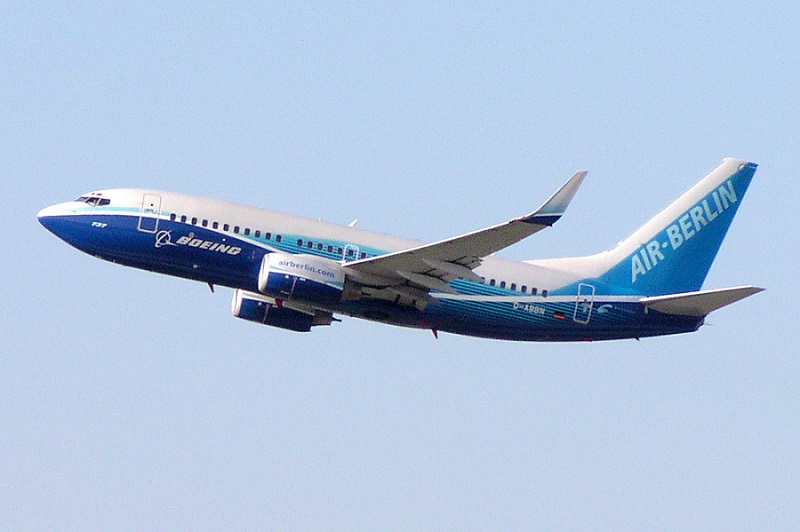 (Image: Air Berlin B737-700 Dreamliner D-ABBN by Wikimedia Commons)
Promoting the right posts for maximum engagement is an art to learn as putting money behind every post will prove expensive and unproductive. The story by Socialbakers talks about the contemporary competition that exists within the Airlines industry. The graph below indicates that Turkish Airlines and Qatar Airways have had the highest percentage of interactions in the group.
Turkish Airlines promoted 14% of their content which is 90% of the total interactions, i.e. their paid post received 55 times more interactions than their organic posts. Qatar Airways performed brilliantly too! 20% of their posts were promoted and they obtained 68% of the total interactions. This is 8 times more interactions than the organic posts.
At the first instance, we might conclude that Turkish Airlines and Qatar Airways are the best in the league. But is this true? Another graph below by 'Promoted Post Detection' feature, shows the two real winners of the promoted social media posts in terms of number of interactions.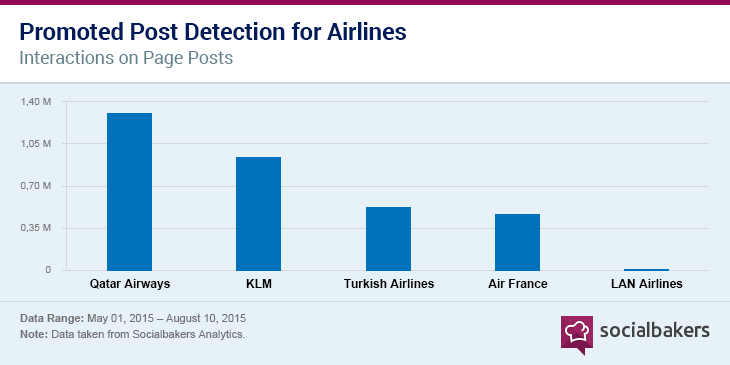 The graph clearly points out that Turkish Airlines is achieving the largest amount of interactions. KLM is promoting fewer posts but achieving the 2nd largest amount of interactions comparatively. What's the reason behind its success is also available in this new feature.
Promoted Post Detection will prove beneficial since it will find out for you which post has performed the best. Hence, it can be promoted at the most effective times and to the appropriate audience. There are even markers that will indicate whether the paid posts of the past have performed well or not. If your post has not done well, you can change a few variables of the newly paid posts to try out what works with your audience and makes your spend more effective.  
These details will really assist the players to set the path for paid content. Imagine the application of this feature for hospitality industry, DMOs and other travel startups. Certainly, the usage of Socialbakers Analytics looks quite bright in our opinion!