This year, 22 innovators and three Battleground winners took the stage during The Phocuswright Conference currently underway in Los Angeles. They took the opportunity to showcase innovations for the travel industry and Phocuswright has announced the winners of Summit held on November 15. The winners were determined by the Summit Dragons, a panel of experts from the travel and technology space.
"Travel startups and emerging companies are blazing the trail for the future of travel innovation," said Phocuswright's president, Simon Lehmann. "This year's presenting companies are dedicated to innovating the travel landscape – and we are excited to see their effect on the travel industry in the coming years."
The winners represent the top innovation in two categories: Startup and Emerging. One company was selected to win the Brand USA Award for Travel Marketing Innovation and one company was awarded to General Catalyst Award for Travel Innovation, which comes with a $100,000 convertible note.
Beyond Pricing was selected to be the winner in the startup category while in the emerging category, Local Measure was the winner. Beyond Pricing uses data to automate the process of pricing the Airbnb listing or vacation rental. Local Measure is a technology solution that helps hotel and tourism groups personalise guest experiences on site at their destinations. Hello Scout was the runner up in startup category and Uplift Inc in emerging category.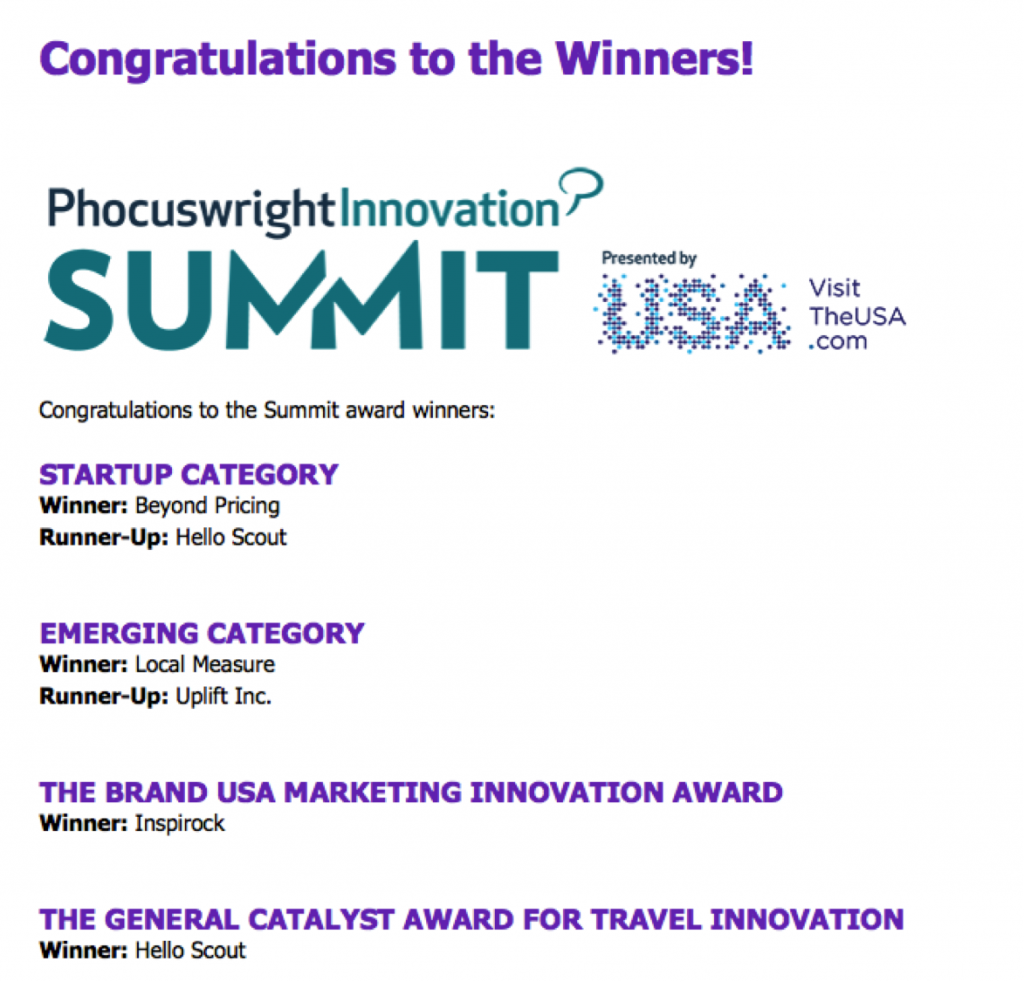 The Brand USA Marketing Innovation Award was won by Inspirock, a research bot and planning engine to build a personalised day-by-day itinerary for vacation. Hello Scout, a free tool to connect hotel guests with local experts via SMS, won The General Catalyst Award for Travel Innovation.
"The Phocuswright Conference Summit event just keeps getting better," said Joel Cutler, managing director of General Catalyst Partners. "Every year, we have seen talented entrepreneurs trying to figure out how new technology platforms and business models will create solutions for travelers that are ten times better than those in the market today. This year, the pool of young companies showed wonderful creativity and skill. Hello Scout is a great example of innovation in the travel space. Congratulations!"

"Our partnership with Phocuswright and sponsorship of Summit gives us direct contact to an impressive range of talent. The Brand USA Marketing Innovation Award – presented to Inspirock – demonstrates our commitment to ushering in the future of tourism marketing," said Carroll Rheem, vice president, research and analytics for Brand USA.
You can watch the live broadcast by registering here. Phocuswright is coming back to India early next year. You can find more details here.