MiStay, the hotel booking platform that offers more flexibility to travellers, has announced the launch of its mobile app. It does so by getting rid of rigid check-in and check-out times that have become standard throughout the hotel industry and instead, offers booking options for slots instead of days.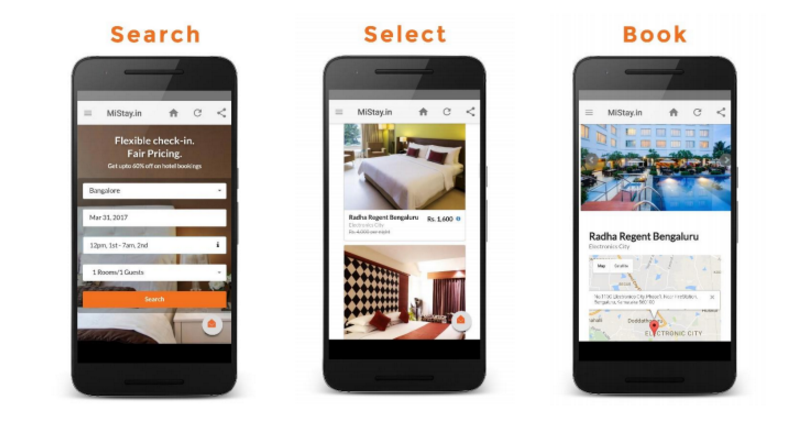 The recently announced booking app also offers the same flexible booking feature and is available on Google Play store. According to them, the primary reason for offering a mobile app is because of a constant rise in fraction of mobile users. MiStay was launched in April 2016 though the booking was previously restricted to web only.
"We have been experiencing a constant increase in mobile traffic in the last two months. Mobile constitutes around 60% of our website traffic and 80% of them are android devices. The launch of the android app is an initial move to our increased focus on mobile", said Pranav Prabhakar, the co-founder and CTO of MiStay.
In a previous conversation with the team at MiStay, they shared that a large chunk of users they get come for hotel properties situated near transit places like airports and railway stations. Along with this, business travellers have also been using it for short durations. MiStay is currently operational in 8 metro cities in India – Bangalore, Delhi, Mumbai, Chennai, Kolkata, Pune, Gurgaon and Hyderabad. In these cities, MiStay has partnered with around 120 hotels including 5 star hotels as well as branded hotel chains such as Pride Hotels, Sarovar Hotel, Keys Hotel & Mango Hotel.
"We aim at delivering a seamless booking experience to our users. There is no sign-up or registration process required. Users can book a hotel in 3 simple steps", said Pranav.
You can download the app on Google Play Store. For more details about MiStay, read our startup feature from October last year.