GoFro, the online travel marketplace targeted at offering leisure travellers with travel packages, announced the completion of a year of operations. Launched in June last year by former Snapdeal CTO Amitabh Misra, GoFro has been quick to expand partnerships and bring over 100 suppliers on the platform to offer a smoother holiday booking experience without many of the challenges that have conventionally troubled players in this space.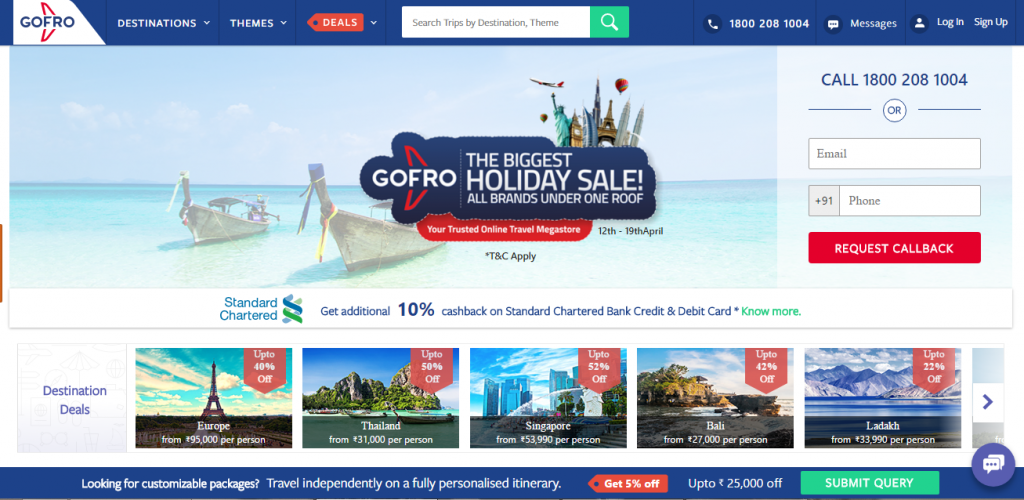 GoFro shared through a statement that over this year, the platform successfully catered to over 10,000 customers. Squarely targeting the outbound travel market, the young company is trying to be the go-to place for holiday booking. It is doing that by making products from all the suppliers readily available in a place for the travellers while opening up new distribution channel for the suppliers.
Speaking on the occasion, Mr. Amitabh Misra, Founder, GoFro said, "Looking back I see a great first year as people welcomed our vision of creating India's first travel marketplace. Serving so many travellers in such a short span has only been possible because of all our travel partners and their immense support. I am thankful to the GoFro team, our partners and most importantly the local advisors who make sure that our traveller's trips stay memorable. It is just the beginning of this journey and there is much more to come. We will continue adding more travel partners and destinations to serve every Indian traveller and in next one year, we aim to serve more than 50,000 travellers with a network of 1000+ travel advisors."
Bonavita Technologies, the parent company of GoFro is backed by MakeMyTrip. While the holiday package segment is complex, it has attracted players of all sizes to tap into the changing behaviour of travellers. With increasing activity, GoFro finds itself an interesting spot in the purchase chain. You can find more details at gofro.com.