GoFro, the online travel marketplace targeted at providing leisure travellers with travel packages, has partnered with multiple leading travel industry players. With the new partnerships, GoFro is looking to offer a wider array of products which the buyers can browse and choose from, without having to skip through multiple websites or apps. The partners include companies like Thomas Cook, Yatra, MakeMyTrip, Paras Holidays, Contiki, Byond Travel, Flamingo Transworld Pvt. Ltd., Guidelines Travels and many more. Being associated with all leading tour operators, GoFro aims to become the one stop destination for anyone looking for a travel package.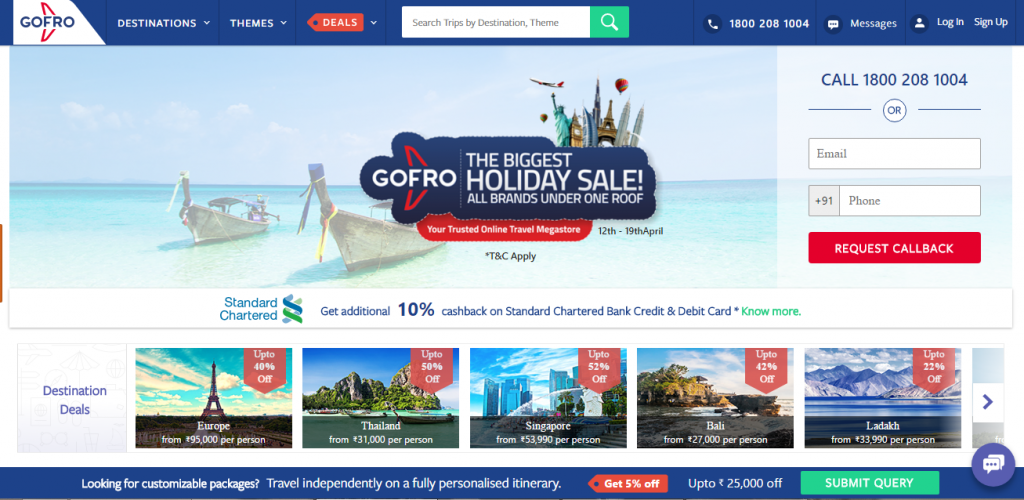 This move will not only help the customers make a more informed decision but also open up a new channel for the partners. Some of the partners are limited in their online reach or their geographical popularity and the association could enable them to reach newer set of customers.
Speaking on the announcement, Mr. Amitabh Misra, Founder, GoFro said, "It is another big step by GoFro to become India's first and largest travel marketplace. It will change the whole ecosystem which is currently very fragmented. Now the power lies in the hands of the consumer, they don't have to spend lot of time visiting different websites and travel agents, they can simply visit GoFro, compare packages by all the travel agents. Booking a travel package will be as simple as booking a flight ticket from any flight aggregator. It will also help travel companies to understand the consumer in competitive markets and offer best deals to acquire new customers."
One of Travel partners, Vikram Ahuja, Founder & CEO, Byond Travel "GoFro has drastically simplified the customer purchase process and at Byond Travel we are very excited to partner with them to help reach our potential customers with exactly the kind of information they need in the most convenient manner"
Started in June 2016, GoFro has been gaining momentum quickly. Starting with a handful of destinations, it currently offers travel packages for over 70 destinations from over 200 tour operators. The parent company of GoFro, Bonavita Technologies Private Limited is backed by MakeMyTrip. More details at GoFro.com.