In India, almost everyone who frequently travels in trains has faced the issue of non availability of tickets. We have one of the largest railway networks and that network carried over 8 billion passengers in 2014. Both the number of users and the railway network have grown but there still isn't enough supply to provide for the high demand. Along with this, there are many inefficiencies in the system which further make train travel a not-so-great experience. However, over the past few years, many interesting startups have taken up the job of changing this, ConfirmTkt being one of them.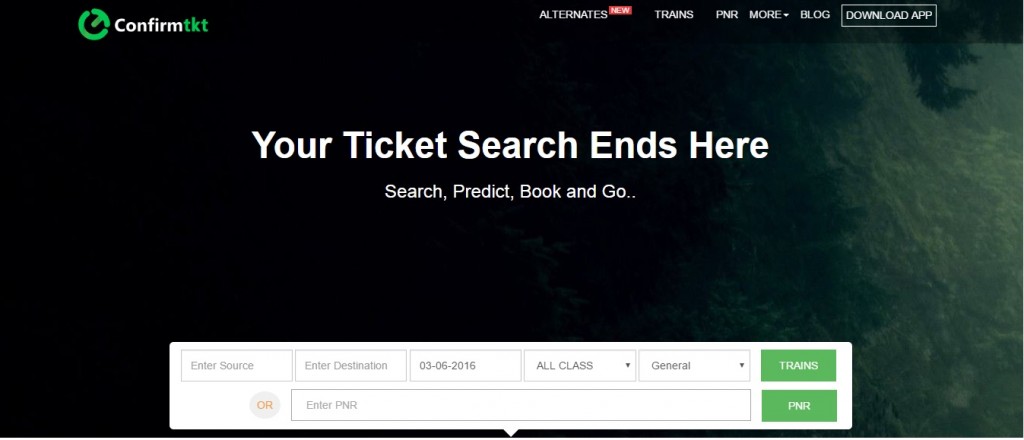 When people don't find a ticket, they look for alternates. They will check for other trains, take different routes, consider split journey and if that doesn't work, they consider travelling by bus for the entire journey or part of it. To do so, travellers look for train tickets with some place on their route as origin and then travel there by bus. ConfirmTkt, the winner of Startup Knockdown Delhi, has recently introduced a new feature that would exactly the same, albeit in a much smarter way.
ConfirmTkt offered the feature to predict the likelihood of a particular ticket being confirmed depending on the past booking data and many other factors. It also allowed users to search for split journey options in case the probability of confirmation was low. Now they have introduced 'ConfirmTkt Alternates' which further increases the chances of the users finding a suitable travel option.
"ConfirmTkt re-defines travel planning with its advanced algorithms which analyze tons of data and display highly beneficial information at your fingertips", said Mr Dinesh Kumar, Co-founder & CEO of ConfirmTkt.
'ConfirmTkt Alternates' looks for both trains and buses while suggesting alternate routes for a long distance journey which means now it has more possible combinations to explore. It can suggest routes that include Train+Train, Train+Bus and Bus+Bus. This is somewhat the approach someone who is unable to find a confirmed ticket would take, but checking for options manually is time consuming and one still won't be able to check many combinations. ConfirmTkt Alternates checks all possible combinations, looks to minimise travel time and cost while saving all the effort. It also accounts for delays in arrivals and departures while suggesting these alternate routes.
The advantages of the system are quite obvious. It is offering booking options to the traveller even when direct options aren't available and is doing so while optimising the trip to minimise time spent during and in between the journey. Along with that, a fraction of the train tickets are allocated for travellers travelling between certain destinations along the route of train and very often, they go unsold despite the train being overbooked for longer routes. The feature minimises these unused seats as well. This also discourages people from going to touts which is neither a reliable option nor legal.
On the flipside, road conditions are quite unpredictable in India which means that variations in travel time for buses are quite high. This could pose a challenge for them. The feature is still in its early days and at this point they don't offer the option to book buses directly from the website. However Sripad Vaidya, Co-Founder and COO of ConfirmTkt has shared that they will be adding the option soon so that the users can have a seamless experience without heading to any other website.
You can try out the 'ConfirmTkt Alternates' on their website. They also have apps for Android, Windows and iOS devices.
ConfirmTkt joined Amadeus Next recently after emerging to be the winner of Startup Knockdown. We are bringing back the event, this time bigger and better than before with more opportunities for the travel industry innovators. Find more details at startupknockdown.travhq.com.