Blue Origin, the commercial space travel start-up by Jeff Bezos the billionaire chief executive of Amazon, successfully separated a crew capsule from a rocket after it lifted off on Wednesday. The company had pushed its testing as an important step towards realising Blue's dream of carrying tourists into space.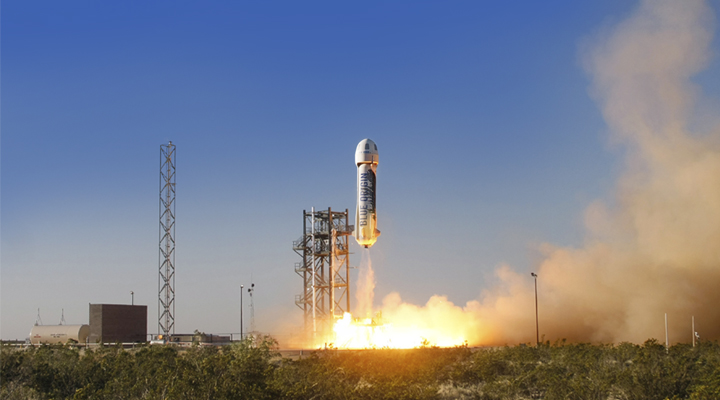 Space tourism has been circling the minds of all the tech giants with a singular motive to enable tourism in space. Where has that led anyone so far?  Well for starters, Blue Origin did convene this first in-flight test. This was to test the emergency escape system designed to save lives, the first of its kind in the U.S since 1960. Before putting anyone on board the spacecraft, the company wanted to make sure that the launcher system of its rocket would carry passengers to safety if anything goes wrong during the flight.
The rocket and the capsule system are intended for a suborbital flight where Bezos hopes to launch the first test flight with humans as early as next year, followed by tourists. The capsule could hold up to six people.
Yesterday's launch would set in course the program which would require New Shepard spacecraft to take tourists on a suborbital jaunt across the boundary 62 miles above the earth which is regarded as the edge of outer space. The tourists would see the curvature of the planet and the blackness of space while experimenting to float at the top of the arc.
Last week, Rob Meyerson, Blue Origin's President stated at the International Astronautical Congress in Guadalajara, that the Founder is aiming at a deeper level of space explorations and also taking aim at Mars. He further goes on to say that these missions are in accordance with Bezos' long-term vision of millions of people living and working in space.
Blue Origin has gone a step further by developing reusable rockets so to incur less cost of reaching outer space. However, SpaceX , another private space company founded by Tesla's Elon Musk is still facing a challenge to reuse any recovered rockets from these suborbital tests carried out by them earlier. Since Boeing CEO had challenged Musk's ambitions to beat him to Mars, we'd see what is in store for the future of space tourism. He envisions commercial space-travel market with dozens of destinations orbiting the Earth and hypersonic aircraft shuttling travellers between continents in two hours or less.
Space travel is surely going to become a reality next year. The question is who's going to get there first.
Source: The New York Times