360Ride, a Bengaluru-based company that offers urban travel on a ride-sharing basis, has recently announced the expansion of its services in Delhi, Gurgaon and Noida region. With this service, people heading to the same destination can travel together, reduce congestion and easily minimise their commuting expenses.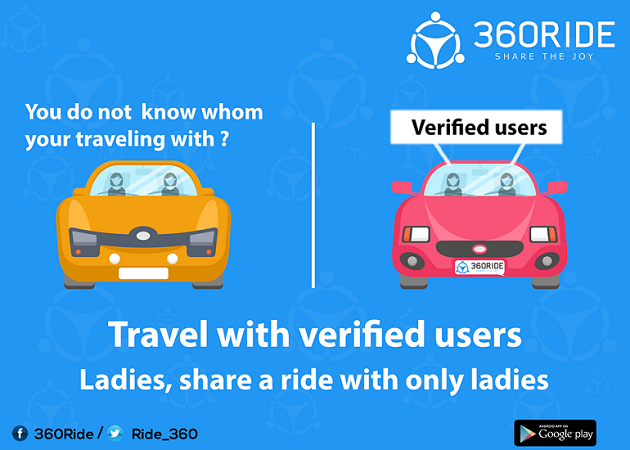 This car-pooling service might prove quite valuable for travellers in Delhi as the city witness's high density of cars, car parking hassles and innumerable accidents due to traffic jams. 360Ride mobile application is absolutely free of cost and allows users to request a ride without any registration or transaction charges.
It ensures the security of the travellers with its interesting features like ride sharing only with verified users, sharing of ride details, adding of emergency feedback and normal feedback. Most importantly, it exclusively allows ladies to share their vehicle only with ladies. This makes it a unique mobile application in the travel market.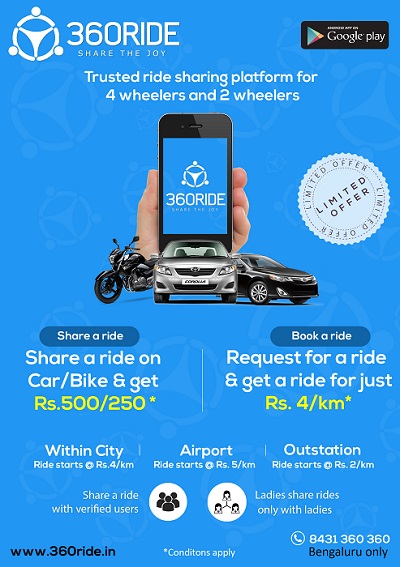 Elaborating on the expansion of their car-pooling services, Lokesh Bevara, CEO & Co- founder of 360Ride quoted;
"We have received remarkable acceptance of our ride-sharing services in Bengaluru and are very excited to launch our new service in Delhi, Gurgaon& Noida as well. The odd-even mandate that was recently brought to action in Delhi signaled the need to reduce traffic congestion in the country. Extending that thought, we believe that the ride sharing segment in India has a huge potential for growth and is the best way to streamline the transportation system in India. It also offers an economical way to travel while reducing fuel and fare costs for the commuter."
MLA N A Haris of Shanthinagar shared his perspective about the same:
"Ridesharing as a concept is best suited for the clogged traffic scenario in this city as it gives you an opportunity to share a ride with people you're comfortable with. Moreover, as a customer you not only end up paying lesser, the cars and cabs on the road too are fully utilized. 360Ride, a ride-sharing platform with only verified users is taking a progressive step towards bringing economy, convenience& comfort of travelling as well as structuring mobility for over a billion Indians."
Focusing on the monetary aspect, the rate per seat is decided by the individual who is offering the ride and not by 360Ride. Currently, the company is running a ride with an earn offer for  all the commuters, where the users can earn a sum of Rs. 1200 by sharing their ride on 4 wheelers or 2 wheelers.
360Ride has been launched with the objective to encourage the users for sharing their ride with co-travellers. Consequently, this service can lessen the traffic, car accidents, pollution and travelling expenses. This will be truly beneficial to the travellers of Delhi, Noida and Gurgaon.
Available on Play Store