Most of the passengers face a common problem while travelling in flights.They complain about the small legroom space available right in front of their seats. To help out passengers in such situations, The Airhook can be the ideal gadget for the air travel! It is an all-in-one cup and electronics holder that can be attached to the back seats in front of the travellers thereby removing the need for tray tables.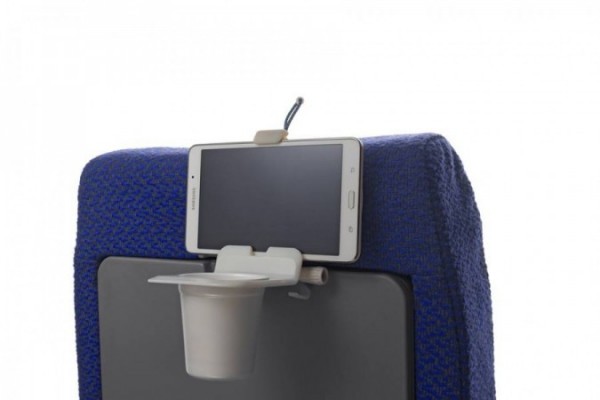 Craig Rabin – the inventor of 'The Airhook' – has extensive experience providing strategy, management and implementation services within the business-to-consumer and business-to-business markets. Also, he has an in-depth understanding of core processes, including overall program development, process planning and production. We spoke with him to learn more about him and the story behind 'The Airhook'. Here's an excerpt from the conversation:
By introducing yourself, can you please share with us about your past experiences in the business world?
My name is Craig Rabin, I'm the inventor of The Airhook. From an early age, I spent my time dreaming up inventions. These are now a source of inspiration as I begin to make the sketches from my childhood a reality, thanks to 3D printing. My entrepreneurial spirit and passion led to starting my first business when I was 16 years old. Since then, moving to Seattle from Chicago, I've gone on to create eleven companies. It was during one of these business endeavors that I developed a love for travelling and started thinking about how to could improve the experience for others.
What was the idea behind developing a unique gadget like 'The Airhook' for travellers?
The idea for The Airhook came from a flight I took over a year ago now, as I was wearing a sport coat and considered using the tray table as a way to hold my coat up. I went home and created a few versions using my 3D printer and on my next journey, used it to hold my coat up as planned! I then ordered coffee and realized I'd have nowhere to put my cup if using his tray table for a hook. This sparked me and a small team of engineers to create a two-in-one solution that incorporated a beverage holder with a device holder that features an adjustable cord, so it could hold a larger range of mobile phones and tablets.
Who are the users of this gadget?
Travellers all over the world! Since launching on Kickstarter on June 11th, we have sold over 6,000 Airhooks, with orders from 28 countries. Our first production run begins in December and we fulfill all pre-orders before the New Year.
What was your early traction?
Kickstarter was a huge jumping off point for The Airhook. The Airhook was funded in 73 hours and ended 481% above our funding target.
How is 'The Airhook' different from others in the fray?
Our concept was built around better accommodating today's travel needs, but without affecting your fellow passenger. We wanted to create a system that only leveraged your "airspace", which differs from other products promising a more convenience flight.
What are your future plans?
Continue to develop The Airhook and accommodate additional forms of transportation. Our invention shop (which produced The Airhook) also has a handful of other unrelated products we are working on.
Before we come to the end of this interview, would you like to share with us anything more?
For anyone trying to invest a new product… know it's not as easy as it was coming up with the idea and sketching it on your bar napkin. You will find good days and bad day along your journey. In the case of The Airhook, we spent 13 months developing the concept. Design – build – breakdown – repeat. We went through 9 versions of The Airhook and there were times I was ready to throw in the towel. Luckily, I surrounded myself with people who'd go out of their way to support me. Do the same. Bring others into your inner circle and make the journey as a team. You will find that your team will motivate you to keep your head up and even out those highs and lows. Teamwork makes the dream work!
To learn more about 'The Airhook' gadget, you can visit its website. Since its inception, it has been a highly popular gadget. This is evident as 'The Airhook' project was funded in just over 73 hours in Kickstarter.