Finding parking space is a major issue in metro cities. Finding a parking spot and then queuing up to park takes lot of time and effort. Leaving the vehicle roadside is absolutely out of equation as that way you are essentially inviting damage to your vehicle. If you are travelling to a city and have borrowed or rented a car, the job gets even tougher for you.
Constapark tries to address this problem by offering on-demand valet parking service. Users can choose to request a valet at a designated spot using the mobile app and then get it back using the same app. They can also choose to get the car refuelled or washed while they have left it with the valet. Constapark also offers parking solutions for retail outlets, restaurants and rental services.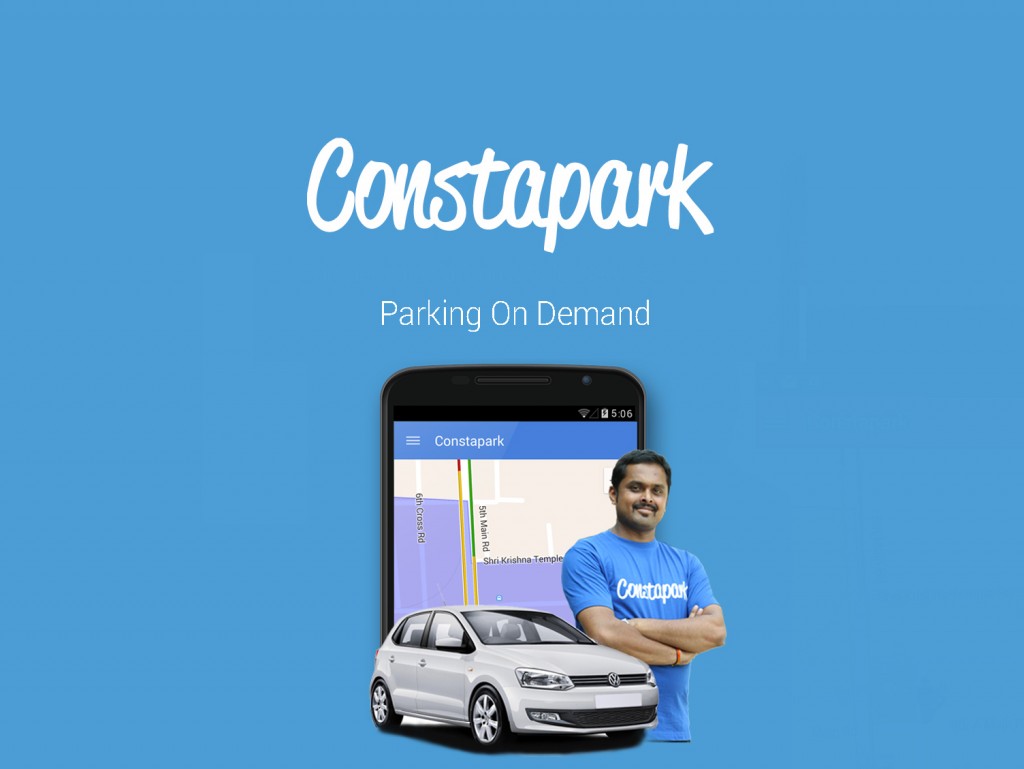 Constapark was started by Chetan Chauhan and Mehul Pangtey. Chetan started his first business Easel Studios LLP in 2011. Mehul is a developer and comes with extensive product development experience. We had a chat with Chetan, who took us through Constapark in depth. Here is an excerpt from the conversation:
What does Constapark stands for?
Constantly + Parking = Constapark; It also indicates that we are utilising the inventory properly. Traditionally parking spaces are used for 8-10 hours but with Constapark, we are optimising them to be used round the clock.
What is the user base right now? How do you provide for different kind of customers?
Since we opened up the service for public in May, we have had over 500 users for valet on demand. The long term parking feature is still in beta and we have around 60 users for that at this point. The car rental service Myles is also using our service for long term parking in some regions. To provide for all the users, we aggregate inventory and offer it to the user as required.
We utilize 500 parking slots in Bengaluru and plan to increase the number to 1500 in another 3 months. We have 200 slots in Hyderabad and 250 in Chennai but at this point there are no valet operations in the two cities.
Are you looking to raise funds to speed up the expansion of Constapark?
Yes, we have got commitments from investors and are looking forward to close the deal soon.
So who are these valet drivers and how do you select them?
Each of our drivers comes after selection procedure and police verification. We make sure they come with at least 3 years of experience and they must have a clean driving record. Constapark has a zero tolerance drug and alcohol policy.
The thought of handing over the car keys to someone you don't know brings apprehensions to an average Indian driver despite the safety insurance proposition. How are your addressing this mental roadblock?
Yes, I agree with your point. We receive mails about security and insurance quite often. Despite the insurance, we never park cars on road side. The cars are always parked at safe and legal parking spots to ensure safety. It is just a matter of time and as more users come onboard, the confidence will build up. For those who are still not comfortable with the valet option, we are also opening up the self park option soon.
Rent a Garage – At first thought, it takes a while to absorb this idea. What is the whole proposition and why you think this will work?
Rent a garage is long term parking subscription (3, 6 & 12 months) for people who own a car but don't have proper parking space. These days lot of people have more the one car and they need space to park their cars safely. For Rent a garage beta we initially planned to run with 25 people and now it has gone to 60 with just word of mouth. At this point, we have 30 pending requests for the same.
The number of vehicles is going up and parking space is a major issue. If you look at places like Mumbai, it has 1 space for 120 cars (DNA report) and in Bangalore places like MG road have deficit of 65 to 70% on weekdays and it goes up to 80% on weekends.
At this moment, what sort of ground-level challenges is your team facing?
At times, cars are left parked for much longer without prior communication which requires finding workarounds. Another challenge is real time update of parking slots and we are working on a solution to address that.
The potential for on-demand services based on the Uber model is big right now. What's your take?
Definitely. People have started shifting towards on demand services and we will see more in future. Such services help people save time while removing the usual friction out of the whole cycle.
You started your operations from Bengaluru which is a hub for most of tech-startups. What is your opinion on the entrepreneurial ecosystem in the city versus Delhi & Mumbai?
Bengaluru has more energy and it is easier to build a tech team quickly. The best part of the ecosystem is that you keep getting continues feedback and support not just from the customers but also from the startup community. Mumbai and Delhi are yet to catch up with it.
Constapark is operating in Bengaluru at this point but will soon be expanding to other cities. You can find more details on their website here and try out their android app.