Hotels often complain that they could have worked to improve the user experience if they were aware of the problems during the stay. They care about bringing customers back to their hotel and making them repeat customers but it becomes tough for them if customers won't express what they are looking for. Earlier this year during the RISE conference, we came across Wedilo, a startup that seems to have a solution. They have got two different products, Wedilo, which is a recommendation platform driven by Hotel and F&Bs as they know the city better than any visitor. They build credibility as more users like their recommendations and thus gain more visibility. The other product is Nothing To Hide Hotels which is a plug & play tool for small hotels to collect live feedback from guests.
Nothing To Hide Hotels offers free Wi-Fi to users staying at a hotel property in exchange for first impression reviews during the stay. A large number of hotels still skip on free Wi-Fi but with the increasing dependence on internet, users often look for that. Even if they offer free Wi-Fi, already, they can incorporate the system to get more users reviews. This way, users can get free access to internet while hotels get instant feedback that they can use to improve users' experience during their stay so that they leave happy after their stay. We got in touch with Maxime Cornelli, Co-founder of Wedilo.com Pte. Ltd. to know more about Nothing To Hide Hotels.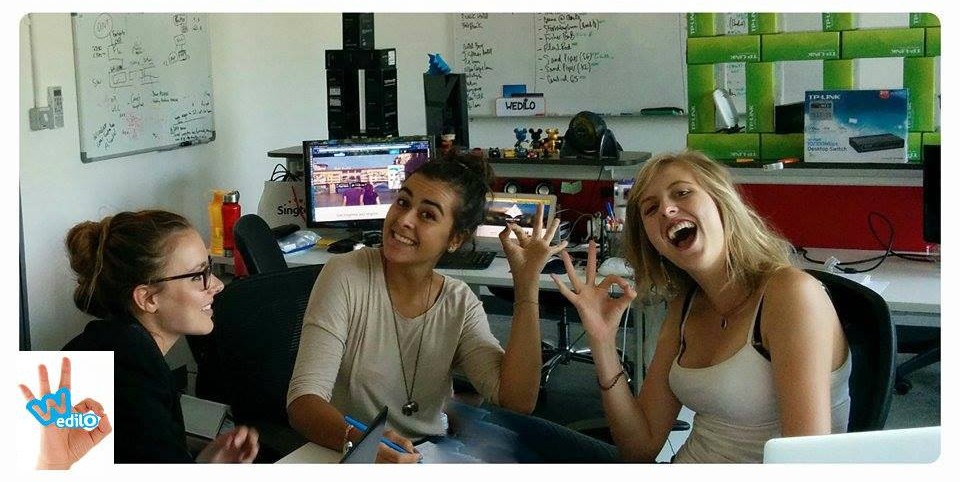 You mentioned that TripAdvisor only capture 20% of the hotel reviews. How true is that?
TripAdvisor capturing 20% of hotel reviews. I believe I was referring to the conversion rate of guests actually completing the after-stay survey that TripAdvisor emails 3 days after check out. The number isn't really known to be honest, but the 20% conversion rate is a very fair estimate.
Isn't the whole idea of asking consumers to review your hotel in exchange for a Free WiFi a little forced?
It can obviously be viewed that way, but we see it more and we try to communicate more on it being an honest and easy contribution to both a community of travellers and the host. We are of course constantly working on improving the UX UI as best we can to make the process go smoothly and for the guest to WANT to do it, to be HAPPY to contribute.
Would you expect consumers to actually seed negative reviews at any point using WeDilo as they're doing this for a Free Wi-Fi eventually?
What number have shown so far is that guest react pretty well to the system. They seem to accept it pretty well with over 85% of feedbacks generated providing valuable information about the hotel, and only 1.5% of guests complaining about the process to access the Wi-Fi. Most of our end users are youngsters for whom Wi-Fi is a necessity, a given, and still, they agree to go through the process.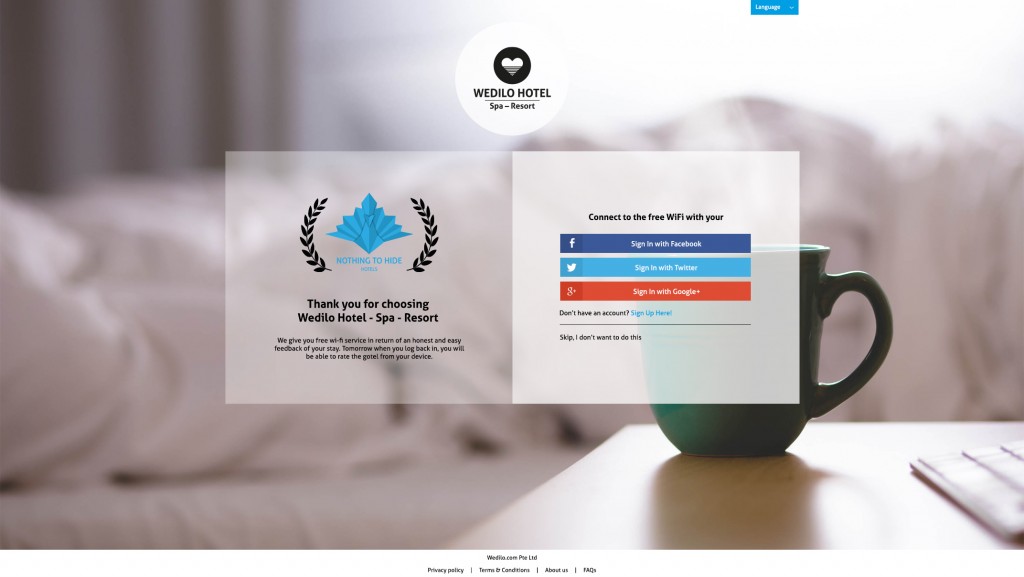 So if a consumers stays for multiple nights, do we expect multiple reviews to come in?
The hotel can decide to customize its platform just as much as it wants. That is one of the features. By default, the timer is set to 1 month before we ask one same user to generate a second review about a hotel he's been in already. The hotelier can decide to lower that time lapse if he wishes to collect more.
Will these reviews be eventually plugged into the public reviews hotels receive via websites such as TripAdvisor?
For now we will be purely operating offline, meaning that we focus mainly on private feedback. Online reviews come later, and what we will do is have our own sort of testimonial website where hotels are referred through their customers. We will also redirect users to OTAs so they can book their stay.
We aren't against a partnership with the big current players in which we would licence our content to them, why not!
You have to talk to hotels individually to get your system implemented. Don't you think that poses a scalability problem?
Talking to hotels individually was necessary at the very start, as we launched the product and no one knew us. Now things are moving much faster. Approaching groups is one way, you can also count on hotel associations and federations in different countries and regions of the world, the tourism boards can be helpful. Ultimately it's a matter of word of mouth and referral. I am not suggesting it doesn't require a ton of business development work, but it should be easy to scale. Also, we need to consider the nature of our solution which is plug-and-play, so scalability is doable.
What's your pitch to hotels in-terms of why they should get your systems implemented?
The idea is to understand how much they value their guest feedback and their experience. They usually do, and those who do tend to spend an awful lot of time and money on tools that are outdated (paper survey forms), or that don't allow hoteliers to capture the guest sentiment during their actual stay. The real-time feedback is the main hook. That's what hotel managers need, immediacy, to be able to react on the spot and expect better online review from that guest.
How many hotels have been covered in Singapore and how many reviews have they generated?
At the moment we are generating 3000+ guest sign ups and 2000+ feedbacks on a weekly basis with a little over 30 hotels in SG.
What is your revenue model?
The hotels subscribe to our solution (freemium model) on a monthly basis. Once we will have our testimonial page we will be able to redirect users to OTA and get a commission from transaction, just like TripAdvisor does.
Lastly, what are your growth plans?
We are focusing now on SEA and are now present in Malaysia, Hong Kong and Singapore. The idea is to continue the expansion in SEA with the top tourist countries like Thailand, Indonesia, Philippines, and so forth. India is of course a very interesting market for us. We are looking at it very closely. Once we have a dozen hotel per major city in the region we will start looking at Europe and then South America. North America doesn't make much sense as the hotel industry is extremely centralized, 70% of hotels being owned by groups.
Hoteliers can read more about Nothing To Hide Hotels and send in their queries through their website here. Travellers can try out WeDilo app for excellent recommendations (Website iOS App). An Android app is in pipeline and will be coming out soon.