As the number of travellers continues to grow, airports are getting more crowded with every passing year. IGI Airport, Delhi and Kempegowda International Airport, Bengaluru, two of the busiest airports in India saw the number of passengers going up by close to 20 percent over the past financial year. While this increase is good for travel industry stakeholders, it certainly doesn't translate into a very smooth experience for the travellers. Longer wait times, crowded waiting areas, unpredictable security delays are just some of the downsides and these issues appear to be further magnified when travelling alone.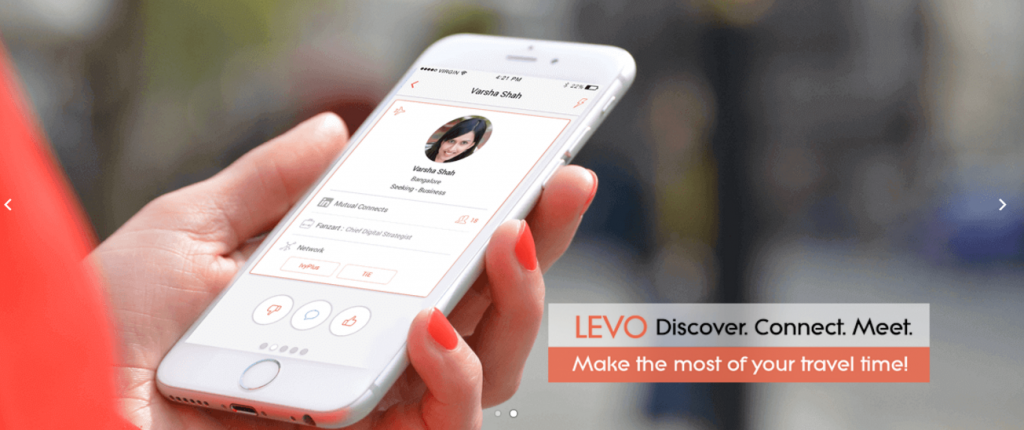 Levo, a Bengaluru based startup, is trying to change that. Levo is trying to get us to look outside our phones and spend our time at airport interacting with people around, by leveraging our phones. Once you sign up, the app uses your flight information and your interests to suggest other Levo users that you can meet and interact with at the airport. So not only you get a quick escape from a long wait at the airport but can possibly find a new friend or business partner.
Levo was founded by Rahul Maheshwari and Tarun Lala. Rahul is a recent MBA from Babson College (US) and Graduate from Warwick Business School (UK). He has previously worked with KPMG as a consultant and with RBS as an Analyst. Tarun is an Electrical Engineer from Northeastern University, Boston, MA and has also pursued the Stanford Ignite Entrepreneurship program from the Stanford GSB. Previously he was a Technology Consultant at EMC and has co-promoted Fanzart. The two launched Levo app in January 2017.
Over the past four months, Levo has been quick to build a community of high expectation customers. Rahul shares that over 80 percent of the current user base comprises of top level executives from companies of different scale. To further add value for the users, they introduced a Levo lounge in association with Bengaluru airport and HMS Host two months after the launch. Bengaluru airport opened up to the idea because they saw it as a way to make the airport experience a little better for many.
Levo extends outside the airport as well. As you connect with your co-travellers before your journey, it offers the option to request for airline seats to be assigned together. Along with this, they are also working with some of their partner communities to serve as their networking app. Rahul shares that at this point, they are trying to follow the journey of business traveller and see what can be the suitable points in one's journey. Cafes near business hubs, hotels, co-working spaces are the kind of places they are currently looking at but at the same time, they being very cautious about what places they add so that the experience isn't diluted.
Since the two started the company, they have been bustling with ideas right from growing the community to monetising the app. A large part of the added value they will offer will come from the right partnerships. To expand the offline presence, they are in conversation with lounges at multiple airports to serve as meeting point for Levo connections. They are also working with some domestic carriers to make the process of assigning seats more seamless.
While it is hard to directly monetise social apps like Levo, they have some ideas that they are looking to implement over time. Along with a premium subscription option for access to advanced features, they will be looking at a revenue share for the business they drive via Levo users for partner cafes and lounges. Going further, they will be looking at it as an advertising platform and also as home to other travel related utilities that can be monetised.
The idea is certainly intriguing and the promise steep. But before all the geographical growth plans and monetisation strategies can be implemented, they will have to build a strong user base. Interestingly, instead of investing heavily towards directly acquiring customers, they are looking at growth by negotiating exclusive airline partnerships and as micro app in partner travel services.
In the past, we have seen attempts to create platforms for travellers to connect. However, most of them primarily adhered to chat and induced an element of advertising for airport stores. Levo seems to have taken care of many of the challenges with the idea. To begin with, they are positioning themselves much differently, as a networking app and the primary pitch revolves around adding value to the trip rather than just chatting with a random person at the airport. They are also engaging the user for much longer than just his/her time at airport. Better integration with offline spaces further boosts this engagement with users.
You can download Levo for Android and iOS or learn more at getlevo.com.