"We will see of that once we reach" is usually how most of us think of what we are supposed to do once at the destination. In fact, less than 2 out of 10 travellers book their activities in advance according to a Google study.
The story is not much different with camping activities. As an increasing number of young independent travellers step out to explore new places, they are moving past the long list of hotels on offer online and are looking at the alternative accommodation options. Chirag was, and continues to be one such traveller. He would often head out with his friends to explore destinations that aren't on the tourist map and on many of these trips, he would often scout for camping providers instead of searching for a hotel.
However, he shares that on most occasions, this involved finding the right person. Someone who has been there and can direct to some providers or at least give a vague idea of where to look. For some of these destinations, there was information available online but mostly scattered across multiple sources like personal blogs and social media posts painting an incomplete picture. It wasn't as easy as heading to Goibibo and selecting the options from a drop down menu.
Working in the investment space, he along with the other founders was involved closely with many entrepreneurs striving to solve real world problems. This motivated him to put together the ideas that have been sitting at the back of his head for long and turn them into a product that others like him can put to good use.
Deyor Camps entered the picture to organise the space with the help of technology. Putting their analytical capabilities to good use, Dheeraj Jain, Chirag Gupta, Aakaar Gandhi, Himanshu Agarwal and Gautam Yadav, studied the market extensively to tailor the product well to the young target audience before finally launching to public. Chirag shares that 84 percent of millennial travellers would prefer adventure travel and taking 4.7 trips a year, they are very open to new experiences.
Over the nine months Deyor Camps has been active for, they have built an inventory of over 600 camps and signed up close to 1000 activity vendors spread across 70 locations. According to Chirag, discovery is only a small challenge in what they are building. An even bigger challenge is to gain customer trust and deliver on it. This is why the team spent the first six months travelling to multiple locations to handpick the right set of providers before starting to open gates to travel agents and customers.
A validation for the model came from TBO not long after the launch. Naspers backed Travel Boutique Online invested in Deyor Camps at seed stage while also bringing its 19,000 strong network of travel agents to the table. This created a major demand channel along with many others the team was setting up. They are also working with other online portals like MakeMyTrip and TravelTriangle to provide for camping activities listed on the platforms and have already served over 3000 travellers in past three months without having to push aggressively in B2C space.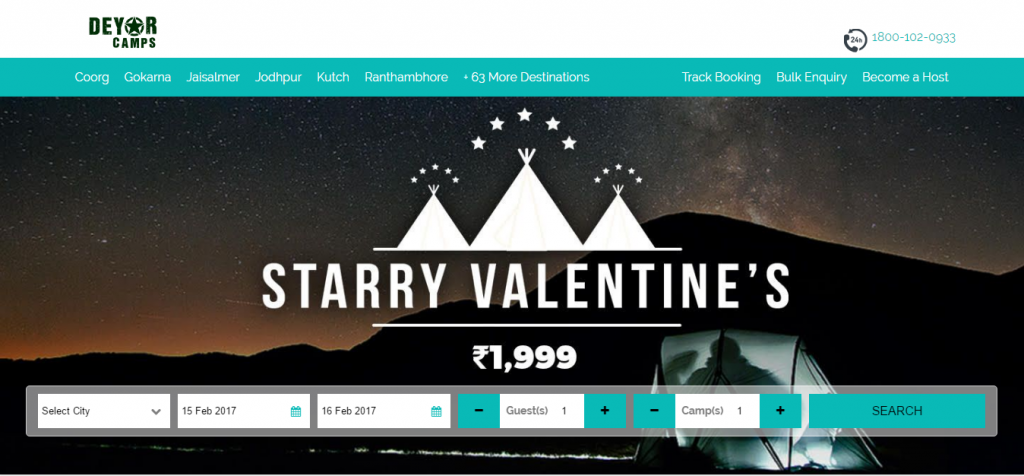 While we assumed that it must be challenging to work with such a large number of providers, Chirag says otherwise. In fact he takes pride in sharing how seamlessly they are able to integrate the providers in their network and how comfortable the providers are working with them. According to him, as the providers don't have to deal with multiple sources, they are not only happy in working with Deyor Camps but some of them are also offering better prices than what they initially did for the added convenience.
Speaking about competition, he dismisses the alternative accommodation platforms as they have a stronger focus on homestays and villas. There are no direct competitors focusing on just this niche but multiple activity platforms and OTAs offer camping and related activities among other services. However, instead of going head on against them, Deyor Camps is partnering with many of them to provide for this specific segment. Major travel brands are happy to work with them for camping activities as it saves them the legwork for what will only be a fraction of their entire business.
Deyor Camps started off with strong momentum and plans to carry it going forward. The team has forged multiple partnerships over the past months and right now they are in process of seamlessly integrating the new partners in the chain. As they continue with this, they are also looking to step outside India into Southeast Asia and parts of Africa. They have already identified and partnered with providers across these geographies and will go ahead as soon as they have built enough momentum in India.
More details about Deyor Camps can be found at www.deyorcamps.com.