Deyor Camps, the startup aggregating and organising camping activities, has announced raising a pre-series A round led by Venture Catalysts. Existing investor Dheeraj Jain, who has been actively involved in the strategic growth of the company since it started its operations in January 2016, also participated in the round, which also saw participation from other prominent investors such as Dr. Ritesh Malik and Japanese VC firm REAPRA Ventures.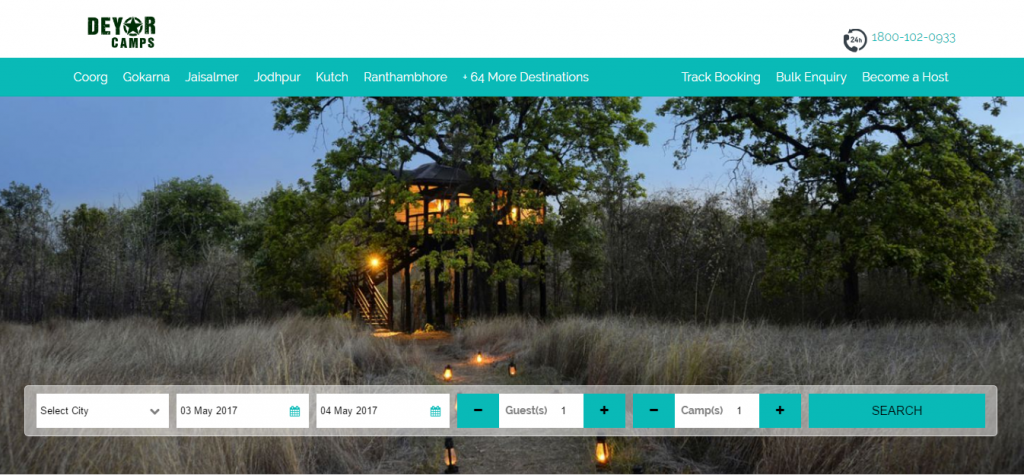 Founded by Chirag Gupta, Aakaar Gandhi, Himashu Aggarwal, and Gautam Yadav, Deyor Camps has an active inventory of over 600 verified camps and close to 1000 activity vendors spread across 70 locations. In our previous conversation with Deyor Camps co-founder Chirag Gupta, he shared that in order to deliver on customer trust, the team went manually scouting for right vendors for the initial six months before turning focus towards distribution.
Ankush Nijhawan, Co-founder, TBO Group said, "We are glad to be part of the journey of Deyor Camps which we believe will compliment TBO travel portfolio and distribute adventure travel to our large travel agent network."
At the seed stage, Deyor Camps received investment from ibibo group company Travel Boutique Online (TBO) soon after the launch. TBO has a network of over 20,000 travel agents which is accessible to Deyor Camps as part of the partnership.
Speaking on the investment, Dr. Apoorv Ranjan Sharma, Co-founder & President, Venture Catalysts, said, "As India's first and only chain of branded adventure camps and accessories, Deyor Camps has addressed the most painful challenges on the supply side by creating a robust distribution channel as well as through strong OTA integrations and networking. It also has a very strong and focussed founding, and is well positioned to take advantage of the exponential growth in the demand for adventure travel as a category leader. Having invested in this high-potential venture, we will now be eagerly tracking its market growth and supporting its operations with our specialised start-up focussed services. We will also be looking to invest in more promising start-ups going forward, as we set about achieving our vision of establishing India as the start-up capital of the world."
Venture Catalyst has previously been involved in early stage investments across e-tailing and SaaS startups.
Chirag Gupta, Co-founder & CEO, Deyor Camps, commented, "The latest investment gives us the resources to expand quickly and strategically into new locations, innovate rapidly, and deliver on our vision to organize the fragmented adventure travel sector in India. With such illustrious investors on board, we are confident of achieving greater growth and scale in the days to come. We have diluted 5% of our equity to raise investment in this round."
Vikram Bharati, Head of Investments at REAPRA Ventures, added, "The team at Deyor Camps is bold in its vision and passionate about what it does. It is creating and fostering a new industry. We believe that when you take a bunch of young and smart individuals who are passionate about a cause and who don't care about traditional norms, magic can be created. Deyor Camps envisions inspiring young people to travel and experience the depth and breadth of India through camping. We think this is an admirable vision and we see this being backed up with a solid business model. REAPRA is keen to support a team with a vision and plan like this."
With this investment, Deyor Camps is looking to ramp up the marketing activities, expand the team and strengthen technology integration. You can read more about Deyor Camps here.