Smart luggage options are definitely making lot of news recently and are trying to replace our conventional bags. Most smart luggage options are utilising tech to simplify the life of modern traveller. But then these smart bags come costly and you can't replace all your old favourite bags right away.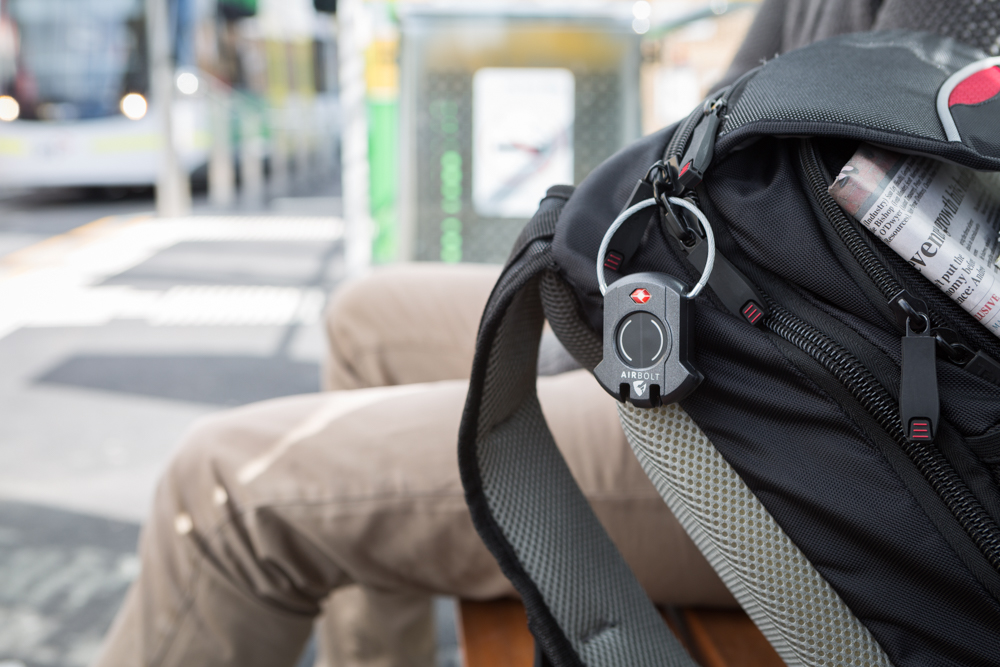 Australian startup Airbolt tries to add tech to those bags and have the essential features of a smart bag. They have developed a smart Bluetooth travel lock that can be used with any luggage and controlled using your smartphone. We spoke with Kabir Sidhu, the founder of Airbolt to learn more about the product:
Please tell us more about the idea, the project, the company
The idea of the AirBolt began with my own frustrations. I was travelling to the U.S. early last year and after a 15-hour flight, I arrived in my hotel room. Tired and just wanting to get some rest, I walked up to my suitcase and tried to unlock my combination lock. It simply wouldn't unlock! No matter how many times I tried. I had even written my combination down just in case and phoned home as well to check. It was then I realised that the combination had been reset somehow. Oh, the frustration! Now just like most people, I did not have a bolt cutter on me and neither did I want to damage my suitcase to open it. So, I spent the next 45 minutes going through all possible combinations to unlock it. This got me thinking, there has to be a better way. I looked, and found there wasn't. So I took it upon myself, to solve the problem. Hence, AirBolt was born.
It has now taken 1.5 years to get to the stage we are at now. We have a solid team, each with their own expertise and ideologies. We are dynamic, fun and of all different ages.
How did you fund the project?
I essentially bootstrapped the company. I have worked at another company full-time, plus had some reoccurring income from my previous business. I used the money together plus sold investments in order to put together the capital to ensure this company has solid foundations. Whilst it has been extremely long hours and late nights, so far, it has been rewarding in terms of the challenges and dynamics it brings to the table.
As an entrepreneur, what is your motivation?
I love seeing that the aspect of everyday work I undertake at AirBolt simplifies and enhances people's lives. If I am making an impact of some sort in a positive way, then I feel a strong sense of satisfaction.  I believe that doing what you like in life, is always the best pathway you should take and this is the pathway I have chosen. It keeps me feeling fulfilled and challenges me to strive further.
How is AirBolt better than the other options on the market?
The AirBolt offers a whole variety of benefits versus other options on the market. It brings innovation both in terms of design and technology.
When you pick up the AirBolt for the very first time, it is nothing like you've seen before, yet when start using it, the operation is completely natural and intuitive. We have redesigned and re-imagined what a travel lock looks like and tried to break completely away from any generic designs we currently see out there in the market.
Current travel locks just offer one way of securing your luggage – simply by using the latch as it sits. With AirBolt's patent pending design as seen below, you choose how to lock your luggage – meaning you can potentially even zip multiple zips with one lock.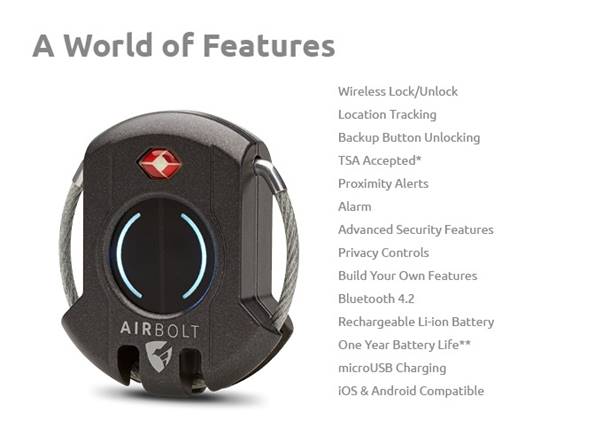 When it comes to technology, AirBolt comes packed with many features. We are one of the first to adopt the new Bluetooth 4.2 protocol and new chipsets which offer better battery life and responsiveness. We actually plan to take full advantage of the protocols enhanced security and communication protocols in order to rapidly expand our network especially as it may allow us to create large mesh networks. Keeping with our strategy of reinventing the travel lock we made sure that everything we did aligned with this thought stream. One such example is with TSA. Whilst the TSA barrel still exists and requires a specialised key, it still activates the lock electronically with our new patent pending design. Why does this matter? Well, you can now just turn off TSA access from the app. Meaning that inserting and turning the key won't activate the lock. Perfect for the times you are travelling to countries that don't use TSA master keys at Airport security checkpoints.
Along with that, in terms of the Egeetouch, we are using Bluetooth 4.2 (the latest generation of Bluetooth protocol released this year) allowing our users to be able to access their devices without having to remove their phone from their pocket. Our battery is rechargeable as well via a standard micro-usb, the AirBolt is approximately 60 grams compared to 125 and much more compact (30% thinner!) making it perfect as a travel companion as it fits beautifully with your suitcase. Furthermore, as the AirBolt doesn't rely on NFC and you can easily use it with your iPhone, iPads and much wider variety of Android devices than the eGee touch which is only limited to Android.
Are there any advantages over full smart luggage packs?
As compared to other smart luggage packs, we fit all the technology into a small package. This means that you can make anything you secure with the AirBolt smart. Many people love the smart features available these days but have a ton of bags lying around at home ready to use. Well, with the AirBolt there is no need to spend hundreds of dollars on a new bag.
What developments can we look forward to in the future?
This is step 1 and I want to do much more for AirBolt. The climb up is a learning curve but I do believe I am ready for the challenge. Having said this, when I started AirBolt, I wanted to ensure that the technology we develop is versatile and adaptable to a whole set of applications. I can confidently say that we have achieved that. Not only can developers around the world expand the features to their liking, we'll be expanding the product line as well. Adding "siblings" to AirBolt: The Truly Smart Travel Lock. What "siblings"? Well let's say we have some really cool ideas but for now, we will have to keep it a surprise.
AirBolt has been raising funds on Kickstarter and will be funded on December 12. You can find more details about AirBolt here.