Meet Hendric Tay. Hendric, might come across as a 28 year old average Singaporean, who loves to travel and talk about his journey on social media. But when you take a closer look, you will realise, he does something special every time he visits a new destination. By uniquely merging travel and dance.
Hendric Tay is an avid traveller, an occasional dancer and an aspiring entrepreneur. Like most of us he had a regular nine-to-five job. In September 2013, he left his boring sedentary lifestyle and embarked on a journey of exploration and self-discovery. As 'Travel is an awesome teacher', till date he has visited 40+ countries and exposed himself to multiple cultures.
Of course, giving up his socially-accepted lifestyle was not a simple deal. He had to save money for a long time and convince his family. After years of saving, he could accumulate a reasonable amount in his bank account just before setting on the journey. Being brought up in a typical Chinese family, convincing his loved ones initially was another obstacle. In his blog he claims: After a year and lots of communication, I think the important people in my life finally understands.
Before starting his around-the-world travel, he planned to explore different countries for only a year and settle down again. But, things turned fortunate for him soon. Now he's not only travelling but working on his own travel startup.To his readers, he suggests that it is better to do something you love than regret later about it. He is passionate about travelling and exploring the world around him. He recognized it and just followed his inner voice. He guides us by saying that if, after carefully analyzing the situation, we feel that things might turn favourable for us, we should take the chance to do it. Taking chances is part of the game.
To give you a glimpse of his latest adventures, he frequently posts photos in social media platforms like Facebook and Instagram. Check out a few of them below: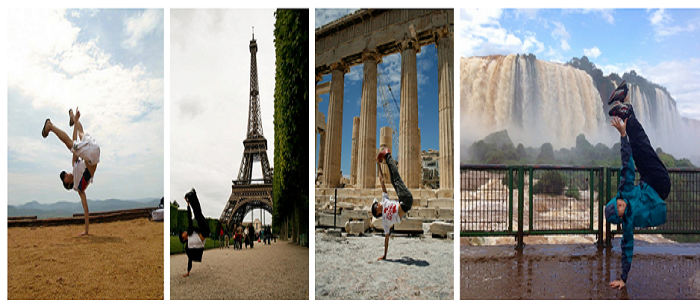 In each Instagram photo, you will that he has combined his love for travel and dance distinctly. He likes to call it 'piking' and has got a webpage on his website full of Piking photos. We picked some really amazing Piking pictures from his Instagram:
#1. Piking at Fraser Island, Southern Queensland
#2. Piking at Sao Beach, Vietnam
#3. Piking at Similan Islands, Thailand
#4. Piking in Bagan, Myanmar
#5. Piking in Machu Picchu
And then here is this exclusive image of him Piking in front of Taj Mahal
You can watch this video by Amadeus IT Group to hear him talk about his adventures.
Over years, he has worked with multiple media brands like Skyscanner, Airbnb and Sony. Also, he has been awarded with 'Singapore Blog Awards' this year.
Hendric Tay isn't the only one with a unique touch to his travel photos. Chris O'Neill's got some jaw-dropping Facebook videos here and Murad Osmann posts some beautiful images on his Instagram. We are sure they'll excite you to the core.
Would you be ready to go on a road less travelled like these travel-junkies did?