Sore shoulders and neck are almost guaranteed after a long flight or train ride. There have been many products promising to address this and many of them have been seen on Kickstarter and Indiegogo. Many of these products have raised huge amounts in crowdfunding, indicating that travellers are eagerly looking for the right solution. Another product called the Nod travel pillow aims to give you a nice sleep during your flight.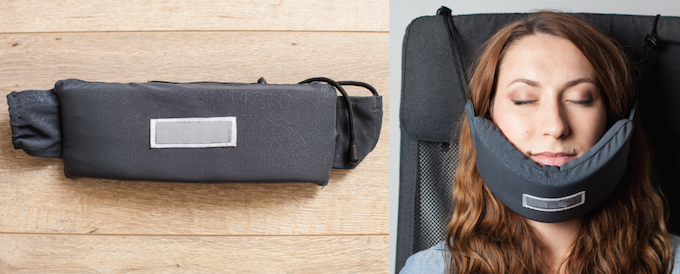 The Nod travel pillow looks like a sling made out of memory foam. It is designed to mount on your seat and hold your head in place so that it doesn't fall forward or sideways. The creators claim that it work on all kind of seats from trains to planes to office chairs and you just have to hook the ends of the bungee cord to set it up.
Now this might look a little awkward, especially if you consider the fact that you would have to reach out to the back of your seat to set it up, the response to Kickstarter campaign suggests that people are willing to do that for a sound nap. The campaign has already raised over USD 260K (pledged goal of USD 20K) with 6,250 backers and another 13 days to go. You can get one for yourself by November for USD 32 by backing the campaign.