In a short time period of 5 years, the beautiful Marina Bay Sands has become one of the top venues for business events in the region. It also plays host to a large number of vacationers as well. While the entire hotel industry faces various challenges, Marina Bay Sands enjoys close to full occupancy all year round by positioning itself well and tapping into the right markets. We had a chat with Mr. Maunik Thacker, Senior Vice President Marketing, Marina Bay Sands to learn a thing or two from their success story. Here is an excerpt from the conversation:
MBS turned 5 earlier this year, can you talk about the journey through these years.
Marina Bay Sands has become a game-changer in Asia's tourism scene. Since our launch in 2010, our iconic design and multi-dimensional offerings have not only transformed the city's skyline but also placed Singapore in the global spotlight, capturing the imagination of travellers from around the world.
We are constantly evolving as a property and reinventing ourselves to remain competitive. Our efforts to keep Marina Bay Sands an exciting tourist destination have paid off, with over 40 million visitors going through our doors annually for the past two years. In the third quarter of 2015, our occupancy remained high at 98 per cent and our EBITDA rose 10.8 per cent year-on-year to US$389.7 million. We were also presented the 'Business Event Venue of the Year' and the 'Best Shopping Experience' awards by Singapore Experience Awards 2015 – the most prestigious awards platform in Singapore's tourism industry. Our successful integrated resort model, coupled with the reinvestment in our property through infrastructure enhancements and new concepts, continues to keep us ahead of the curve.
MBS has played a pivotal role in revamping brand Singapore as a tourist destination. As the city continues to evolve and reinvent with newer points of interest, how MBS is gearing up for the future and what are the new initiatives one can expect?
We are humbled by the strong support and honoured to help shape the face of tourism in Singapore.
After five years in Singapore, Marina Bay Sands continues to listen to the customers' feedback to anticipate demands. We've been privileged to operate such a distinctive tourism landmark, and we'll continue to reinvest in its future so that it remains compelling, innovative and exciting.
We began upgrading our hotel rooms earlier than the usual hotel refurbishment cycle, introduced four new celebrity chef restaurants this year and are continuously bringing in new-to-market brands and flagship stores to The Shoppes. Recently-opened retail stores include Furla and Loro Piana, and shoppers will soon be able to browse through the biggest Armani Junior store in Singapore, biggest Valentino store, and the world's leading toy retailer Hamley's of London.
On the MICE front, we have staged 63 new-to-Singapore trade shows and exhibitions since opening. In 2016, this will include new-to-Asia shows such as Airline Passenger Experience Association Meeting and Exhibition.  Returning to Marina Bay Sands next year are also numerous key events such as Tax Free World Association Conference and Exhibition 2016, Maison et Object Asia 2016 and World Cities Summit 2016.
We want to move beyond the iconic label, where tourists only visit once, to being a destination that draws guests again and again for diverse reasons.  Whether it's entertaining guests with live concert series Sands Live, pleasing their palates with Gordon Ramsay's Breadstreet Kitchen, or catering to culture fans with award-winning exhibitions like Collider at ArtScience Museum, we programme Marina Bay Sands very actively to keep it fresh and dynamic at every turn.
You have witnessed 100% occupancy rate across most seasons. Can you give us some insight on the channels that drive these bookings?
Our website is our key customer acquisition channel where we offer the best online rates and various seasonal promotions, although our network of online travel agents also brings in a steady stream of bookings. Group sales come in through traditional channels such as physical travel agencies.
MICE has been another key driver of our hotel rooms. Big-scale MICE events such as Interpol World 2015, CommunicAsia, Sibos and ITB Asia bring in many delegates and industry professionals from all over the world, many of whom choose to stay at Marina Bay Sands. For instance, we provided over 11,000 rooms during Sibos 2015 in October and will be providing over 1,500 rooms to host officials and athletes as the Official Games Village for the upcoming 8th ASEAN Para Games in December. We believe that our customers are looking for a one-stop premier destination when they travel and Marina Bay Sands delivers this in a large way.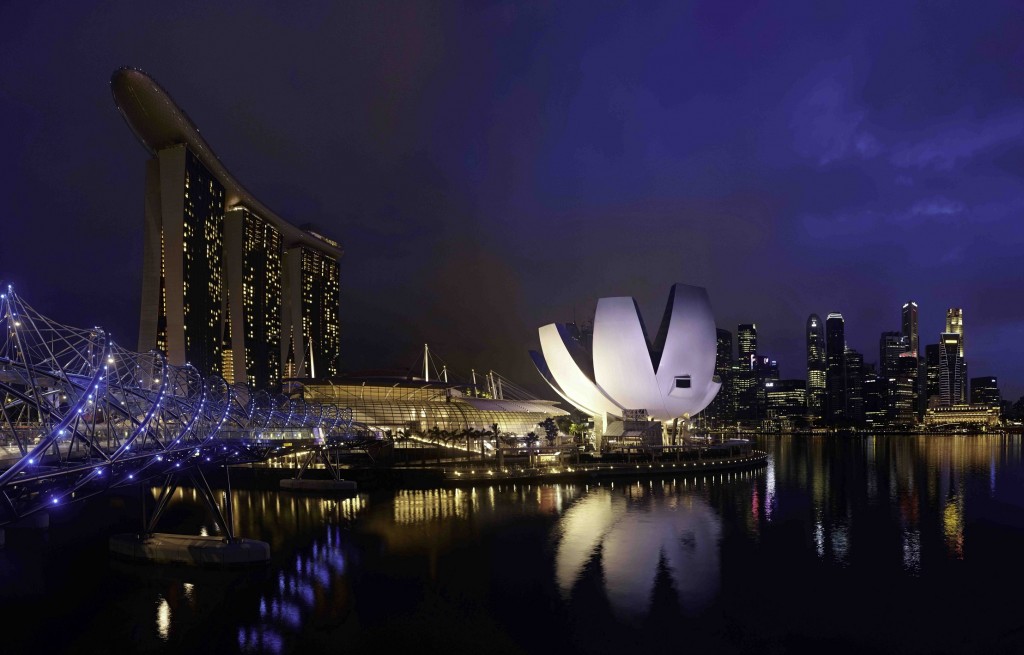 What role does the website play in enhancing the reputation of the hotel?
We are focused on being mobile first, and this extends to our customer engagement strategy when they are on and off property. Our website is often the first touch point for guests to discover our offerings and services, usually through their mobile devices. We are in the midst of enhancing our website through a content refresh to focus on a simple yet engaging user experience. Recently, we expanded our digital presence in China through WeChat, a popular social media platform. This allows us to reach Chinese mobile consumers with relevant content and deepen their engagement with our brand. The journey continues when they are on property, through a designated app which gives guests easy access to information, such as the mall directory and an online property map, using their mobile phones.  Through this continuous loop of digital experiences, we aim to better serve the specific needs of guests and create personalised experiences for them.
There are a huge number of conversations taking place about MBS online from Tripadvisor to Blogs and on social media platform like Twitter. Can you give us a perspective of the team which works to ensure a happy customer experience?
Social media has redefined the way brands communicate with people; and vice versa. The always-on ecosystem of blogs, social networks and forums has created unprecedented opportunities for Marina Bay Sands to lead the way in engaging communities and build direct relationships with our clients. Our social media team aims to drive long-term social engagement whilst demonstrating commitment and involvement to our customers.
On a day-to-day basis, the Social Media team creates content for various platforms, manages all the interaction and engagement with fans, ensures that all feedback are responded to in a timely manner. We also strategize, develop and execute social media engagement, processes, content creation and outreach to ensure that all business units meet their goals.
Apart from daily social engagement, the team also utilises social media for Branding, Marketing and Communication, Customer Service, Recruitment and Employee Recognition.
Through the successful efforts of the team, our social media accounts have grown rapidly. As of 16 October this year, the Marina Bay Sands Facebook page has received over 511,000 likes, a 58.4% increase since January whereas Twitter and Instagram have gained 23,756 followers and 19,990 followers respectively, a steep rise of 58% and 250% compared to their figures at the beginning of the year. Recently, Marina Bay Sands beat other global contenders to win HOTELS' 2015 Social Hotel Award for the Best Facebook Page, Property.
By leveraging social media, we continue to cultivate a strong bond with our customers and allow ourselves to be more accessible from all parts of the world.
You can discover more about Marina Bay Sands on their website.