Earlier this month, Dave Brett, popular British travel blogger organised Travel Blogger Retreat on the tropical island of Koh Phangan, Thailand. The idea was to bring together like minded travel bloggers so that they share their experiences and learnings with others.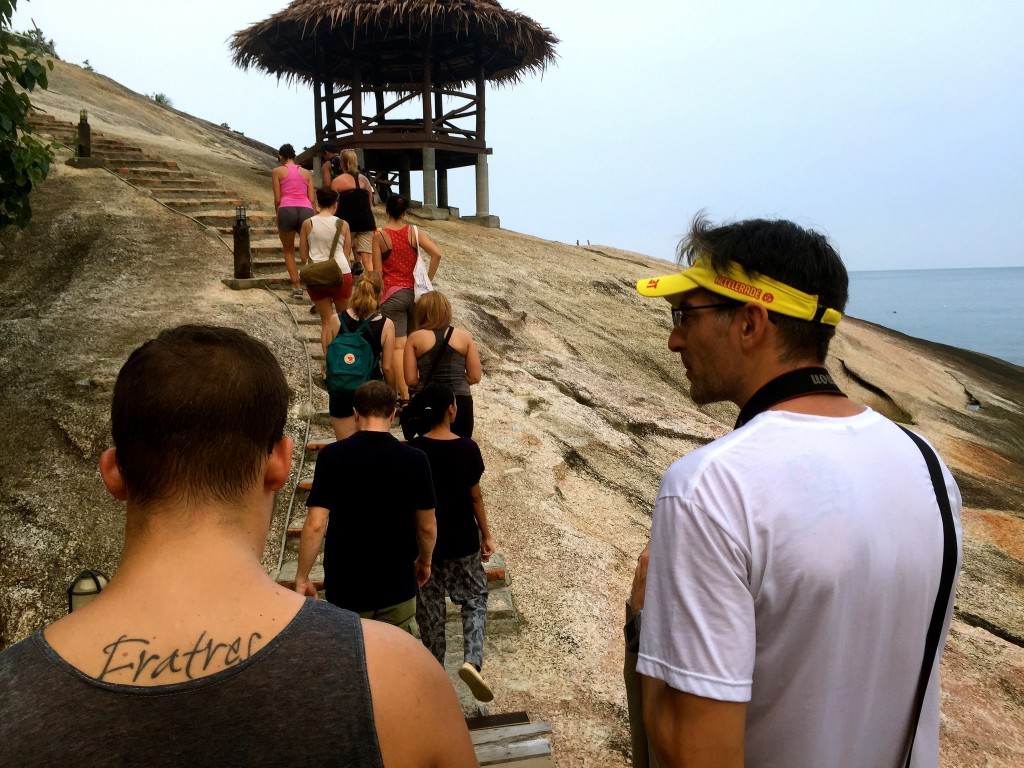 Travel Bloggers have a very important role to play in our industry as they drive inspiration for a large number of travellers. At times they also serve as a channel between destinations and target audience. We got in touch with Dave to know more about the event. Here is an excerpt from the conversation:
What was the whole idea behind Travel Blogger Retreat?
The whole idea behind travel bloggers retreat was to create a collaborative learning environment where we could pin a space to gather like-minded travel bloggers who were looking to learn, network as well as having a lot of fun exploring a new location all over the course of one set week.
7 days is a lot of time. What can one expect to take away from the experience?
The idea was to create a sort of hacker camp, a space where we could all live in one location which means it would make it easier to network together, many meetings were held in the pool! Each day would remain flexible (nothing was compulsory to attend so you could work on your blog in your beach front bungalow room if you wish to). Having one lecture, one round table discussion and then one activity each day that you could attend over one week was enough so that it wasn't overwhelming but remained useful. This creates a relaxing retreat atmosphere and allowed those to learn when they wanted, relax when they could, focus on their travel blogging business where they can and party when you wanted to let your hair down, a program that seemed to work for everyone rather well.
It happened at a time when Thailand also had #TBEX2015. What's the connect?
This has been a great year for Travel bloggers and Thailand, so much happening and Thailand is now on the map as a popular Digital Nomad, travel blogging location to be based, it has so much to offer.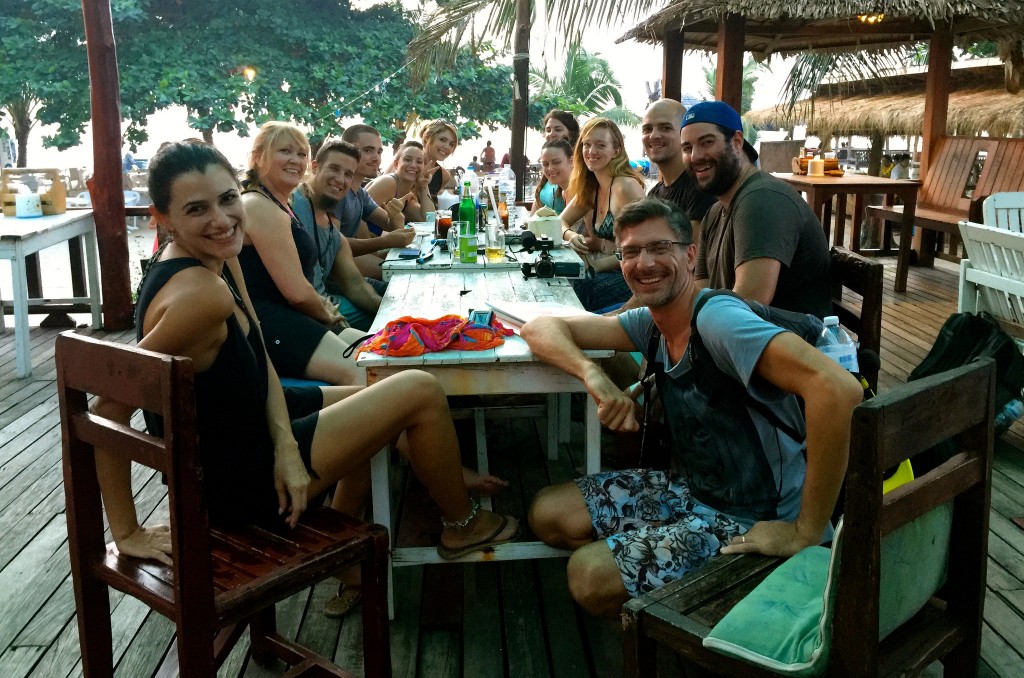 October is low season here in Thailand, local Thai businesses are always open at looking into creating something unique to bring visitors over and make the most out of all year round Thai smiles. I was lucky to notice a lot of my close travel blogging friends were heading to Thailand and wanted to enjoy the islands way of Thai life for a few weeks before arriving and I noticed the two opportunities and put them together. This is normally how these crazy ideas come about and I'm happy that it all came together so nicely, always good when a plan comes together.
What was the driving factor for Travel Bloggers to participate in Travel Blogger Retreat?
Travel blogging can be a lonely world, especially when you've been backpacking and running your travel blog alone. It's a good idea to reach out to other bloggers and form a close circle with other bloggers you like to network with.
I've noticed from my past experience that when you sit down with other bloggers and discuss the issues that you're facing it's quicker to resolve these issues, it's quicker to work out things together rather than alone. I had been blogging on my own since 2-3 years in Holland and never met another travel blogger but when I finally flew over to Chiang Mai and networked with other travel bloggers I quickly discovered smarter new ways of doing things and this helped my travel blogging business excel quicker.
How was the response to this year's edition?
This year we were overwhelmed to gain 35 attendees at the Travel Bloggers Retreat, which is fantastic for the first edition, we hope to increase this number in 2016 but only by a little to make it more exclusive and still retain the Retreat vibe.
Can guest speakers nominate themselves to speak on various categories or was it an invite only thing?
I'm a big fan of carefully selecting the guest speakers to retain value in the speakers, that's why this year all the speakers were close friends of mine and I specifically selected them not based on the level of their following or engagement, but because I knew they had passion in the area that they wished to teach and that I knew that they would have time to help the attendees and to offer value in them being in a smaller more exclusive one on one focused retreat. It also allowed me to gain confidence in the event that it would be of high value as the speakers themselves have inspired me personally and I knew we would form a good fun team that would make the event purely awesome. In the end, this was a good move and worked well, I'm so happy to have had a great selection of guest speakers and a good bunch of attendees that all shared the same vision in the event.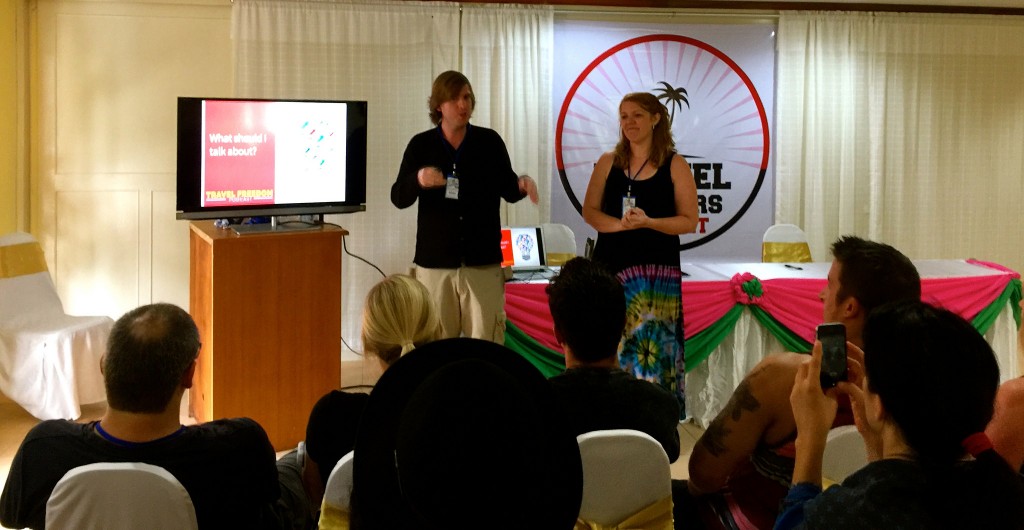 However the round table discussions were based on an open mic voting system and anyone could step up to the table to host a discussion, this went very well and created a different learning environment. This created some great discussions and were completely off the wall and interesting to be a part of, such as Todd hosting the Periscope discussion. Now I see all the attendees taking part in Periscope, it's fantastic!
There were plenty of interesting workshops taking place – Is there a place where one can access these presentations or recorded videos?
I am currently working on creating a blog post resource to find all the lectures and talks online with all the notes, you can start by visiting http://traveldave.co.uk/ebook for my talk on how to kick start your first ebook, November is the writing month, so join in the fun and get excited to write your first ebook, a great passive income way to bring revenue to your travel blog.
Lastly, why Koh Phangan?
Koh Phangan is world famous for its full moon bucket parties, but the island has so much more to offer so it was a fun destination to explore this side with travel bloggers, the island needed some discovery, promotion and makes a perfect relaxing location to be for a week, its tropical paradise with stunning sunsets, beautiful beaches, great tasty local food and fun parties when you want to let your hair down, Koh Phangan has everything to offer.
You can read more about the event on Dave's blog here. For more questions, you can tweet to him @traveldaveuk.