It is safe to say that the success of a hotel and the technology it employs go hand-in-hand, and hence technology becomes vital to differentiate themselves from competitors and engage with guests. Remaining ahead of the curve not only increases profits, but also drives more exposure, solidifies loyalty and brings in more guests.
According to a Walker study, by the year 2020 customer experience will overtake price and product as the key brand differentiator. Studies validate that dynamic shifts in the hotel industry are taking place in 2018 – with dominance of digital and mobile.
Today, hotels can monitor guests around their properties using installed apps tied to key cards. They can log every guest request through AI-driven concierges, which means the guest doesn't need to come to the front desk or even call them. Devices using Internet of Things (IoT) can help the hotel know what temperature the guest likes their room to be at, when water bottles need to be replaced, and more. Armed with this information, hotels can then personalise at an individual level for each guest, making recommendations for add-ons, for instance.
Here are the top technologies that any hotel must have in order to determine if they will manage to win the hospitality race this year –
#1. Virtual Reality and Augmented Reality – With analysts predicting that AR and VR will be a $150 billion industry by 2020, it offers enormous benefits for brands savvy enough to seize the opportunity. Hotels who use VR will be able to determine guests' tastes when they check in, monitor their movements inside the hotel, and even attempt to get them to pay for additional products. The gadgets associated with the technology, such as mounted headsets or connected glasses, are also a key part of the tourist experience, especially for the more tech-savvy, millennial generation of travellers.
For instance, Shangri-La Hotels has a website dedicated to virtual reality wherein people can explore the chain's hotels and destinations around the world with their immersive 360-degree videos. They can take virtual tours of amazing destinations and iconic hotels – all from the comfort of home.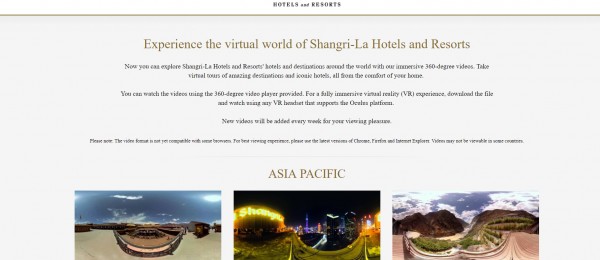 #2. Self-Service – According to a report by Gartner, by 2020 a customer will manage 85% of the relationship with an enterprise without interacting with a human. So, whether a hotel is a high-end boutique or a budget-friendly one, self-service technology, especially via mobiles, is increasingly impacting the hotel experience, right from check in to check out. If done correctly, the service allows hotels to operate much more efficiently, while maintaining comfort for guests.
Marriott recently rolled out its mobile check-in feature across the Asia Pacific region, that enables members who have downloaded the Starwood Preferred Guest (SPG) mobile app to book their stays directly with SPG on its website or in the app.
#3. Paperless transactions – More and more hotels are starting to realize the advantages of paperless transactions, not only for expenses, but also for the environment. From employee management to receipts, surveys, loyalty programs, and managing documents – going digital makes it more efficient for the hotels to run their business. By having a modern Property Management System designed, with additional features such as electronic signature for guests, the entire process becomes more seamless and mobile.
Silverbytes System, a specialist in hotel management software, is already helping hotels go green by enabling them to offer express check-in online or via mobile, and express check-out via iPad and other tablet devices.
#4. Internet of Things – Smart hotels are enabling hoteliers to offer better service and run the facility on their back-end more efficiently, all this thanks to IoT, the global market of which is expected to reach $7.1 trillion in the years to come. The benefits of IoT lies way beyond regular servicing of tech-savvy guests with smart room technologies; it is also helping hotels manage electricity and power consumption by controlling usage of lights, and other systems that automatically switch off when guests leave rooms.
Last year, Hilton unveiled its 'Connected Room', a first-of-its-kind, high-tech guest room that enables guests to personalize and control every aspect of their stay from one central point – their mobile device. Guests who stay at Connected Room-enabled properties will be able to use the Hilton Honors app to manage most things they would traditionally do manually in a room, like controlling the temperature or window coverings.
#5. Strong cybersecurity – With the rise of IoT, and the increased usage of online tools, cyber-attacks have become more frequent and prevalent. The hotel industry is particularly vulnerable due to the amount of personal data available with them. It will be imperative for hotels to upgrade their data protection processes, or face the risk of significant losses, both in terms of data and revenue. From investing in cybersecurity technology and having a cloud-based PMS to providing the staff with appropriate training programs, hotels will have to up the ante when it comes to protection.
A couple of days back, Rosewood Hotel Group announced an issue affecting certain Rosewood guest reservation information that was maintained on the systems of Sabre Hospitality Solutions, a service provider used by Rosewood and other major hotel brands to process guests' hotel reservations. This further highlights the need to put the spotlight on cybersecurity.
#6. Frictionless experiences – The key to success for any hotel is removing each and every pain point for a frictionless guest experience. Mobile keyless door is one of those technologies that are already in use and are generating immense positive feedback from guests. The security, convenience, and efficiency it offers helps guests manage their stay on their mobile devices, making it easier for hotels to do away with unreliable, easily-duplicated plastic key cards.
Hilton's guests in the UK, for instance, are now able to use their phone as a key to enter their rooms, as part of an international roll out of the technology by the hotel. Its competitors such as Marriott, Hyatt and InterContinental Hotels Group are also experimenting with similar systems.
All these technologies combined will help hotels react smarter and faster, fixing an issue before it escalates into a complaint, mastering guest communications and services, and finally, pushing up the all-important review scores. This will give the hotel of the future an edge in customer satisfaction and also drive increased revenues from altogether new streams.