With the aim to promote Hong Kong as a major travel destination and enhance visitor's experience once they arrive, Hong Kong Tourism Board has recognised the importance of technology and is using it avidly to attract more tourists. Like many other tourism boards, HKTB uses social media platforms like Facebook and Twitter actively to popularise the destination and attract travellers.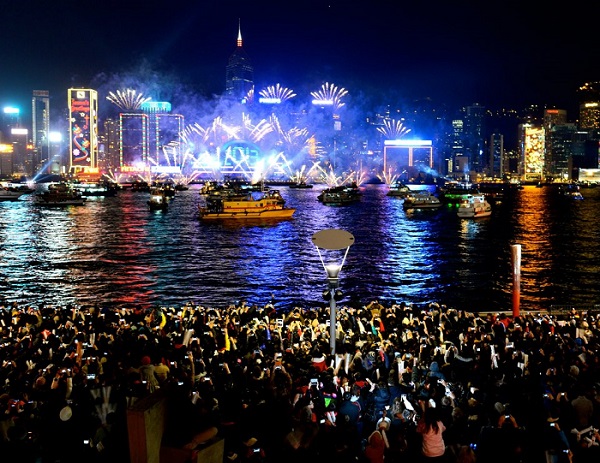 The perfect example of HKTB's effort to attract more travellers to Hong Kong can be 'Hong Kong Pulse 3D Light Show'. Taken place sometime back, this unique light show was viewable on the iconic buildings of Hong Kong Cultural Centre and the Clock Tower at Tsim Sha Tsui. It can be watched below:
Taking a step further in the same direction, Hong Kong Tourism Board will stage a "pyromusical", interweaving pyrotechnics with fireworks, special lighting effects and music, over the very popular Victoria Harbour and few other skyscrapers on the night of 31st December, 2015.
For the first time ever, the fireworks won't be just sparks illuminating the sky, but every burst in the sky will represent someone's smile, love and dream. The theme of 'Love & Joy' will play in the background. There will be various greetings in different languages displayed on the LED screen on the façade of Hong Kong Convention and Exhibition Centre. The sparkling sunshine and iridescent colours of the rainbow will create a symbol and sense of hope among viewers.
Travel enthusiasts who wish to watch this New Year celebration should pack up their bags and get going for this destination before it's too late. The unique experience of light, sound and music will enchant international travellers like never before.
Travellers who have already made some other plans can watch HKBT's New Year celebration live here. This live-streaming video will allow people to get a sense of the fun and celebratory element of the event like they are actually experiencing it in real – although they are not present in Hong Kong.