Checking off must-see lists and referring to guidebooks in every destination is passe. The current crop of travellers is nothing like its previous generation, thriving on unique, local experiences, rather than pre-planned itineraries. Latching on to this insight, Airbnb recently came up with its #LiveThere campaign, urging travellers to actually live like a local when they visit their dream destination.
Coupled with the company's recent Trips launch in the country, the Airbnb campaign helps travellers immerse themselves in communities through the eyes of locals, by showcasing authentic, curated experiences made possible through Airbnb and its people-powered community. Watch the ad here:
While the video is focused on the city of Paris, the voiceover resonates with every traveller across the world who is dissatisfied with standardized tourist offerings. It creates a more authentic guest-host relationship by urging people to break away from the regular travel experiences and seek new destinations in the homes of local residents, and through their eyes. In order to stick out, Airbnb is trying to appeal to nostalgia and the thrill of adventure. The core of the engagement is authentic to the brand and the campaign aims to create meaningful, honest experiences. It also aims to increase the daily relevance of the product in people's lives. Right now, people only go to Airbnb when they look for places to stay in during a vacation. The brand is striving to become a daily app where people go to find experiences; making both hosts and guests long-term partners.
Airbnb in India has witnessed tremendous growth in the past one decade of its existence. Currently, 22,000 properties are listed on Airbnb's India platform across 100 cities. According to the company, transactions on the platform in India has nearly tripled over the past year, with nearly five lakh Indian guests having travelled via Airbnb. All these numbers point to Airbnb's crucial role in the Indian travel market, touted to grow to $40 billion by 2020. Previously too, Airbnb has tried to offer accommodation in new regions of India that are attracting travellers by signing an MoU with Self-Employed Women's Association of India (SEWA), where the company worked with the members of SEWA to help them share their homes and host domestic and international guests.
To boost its campaign reach in India, Airbnb partnered with Viacom 18's entertainment channel MTV India to host the online #LiveThere contest. The contest required participants to log onto their Instagram or Twitter and submit image/video entries which best capture their 'Live There' moments. By collaborating with popular icons like Nikhil Chinappa, Anusha Dandekar and Radhika Apte, Airbnb aimed at establishing greater relevance with the young Indian traveller, based on their unique passion points. So, while trained Scuba instructor Nikhil Chinappa shared insights on how to best experience music and adventure in Thailand, Anusha Dandekar offered an insider's view into the hidden fashion hubs in Milan, and Radhika Apte suggested the best way to experience art and theatre in London.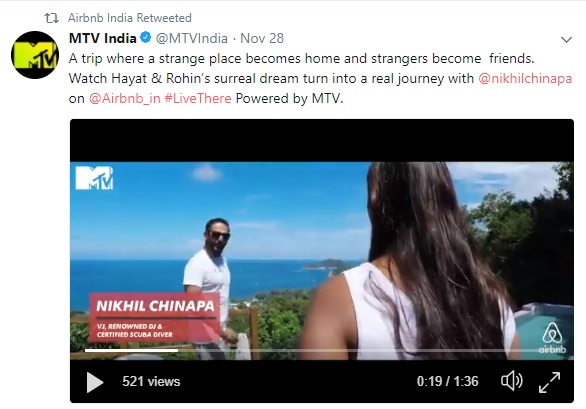 Overall, the new campaign throws out the notion that people want template experiences when they travel. By inspiring travellers to reimagine what it is to travel, including living in local neighbourhoods and enjoying the comforts of a home, the Airbnb campaign provides the perfect antidote to commoditized travel.