Singapore Tourism Board along with MasterCard to promote a tourism campaign they have planned to lure Indian travellers to the destination. The campaign features father-daughter duo Anil Kapoor and Sonam Kapoor encouraging the #FulfilAPromise initiative to the audiences.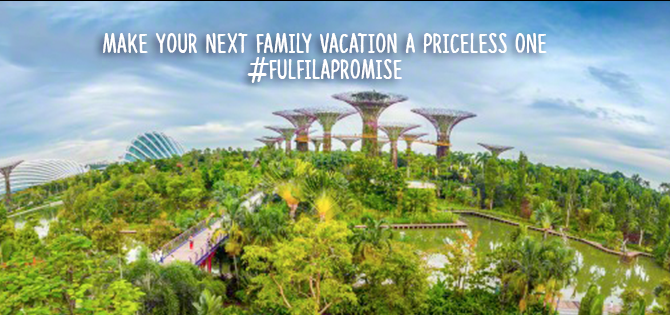 MasterCard and the Singapore Tourism Board aims to target the Indian travellers growing in numbers to propel their annual vacation to the international destinations. They are swarming the social media with #FulfilAPromise so that Singapore is kept as a preference on the bucket list of visiting places.
"With summer vacations on the anvil, consumers in India get ready for the upcoming holiday-travel season. We wanted to bring the best of experiences and delight for our cardholders that truly money cannot buy. Experiences like such can be shared and enjoyed with people who matter to you,"
said Mr. Parag Bhatnagar, Vice President, Marketing, South Asia, MasterCard.
The campaign concludes on 6th May 2016. It requires you to share your experiences as a MasterCard holder on MasterCard India Facebook Page or/and Singapore Tourism Board Facebook page on how you have fulfilled promises to your families. One grand prize winner of the campaign will get a curated stay experience in Singapore and 10 minor reward winners will be awarded a three night's getaway in Singapore. The minor rewards will be announced for every week of the campaign period and a grand prize winner will be announced in the second week of May 2016.
Few thoughts this campaign drives:
#1 Instilling emotional connect
The hectic life demands us of so many things. One that's almost ignored and kept on the backseat is spending quality time with our loved ones on the grounds that will understand. The campaign takes the for-granted spirit of working parents and instils in them a promise that should be fulfilled. The card holders will win a handsome and exciting vacation in Singapore to fulfil their promise. Spending quality time with the ones who deserve the most attention. Enough said.
#2 Exclusive MasterCard privileges
This comes down to market the experiences that money-can't-buy theme stands by. The MasterCard holders will have access to various privileges designed and shared with people who matter to them.  MasterCard's Priceless Singapore will connect people with their passions –shopping, travel, food and entertainment – and gives select access to a collection of exceptional experiences across the city.
#3 India is a growing market for APAC tourism industry
Encashing on the recent numbers provided by the MasterCard Asia Pacific Destinations Index (APDI) that stated that APAC is a fast growing tourism economy, Indians hoarded the destination with numbers of travellers increasing steadily. It crossed a million mark in 2015 with respect to the influx of Indian tourists. Singapore Tourism board hopes to keep the rate steady with this marketing campaign.
Singapore Tourism Board has established few other campaigns to promote the destination very actively. Its last one, Singapore Invites, was based on similar lines; Connecting families to enjoy their experience in Singapore and live their Singaporean dream. This one, however, captures the woes of a working parent and how they are unable to fulfil their promise to the little ones. The veteran actor, Anil Kapoor spoke about how the initiative is creating a surge of responsibility amongst all these people. The daughter, Sonam Kapoor, reminisces how she regretted as a kid that her father couldn't take out enough time for her. She furthers that campaign aims to establish that lost bond of communication amidst parents and children.
Singapore is at a threshold of booming tourism where various cultures and eclectic lifestyle infuse.  According to data from the Singapore Tourism Board, Singapore received over one million Indian travellers last year, an increase of 7.4 per cent travellers from 2014. MasterCard's partnership with STB is to boost the experience of MasterCard cardholders travelling to Singapore.