Whether we're travelling to a new city for work or for fun, we all want to find the most interesting neighbourhood, most loved restaurant, or that cool new bar. The thing is, we don't always have a local friend to show us around, or the time to surf the web to distinguish the tourist traps from the real thing.
Enter AVUXI, the young startup aiming to rank the popularity of every place on earth so you can figure out the best places to visit as you're booking your hotel and flight. This London and Barcelona-based company is the latest startup to benefit from an Amadeus Ventures investment.
"Whenever we talk about travelling, location is essential. What we tried to do with Amadeus is to help people save time and have a better and more personalised experience by having the bookings and the information on the same site," says Alexis Batlle, CEO of AVUXI.
So how does it work? AVUXI's TopPlace™ technology shows the most popular areas within a city through easy to understand heat map overlays, so travellers searching for a hotel on an online travel agency or metasearch site can intiutively understand the most popular places in the city they are about to visit.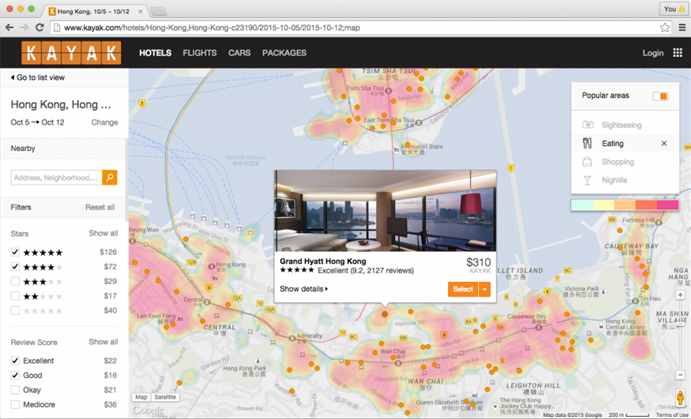 In addition, AVUXI's ranking scores assign location ranking to each hotel and vacation rental, and travellers can even search for popular places by category, such as eating, shopping, nightlife and sightseeing; so foodies can look for hotels near a city's top areas for restaurants, and fashionistas in the shopping district.
To deliver all this data to travellers, AVUXI's platform analyses and ranks geolocated data, including comments, photos and reviews from millions of users through more than 60 sources, including Instagram, Facebook, Twitter, Google, Wikipedia and more.
For travellers with little time on their hands, having access to all of this user-generated data from locals all over the world, means they can book their hotel with confidence. And much to the old adage that location is everything, travellers will pay for the convenience: an AVUXI study found that more than 90% of travellers are willing to pay more to stay at a more interesting and suitable location.
For online travel agencies, metasearch sites, and hotels, AVUXI's platform has the power to transform those just browsing into those willing to book a night's stay, resulting in improved conversion, increased revenues and happy, loyal customers.
"Finding ways to improve conversion for our customers is a key focus as a company. By building a culture of collaboration with developers, start-ups, partners and our own staff, we are unlocking new innovations that can deliver real value to our customers and travellers. That's why we are excited to invite AVUXI into the Amadeus Ventures portfolio," says Katherine Grass, head of Amadeus Innovation & Ventures.
Amadeus Ventures, the corporate venture arm of Amadeus IT group, is a travel venture fund which invests in start-ups sitting at the crossroads of travel and technology. Amadeus launched this fund in 2014 and AVUXI is the latest addition to a portfolio that also includes start-ups such as Fly, Bluesmart, BookingPal, Yapta and Olset.