Chengdu, capital of Sichuan province in China, is offering a 144-hours Transit Visa Free to the holders of 53 foreign countries from 1 January 2019, as part of the city's plan to boost its development as an international destination for tourists. This was announced by Ms Duoyang Namu, Director General of Chengdu Municipal Tourism Administration, at the official opening of the 6th Chengdu International Tourism Expo (CITE) 2018 being staged at the Century City New International Exhibition Center from 29 Nov to 1 Dec.
The CITE 2018 – the leading travel show in Chengdu for professionals in the tourism industry – saw a record number of 500 Chinese and foreign exhibitors from over 30 countries, including global National Tourism Organisations, leading tour agencies and attractions, and more than 300 hosted buyers from Sichuan and other provinces. Some 3,000 industry members visited the event.
Apart from Ms Duoyang Namu, Mr He Yu Dong, Deputy Director General of Chengdu Municipal Bureau of Expositions and Mr Chai Yan Zhu, Executive Vice-President and Secretary General of Sichuan Tourism Association also graced the official opening. Mr Steven Pang, Consul General of the Republic of Singapore, also attended the event together with several of his colleagues from other consulates based in Chengdu. More than 30 media partners were in attendance.
The highlight of CITE 2018 was the participation of the European Tour Operators Association (ETOA) and the European Spas Association (ESPA) as part of the just concluded EU-China Tourism Year, aimed at increasing the number of Chinese tourists visiting Europe.
At the exhibition, members of the ETOA presented on "The Lure of Romantic Europe for Chinese Visitors", which was well-received by trade visitors. To further cement the importance of attracting Chinese tourists to Europe's tourism sector, both ETOA and ESPA had brought along their huge contingent of 100 European tourism suppliers, with the aim of forming strategic partnerships with China's travel agencies to offer enchanting romantic experiences for the Chinese travellers.
Prior to the opening of CITE 2018 on 29 Nov; members of the European contingent also conducted a seminar on their touristic products and conducted business-to-business meetings with some 100 Chinese travel agencies at the Hilton Hotel. Many of the European tour operators were in Chengdu for the first time.
Another major debutant was the Ho Chi Minh City Department of Tourism (Vietnam) which promoted itself under the theme "Ho Chi Minh City – A Whole Vietnam". With a colourful and vibrant pavilion, the Vietnamese tourism authorities conducted a full-house press conference, opening up a whole new world of opportunities for their travel agents to explore business collaboration and gain more valuable tourism insights into China's Outbound Tourism Market through subsequent networking sessions with local Chinese buyers.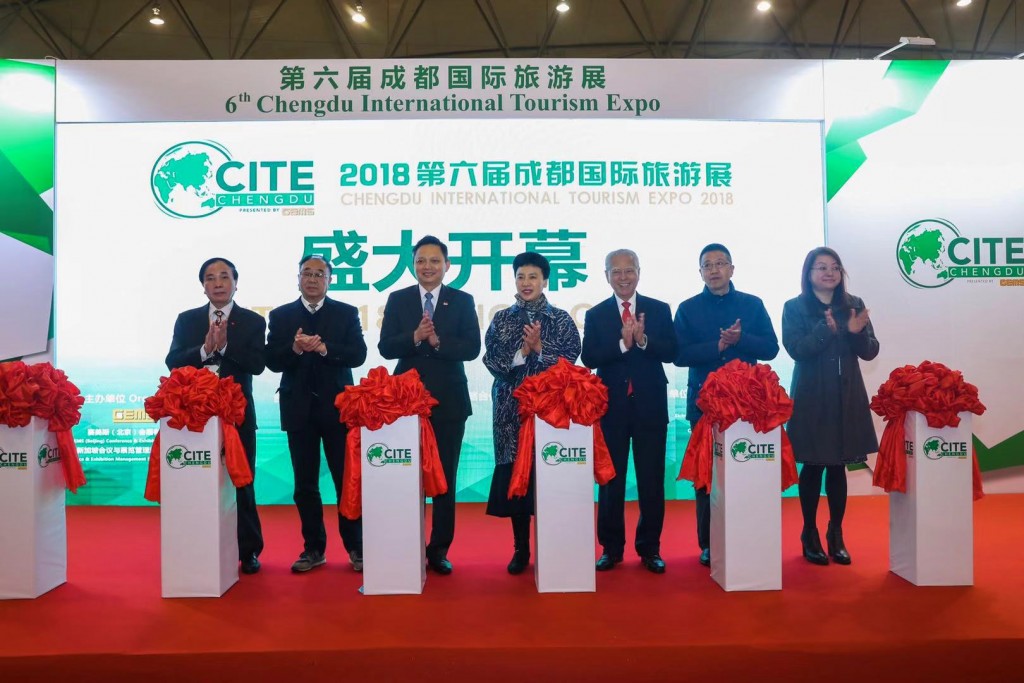 In addition to the choke-full of exciting activities and destination presentations, two days of B2B networking sessions and luncheon were conducted by effectively matching some 300 hosted buyers with enthusiastic exhibitors within the exhibition hall. Most of the meetings were matched through the Pre-Scheduled Appointments system (PSA), while some were managed on the spot. "Our enthusiastic exhibitors were excited to be able to offer our hosted buyers and trade visitors, a huge diverse tourism-related products and services portfolio, enchanting and exotic destinations. Together with my dedicated and dynamic team, we aim to continue driving critical communications and foster greater collaboration between our valued exhibitors and hosted buyers to meet the unique needs of the ever-growing Chinese travellers," commented Edward Liu, Group Managing Director of CEMS.
Meanwhile, to help promote Chengdu as a top destination internationally, the Chengdu Municipal Tourism Administration hosted a special dinner event at Fairmont Hotel on 29 November for more than 150 international exhibitors and tour operators from CITE 2018. The Guest-of-Honour was Mr Wang Pingjiang, a Vice-Mayor of Chengdu.
In recognition of the splendid tourism promotional work carried out by Conference & Exhibition Management Services (CEMS) for the past six years, actively promoting Chengdu as a top tourist destination in Western China, Edward Liu, Group Managing Director of CEMS, was presented with a Certificate of Honor, by Vice Mayor Wang Pingjiang on behalf of the Chengdu Municipal Tourism Administration.
Considering such a successful staging of CITE 2018, coupled with an overwhelming response and positive feedback from the majority of its exhibitors and hosted buyers, CEMS is confident that more international exhibitors would inevitably participate in next year's CITE, which would be held at Century City New International Convention & Exhibition Center, from 28 till 30 November 2019.