There is a growing need for hotel rooms across India and there aren't enough good hotels to meet the demand. There are a large number of budget hotels but their occupancy rates are low because of reliability issues. Startups like Oyo Rooms and Zo Rooms are trying to solve this by standardizing budget hotels. This gives travellers the confidence to book budget hotels while increasing the occupancy rate for these hotels.
Following the entry of Oyo Rooms in the budget hotel segment, Zo Rooms has entered the arena with their own lineup of budget hotel offerings. Stayzilla also plays in the same segment but they are more of a marketplace and not exactly a chain of rebranded hotels. Zo Rooms is a startup by the founders of Zostel, a chain of budget backpacker hostels. They started only a few months back and have already got around 100 hotels across multiple locations. Initially they are trying to cover all regions or localities of the major cities before expanding to other cities.
They have got tablets installed at all of their properties for receiving instant feedback and addressing issues. They claim that they are the first budget hotel chain to do this.
Hotels can be booked through their website or their mobile app (which is in beta phase at the moment). The website lists twelve locations right now that are Ahmedabad, Chandigarh, Kolkata, Delhi, Noida, Bangalore, Jodhpur, Jaipur, Mumbai, Pune, Gurgaon and Goa. They are already playing host to a good number of guests and are expecting the number to grow further. Business travel generates a major chunk of revenues for travel industry and to make sure they get some of it, they have signed up with 20+ MNCs to be their accommodation partner.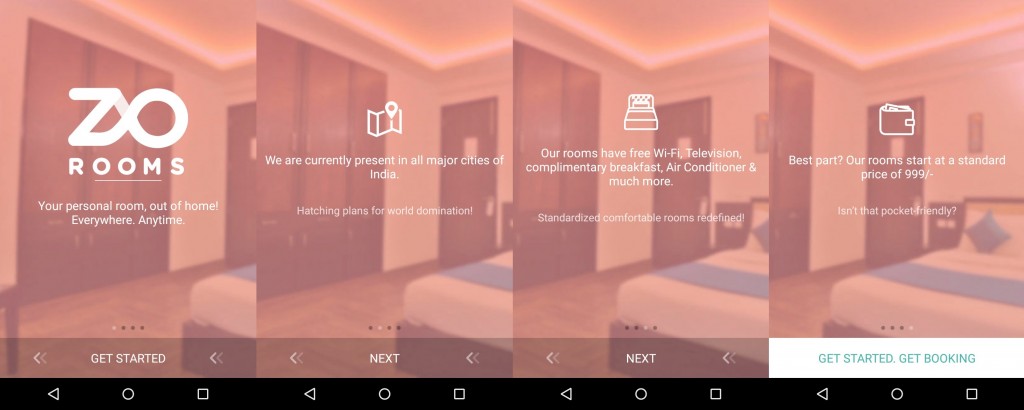 This is helpful for budget hotels as they get the reach and online presence they don't get otherwise. On top of that it gives the customer a sense of confidence due to standardisation bringing in more bookings for the hotel. Zo Rooms has got big plans ahead and they plan to have over 1000 hotels across 50 cities by the end of this year.