Taking into account the safety of women travellers, the City Police of Thiruvananthapuram is all set to launch the 'She Auto' project as an essential part of the Special Policing Initiatives and Gender Sensitisation programme of the Home Department. Home Minister Ramesh Chennithala will flag off the facility at a function in Kanakakkunnu Palace premises at 5 PM today. Health Minister  V S Sivakumar, Mayor  V K Prasanth, Range IG Manoj Abraham and City Police Commissioner R Sparjan Kumar will attend this event.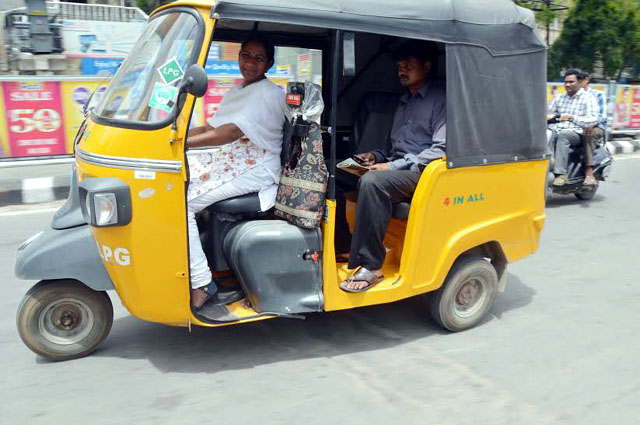 (Photo Credit: The Hans India)
For the convenience of the travellers, vehicleST.com, a startup promoted by the state government, will install tablets in the auto-rickshaws that display real-time information on speed, location, time and fare to the trippers. This information will be accessible using an android app. Free internet will be available in the vehicle too. The autorickshaws will have pink stickers indicating that the vehicles are distinctly women-friendly. Also, the commuters can locate the nearest vehicle through the mobile application.
Currently, 450 autorickshaws have been included in the first phase. They are stationed at the auto-stands of Thampanoor Railway Station, Pettah Railway Station, East Fort, Palayam, Peroorkada, Medical College and Kazhakoottam.
Safety of women travellers:
Looking into the security of women travellers, the police has ensured that the selected auto-drivers have a good track record. The drivers have been given special training on women safety and about the correct professional behaviour towards women travellers. They have ID cards and are instructed to wear them while being on duty. In the near future, the drivers will be monitored through the police stations concerned. A special cell headed by Control Assistant Commissioner has been formed to keep a track of the project and drivers.
Elaborating on the same, according to the news report, City Police Commissioner R Sparjan Kumar, quoted:
"Drivers of good conduct and character have been selected after a detailed background inquiry through police stations and beat officers of Janamaithri community policing scheme."
The travellers can file complaints or give suggestions about the project over toll-free number 100, women helpline numbers 1091 and 9995399953.
Last year, Pathanamthitta municipality pioneered 'She Auto' service. Creating an exemplary model in gender support, this project was highly successful within a very short span of time in the region. With Thiruvananthapuram taking a similar step, it can be assumed that 'She Auto' might grow exponentially in this travel market as well.