Spiritual tourism forms a very important component of the Indian tourism industry. Every year, the popular pilgrimage sites are visited by millions of pilgrims generating significant business for the local communities, accommodation providers and travel providers. While travellers are moving online for booking parts of their pilgrimage, there aren't many platforms that strictly focus on this segment for the entire journey. This is a segment which is still largely taken care of by offline agents.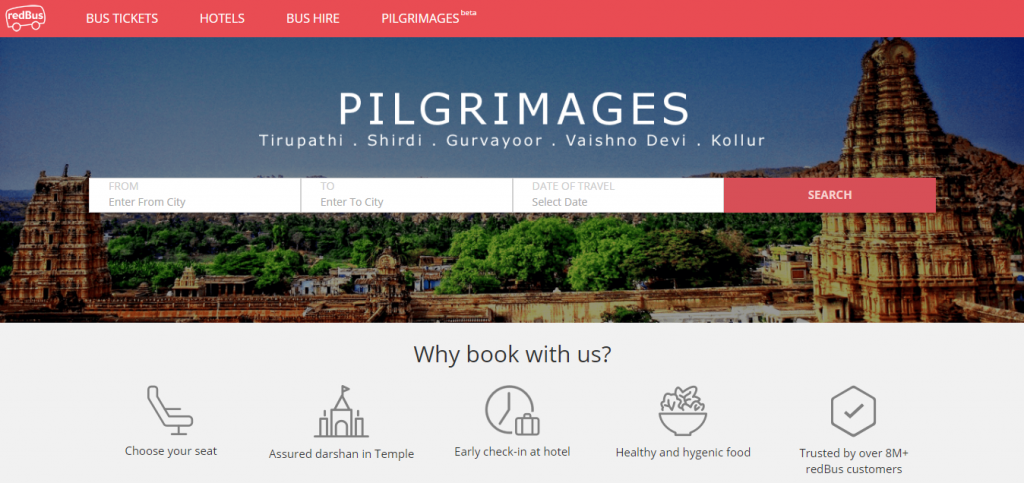 RedBus is trying to tap into this opportunity with Pilgrimages. Under Pilgrimages, RedBus is offering travel packages tailored for pilgrims travelling to some of the popular destinations. The packages include travel, stay, visit to the pilgrimage centres and food. They have included holy destinations like Tirupati, Guruvayoor, Kollur, Shirdi, and Vaishno Devi.
RedBus doesn't appear to be actively promoting the new addition yet. It could be because it is still listed as beta and they are trying to gain the response of a smaller set of users before scaling it up. The company has been pushing hotel bookings for a while and packaging hotels allows them to work in the same direction. Their large network of bus providers will help in scaling this up quickly should they choose to do so after the initial response.
We tried looking up what they have to offer but multiple searches returned no results. This could be because of the limited inventory they are offering right now but then it could have been displayed in a different format rather than offering zero results on multiple searches. If RedBus makes good progress in spiritual tourism, we might see other popular online players in this space too.