Thrillophilia, one of the largest tours and activities company in Asia, has announced a messaging communication service that allows its millions of users to interact directly with the local service providers before and after the trips. The company brings this technology to the fastest-growing sector of travel and hospitality. Thrillophilia's messaging service is one of the most ambitious attempts in the tours and activities vertical. Most travellers book activities on the go and the messaging service helps them quickly connect with local suppliers.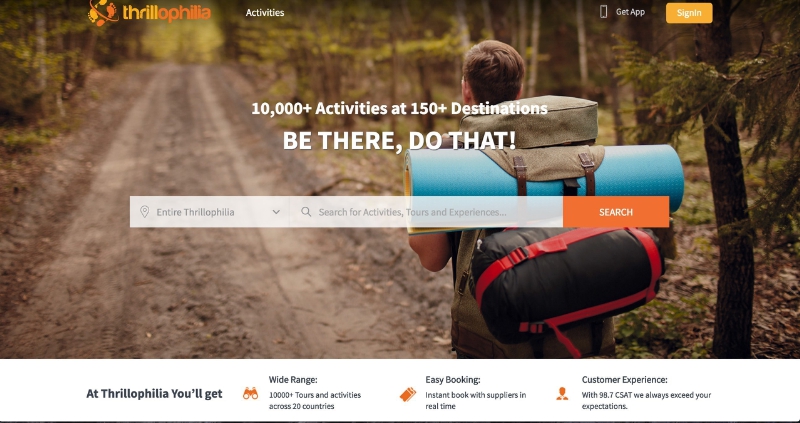 The messaging service can be used in two ways. One, where travellers can send messages to the local tour operators before or after booking. Two, suppliers can also initiate a chat with a customer who has booked a tour with them. Suppliers can also send relevant notifications. A supplier needs to enable chat service for oneself on the ThrilloSupplier app. Another interesting feature here is that users can start a conversation with Thrillophilia Experience Officers at any given point of time. There are dedicated channels for general enquiry, booking request and on trip support.
On this launch, Thrillophilia's mobile head, Vasavi said that the overall product is way superior than any other in the same domain. It not only connects two parties but also enables suppliers to send discount offers and take add on payments on the trip. Future for us lies in the ability to customize and optimize specific UI elements — for example, things to carry, reminders, on trip updates, price drop notifications, etc can be part of the conversation, giving seamless visual and transactional experience where Thrillophilia can showcase right messages to the customer or supplier at right time with actionable cards in messages. This messaging component allows our users to save a tremendous amount of time searching for and interacting with different agents or suppliers on traditional booking sites. The messaging service eliminates the hassle and connects the traveller with trusted, reputable service providers.
Looking out two years from now, Abhishek, Co-Founder-Thrillophilia says, "We forecast playing a significant role at every step in a customer's journey — from when they first research where they are going, to pre-booking, to booking and on-trips – everything can be mapped out contextually in a conversational thread. In future we will work towards integrating reviews, ideas of attractions, recommendations on how to reach, booking insurance / taxis, ticketing services, renting raincoats in case weather shows rain forecast in the city you are visiting, all into that one conversation."
Thrillophilia today has more than 1.5 million unique visitors a month on its website and mobile apps. By tracking the conversations that flow through its apps and messaging platform, Thrillophilia is collecting extremely relevant information about likes, dislikes and usage patterns of travellers. Thrillophilia said the messaging technology is now available to all users, but that it's being rolled out to Thrillophilia's supply partners in phases.