The Mekong Tourism Coordinating Office, a collaborative effort between the six countries of Greater Mekong Subregion, is constant taking up initiatives to boost tourism in the region. The Mekong Tourism Forum 2016 hosted recently in Sihanoukville, Cambodia and Mekong Tourism Digital Boot Camp gave the stakeholders a chance to share and invite ideas that will help in the same direction.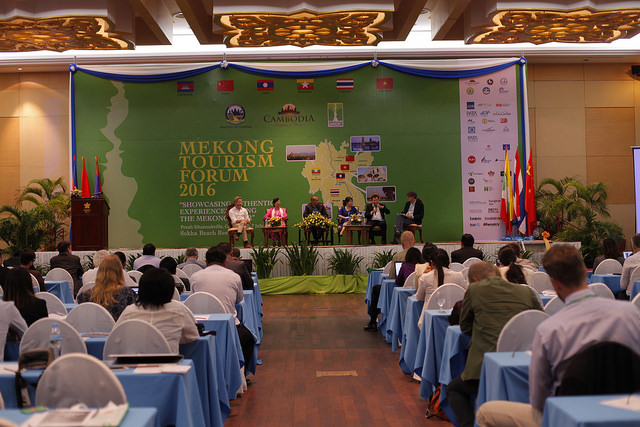 The GMS Tourism Working Group is keen to frame the new GMS Tourism Sector Strategy 2016-2025 and for that, they hosted an open session inviting ideas. The audience, from multiple sectors of the travel and tourism industry over the region, shared suggestions to be considered by the GMS Tourism Working Group. HE Mr. Tith Chantha, Secretary of State, Ministry of Tourism, Cambodia said that the updated tourism sector strategy must be "creative, competitive, innovative, agile, data-based, integrated, equitable and resilient".
He also highlighted the fact that the strategy should not only focus on the development of tourism in the region but should also account for global issues like climate change and human resource development. He said that the strategy will be based on an honest analysis of the rapidly changing economic, environmental, social and technological factors.
"The tourism strategy should also be considered 'open source' endeavour," said Mekong Tourism Coordinating Office Executive Director Jens Thraenhart. "It will draw on the ideas of multiple stakeholders in the region during this year's Mekong Tourism Forum and future events."

He added, "A lot has changed since the implementation of the first 10-year GMS Tourism Sector Strategy, which covered 2005-2015. For example, international tourist arrivals have grown 190% over the decade, from some 20 million in 2005 to 58 million in 2015. Myanmar has opened up and become one of the fastest growing destinations in the world. Visa requirements have been eased, new land and sea connections have been developed, and there are now more air routes linking primary and secondary cities in the GMS."
The Mekong Tourism Forum 2016 also served as a platform for other important discussions about tourism in the region. Sustainable tourism was also a key discussion topic and there were discussions around keeping the carbon footprint low for the hospitality industry while expanding the infrastructure to support more tourist inflow. You can find details on all the other developments and discussions from the Mekong Tourism Forum 2016 here.