Tripoto, the global community for travellers, has launched a new AI based travel concierge called Tripoto.Ai. The service is in beta phase at this moment and it responds to a wide range of queries covering destinations, hotels, activities, getaways and lot more. While the feature has been introduced only a few days back, it responds quite sensibly for most queries.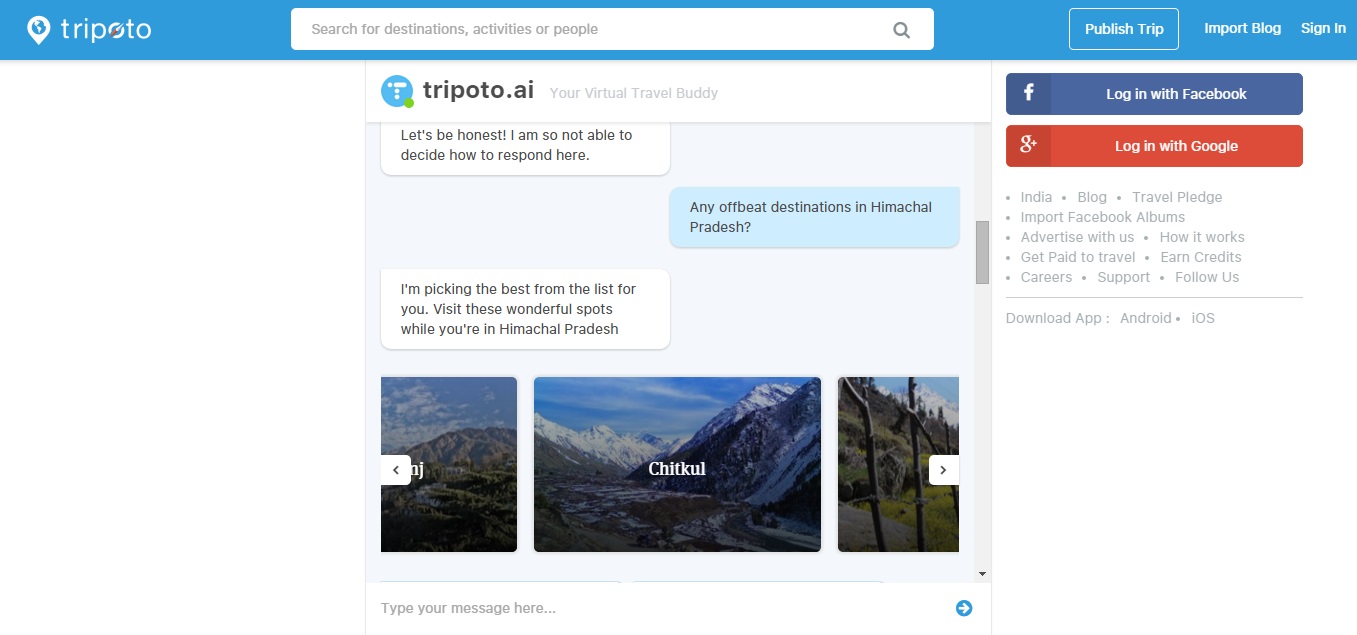 We have recently seen a rise in number of travel companies providing service over chat. We recently learned about Scouterr which provides travel bookings and advice with the help of travel agents available on chat. Hotel giant Marriott International also introduced the feature of chat based room service requests in their mobile app. This trend is particularly catching up because younger travellers are much used to the chat platforms and are very comfortable adopting that.
Tripoto claims that over 5,000 people have already used the new Tripoto.Ai. The system utilises advanced natural language processing with machine learning algorithms. This allows it to self-learn over time from the queries it has received. The content comes from the Tripoto community as well as 3rd party APIs. They claim to have around 250,000 itineraries which provides a good database for the kind of queries Tripoto.Ai could receive over chat.
I tried spending some time trying to put together a travel plan for the long weekend later this month. I managed to get (or the system managed to give) relevant data for all but one query which is pretty impressive for a start. Unlike manually operated chat based services, you don't have to wait for the responses as they come instantaneously. Considering the fact that it is still a beta, we can safely assume that the final version will continue to impress us.
You can try out the new AI based chat concierge at tripoto.com/travel-assistant.
Source: Inc42