Announcing a new carpooling service in Singapore, GrabTaxi – an automated smartphone booking and dispatch platform for the taxi industry – has launched a new feature called GrabHitch in its app. With the help of GrabHitch drivers with extra space in their vehicles will be permitted to pick up passengers going on the same direction.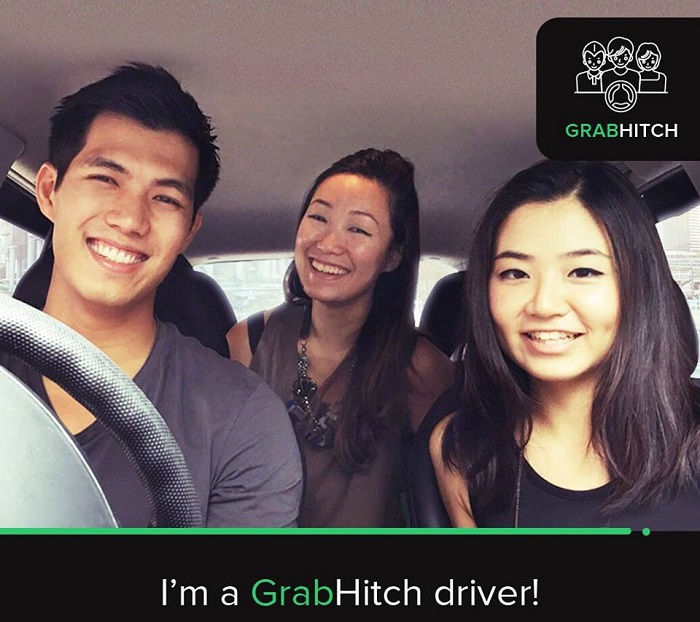 Interested travellers can pre-book a ride seven days in advance and up to 15 minutes before the pickup by simply entering their pickup location and destination. Drivers travelling in the same direction or destination will be notified instantaneously. As per the strict rules and regulations of Singapore, GrabHitch drivers will be permitted only two rides every day and the fares should cover only the variable expenses such as petrol and car depreciation. All fares will be payable by a cashless credit card option called GrabPay available in the app. The fares will be calculated taking into account the distance of the ride. For the convenience of the travellers, the prices charged will be displayed to them even before booking the cabs enabling them to be comfortable with the prices they might end up paying for the rides.
GrabHitch is already available for the beta driver signup phase in Singapore. It started few days back and is supposed to run till 30th November, 2015. The travellers who sign up early will receive exclusive GrabHitch gifts and will be eligible for the lucky draw. GrabHitch will be made launched and made available to all travellers in Singapore by the end of this year.
Tan Hooi Ling, the co-founder of GrabTaxi, quoted:
"GrabHitch hits the sweet spot for people who want a door-to-door transport service, but prefer not to pay a premium above public train or bus fares. We think GrabHitch will attract users of public transit options, which will alleviate the crowds on trains and buses. It is a win-win for both drivers and passengers in terms of costs, and there's an added benefit of meeting new people with similar interests. GrabHitch makes transport more than a transaction – it's now also an enabler to build new relationships."
Elaborating on this development, Anthony Tan, the other co-founder and CEO of GrabTaxi stated:
"With over half a million private cars in Singapore, there is a significant pool of vehicles with extra seats for more passengers. Every car has the potential to play a part in improving Singapore's public transport network and meet the growing demand of rides each day. With GrabHitch, we now offer the most number of complementary transport choices for people using the GrabTaxi app – to give people options at all price points, at all times and for all needs."
They try to match people with common interests to motivate them to use the service. To network with car-sharing community GrabTaxi drivers and passengers will be linked with each other through Facebook. The travellers can go through each others profiles and get to know whether they have mutual friends. The registered drivers are verified at several levels with documents such as driving license, motor vehicle registration and insurance. 'ShareMyRide' feature will allow live-tracking of the ride and the 24-hour customer service hotline will be available for all travellers.
This car-pooling service will be economic for both the drivers and travellers. The company believes that GrabHitch will reduce the travelling expenses of the travellers to almost half the rate when compared with the local taxi fares. Headquartered in Singapore, GrabTaxi operates in 28 cities in six different Southeast Asian countries with 160,000 drivers on its platform. It is available in 6 different languages: English, Vietnamese, Thai, Chinese, Bahasa Malaysia and Bahasa Indonesia.
GrabTaxi app is available on Google Play Store and Apple App Store.
How much do you think GrabTaxi will be able to boost the car-pooling trend in Singapore with GrabHitch?