Nobody likes fluctuating flight fares. You check the fares, wait for a while to discuss the travel plan with your friends and find higher fares by the time you decide to book. FLYR offers a solution in the form of FareKeep. It allows users to lock the ticket price while searching and buy more time before confirming the booking. Amadeus has announced another investment in FLYR and has been working with the startup since its first investment in April 2016.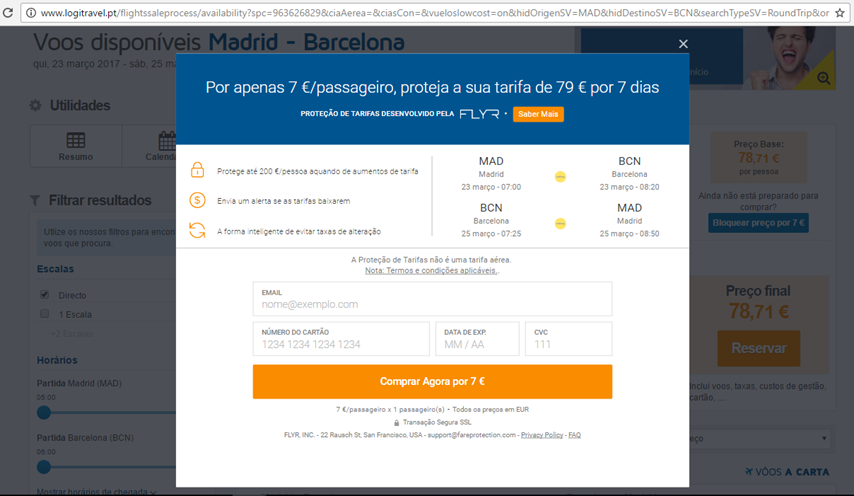 FLYR's FareKeep allows travellers to do just that. While searching for fares through an Online Travel Agency (OTA), metasearch site or airline website, FareKeep gives travellers the option to hold a specific fare and protect it from increases for a small fee. With machine learning and algorithms inspired by the financial services industry, FLYR helps OTAs, metasearch and airline sites to dynamically price the fee for holding a fare based on how likely it is that a price may change.
Logitravel is one of the early adopters of FLYR's technology and has already implemented the FareKeep solution in its platform in Spain and Portugal.
"Our goal is to bring value to our customers by offering them the services that fulfil their needs and make for a better user experience, which helps us build customer loyalty. With FareKeep, we are able to offer more flexibility to travellers and engage with them in new and different ways during the fare lock to bring more value to them and boost the chances of conversion", says Tomeu Bennasar, CEO, Logitravel.
FLYR has found that out of 100 fare locks, up to 30% are converted into a booking, representing a significant opportunity for travel sellers and airlines to increase revenues as well as reduce the cost of finding new customers.
"Simple and consumer-focused shopping experiences are borne from innovative breakthroughs like FareKeep. As an online traveller, being able to lock a given fare reduces uncertainty and buys travellers time to think. For airlines, this ultimately translates into a higher probability of the consumer purchasing the flight with that specific airline, at no extra cost. FareKeep reduces the overall cost of customer acquisition and is a great addition to our offer," says Gianni Pisanello, Strategic Marketing Director, Airline Distribution Marketing.
At the same time, once a traveller has protected a ticket price, the travel seller can open a qualified and ongoing relationship with that traveller, making it more likely that the traveller will go on to complete his or her booking. This, in turn, increases sales generation potential for the airline whose fare has been held by the traveller, without any impact on their inventory.
The first Amadeus investment in FLYR was in April 2016. Since then, Amadeus has worked with FLYR to develop an even better service to customers than before, while supporting FLYR's growth. With Amadeus' partnership, FLYR will also be able to work on new product developments.
"This new investment further validates our strong partnership with Amadeus. We are excited to support different customers' innovation strategies and growth with FareKeep, our fare protection solution, and to benefit from Amadeus' scale and reach to further increase uptake of our products by airlines, OTAs and metasearch sites." says Jean Tripier, CEO, FLYR.
FLYR is already working on two new products. The first is a credit check free split payment solution which could allow travel sellers or providers to offer travellers the option to pay for an airline ticket or hotel room in several instalments. The second is a post-booking price guarantee which promises to refund a traveller if the airfare drops after they have completed a booking.
Some travel booking companies are exploring the option of giving travellers more control over fares they choose. However, most of them either charge flat costs or ask for a specific percentage of ticket cost and dampen the costs incurred over a large pool. FLYR takes a better approach by accounting for multiple variables to calculate the fee rather than adding a flat fee. This makes the fee more suitable for the particular route and travel date combination. This makes it more likely for the travellers to use the FareKeep feature, in turn driving more bookings for OTAs or airlines.
More details about FLYR can be found at flyrlabs.com.