The buzzword on IoT is a hard reality that seems to be finding itself more tangible in the airline industry. SITA published a report that highlighted the IT trends in the airline industry, how they are picking up, what is the future of IoT, and how the airlines would plan to employ them. A number of projects are being invested upon by the airlines such as queue lengths and time to gate, to passengers via mobile apps, and further down the line smartwatches. Roughly about 60% of airlines imagine the cyber security concern to be bigger and be taken as a business risk. Innovative projects are starting to take a larger slice with a particular focus on the mobile market making the apps a go-to technology for self-service, information or customer service.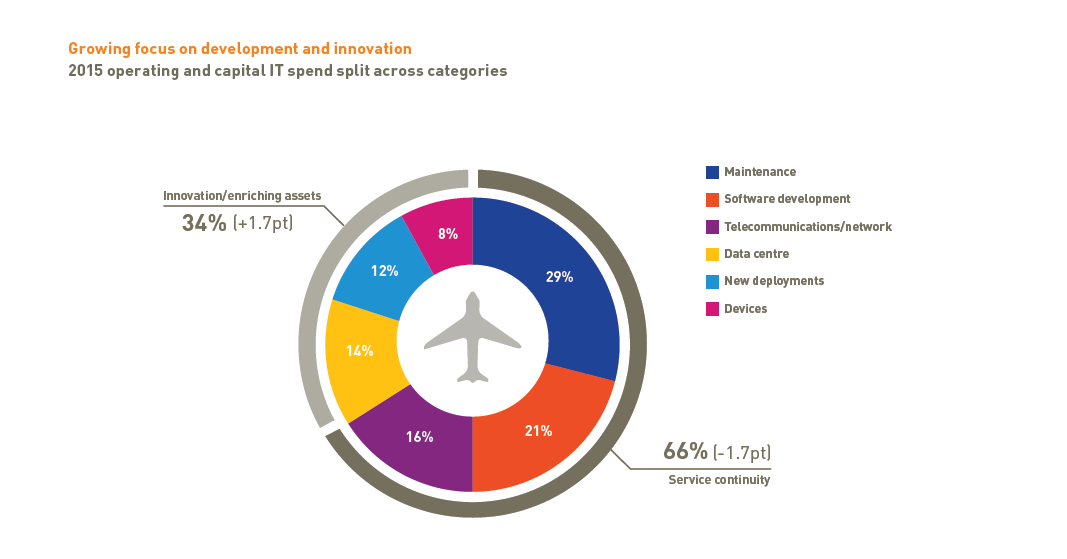 The survey focused on realising that the cyber security is progressing amongst the airline industry with over 200 airlines adopting technologies in coming years to manage cyber risks that have doubled by the last year. Amongst other IoT investments, there has been a growing focus on the maintenance, development and innovation.
This year would see a gradual inclination towards the growing fondness of IoT. The initiative of fuel/ engine monitoring has seen the dawn. IoT connectivity is being deployed with a number of airlines showing interest in IoT gateway technologies like beacons and sensors to provide passenger information has grown sharply. Smart baggage tagging, single travel token and fuel engine monitoring respectively would be evaluated over the next three years.
On the wearable technology front, airlines are still catching up but slowly. Smartwatches and glasses seem to have more potential in the next five years than the present times. Similarly, single biometric travel token is expected to become a viable alternative to current passenger identity processes.
Cyber security has taken the lead in the list of major concerns for CIOs in the present times. More than 70% of airlines have beefed up education and training around cyber security and would be seen as a norm across all airlines in the next three years. Other initiatives that see adoption in the next three years would circle around cyber security's software development, incident response, and intelligence analytics.
Connected aircraft has also seen a rise in demand as they are configured with advanced communication capabilities. The main benefit would be derived majorly from service improvement rather than passengers. Wi-Fi would replace IFE technology and enable connectivity on passenger's own device.
Mobile has been defined as the solution to the conundrum. There has been observed a steady growth of mobile check-in and information services have seen enhancing mobile apps. More airlines are planning location-based smartphone and tablet services.
Also, China has come up as a potential market and the industry trends that engulf the entire nation seem to be scaling with time.
However major challenges that could be faced whilst airlines build momentum for IoT implementation are cost factor with over 53% of airlines cited it as a major concern. For passenger related projects, perceived invasion of passenger privacy was an IoT challenge to some degree.
As IoT has become a daily fair in our lives, airlines definitely don't plan on being left behind. Find crunching numbers in the full report here.