Hong Kong is a popular destination for business travellers as it is the world's leading hub for business, trade and finance. It is a favoured destination among leisure travellers as well. Instead, CNN – an American basic cable and satellite television channel – included this country in '10 most popular cities for travellers in 2015'.
Hong Kong is well-known for its futuristic skyscrapers next to the paradoxically traditional Chinese temples. It has turned ultramodern quite successfully while preserving its cultural heritage. Unsurprisingly, it has embarked on a journey to integrate futuristic technology at innumerable levels from city to individual houses. This is an essential thing to watch for people around the world, especially international travellers.
Hong Kong Science and Technology Parks Corporation – a statutory body dedicated to build a vibrant innovation and technology ecosystem – aims to develop the ultra-modern 'Smart City' by 2050. According to their brochure:
"Smart cities are about smart people doing smart things using human ingenuity to benefit the community and the wider goal."
Keeping this in mind, the decision-makers have focused on various parameters that will contribute to building of 'Smart City':
Transportation
In future, there will be zero dependence on personal cars. People can reach their destinations through the shortest routes by small, pleasant, driverless buses. Such prototypes are already running in few locations, and in future these will be universal. Currently, Hong Kong has a driverless train that takes 7200 people an hour from the main block of airport shops to their departure. By 2050, this might be available on inter-city and trans-continental scales. The use of technology in public vehicles can minimise the hours of waiting at airports by travellers.
Elaborating on personal vehicles, a 'human-machine hybrid personal transport machine' has been developed by a soft-landing company called Zehus. This super-advanced machine i.e. Bike+All-In-One vehicle absorbs power at moments when the rider is coasting and then recycles it when the rider has to peddle up the hill. It's been exhibited at Hong Kong Science Park.
Infrastructure and Smart Homes
Regarding infrastructure, just like the subconscious brain, a smart building will feature inter-connected networks to collect data, run diagnostics and allow remote monitoring by computers or humans. It will also have integrated control structures, so that each system, from lighting to security to fire safety, will 'talk' to each other. These integrations will not only be attractive but more productive, reliable and safer.
Focusing on Smart Homes, Green Peak asserts that home-owners will be able to monitor and control a wide range of useful applications such as improved energy efficiency, access control and security through a mobile application. It will be implemented in 3 phases:
Phase 1: RF-based Remote Control for Set-Top Box and CE, including  internet connectivity
Phase 2: Energy Management will latch on, other applications develop simultaneously
Phase 3: Integrated environmental awareness, safe and secure: The Internet of Things
(Image Credit: www.caringandsharing.info)
For example, Plasma TV at the Smart Home, will be advanced too! The viewers will be able to watch 3-D videos without the need of glasses.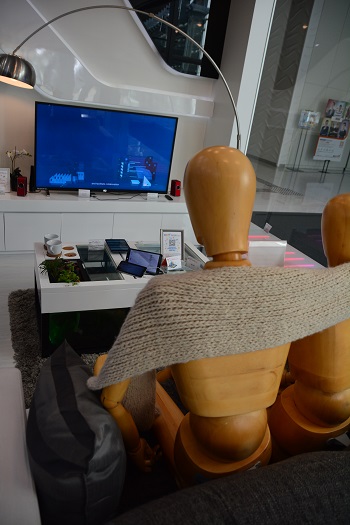 The TravHQ-exclusive photo gallery below will give you a better and wider perspective of the 'Smart Home' environment we are talking about: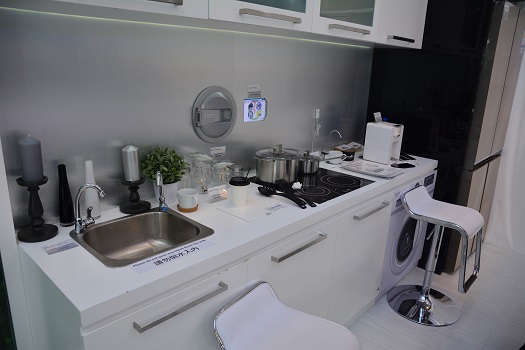 Smart Kitchen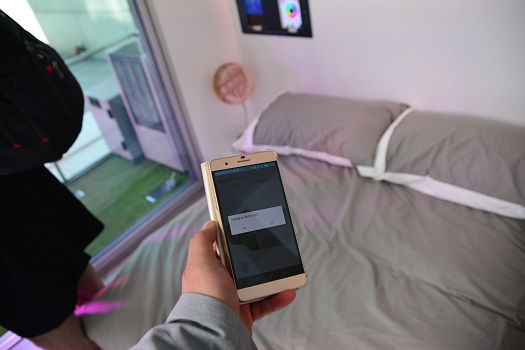 App-enabled bed for your comfort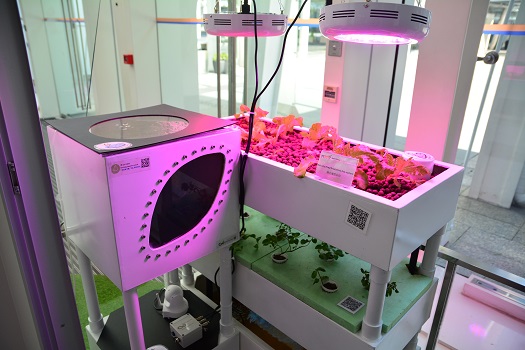 Washing Machine
Taking a small step in the similar direction, few offices are using Algo System, a Wi-Fi connected thermostat made by Science Park company WiSave, which makes continuous, imperceptible adjustments to make sure people feel comfortable in their workplace. Certain offices also use Valta Starter Kit by Liricco Technologies, which analyses the energy usage and manages it.
The developers aim that by 2050 people sitting side-by-side will have personal micro-climates – which will help them execute their work perfectly.
Energy Generation and Storage
Focusing on this aspect, it is predicted that in the near future, off-the-shelf solar panels will be items that can be bent, moulded or even rolled up. Science Park has a set of solar panels which are virtually transparent. This means that they can act as windows which cut the glare coming into the rooms during the day, and simultaneously channel the electricity into the grid. Another product called Skywalk Solar Pavers, already in production by Xammax International at Science Park, absorbs sunlight during the day and provides free lighting at night. QFE has developed batteries that are compact and rechargeable. Interestingly, they can be used as major backup systems in places where the national electricity supply has blackouts.
It is predicted that by 2050 energy will be plentiful, non-polluting and easy to store. Solar power and wind power will replace fossil fuels and natural sunlight will flow through homes and workplaces even on dark and gloomy days.
Health
The developers expect that by 2050, fuelled by scientific inventions, vast majority of medical tests will be done with just no discomfort. They wish to invent a machine that can do accurate blood tests without blood. An interesting invention called 'The Hand of Hope' – a robotic arm guide – has already been developed that retrain patients to re-use their limbs. Novoheart at Science Park is attempting to 'grow' a human heart. It has already assembled the world's first thumb-sized human 'Mini-Heart'.
Also, Science Park hosts sensors for Home Monitoring and Elderly Care from GreenPeak. This system can spot gas leakages and smoke. It even notifies when the elderly individuals living at home need medical help.
If the dream of Smart City is realised by Hong Kong and other countries, it might just be one giant leap for the human race. Travellers who wish to step into the future and explore a futuristic city or home, should visit the Science Park.
(Please Note: We have obtained information above from Hong Kong Science and Technology Parks Corporation)