I haven't jumped off an airplane from 15,000 feet but I have learned from experienced people that there is hardly anything as thrilling. Most people describe it as an out of the world experience which pushes adrenaline beyond limits.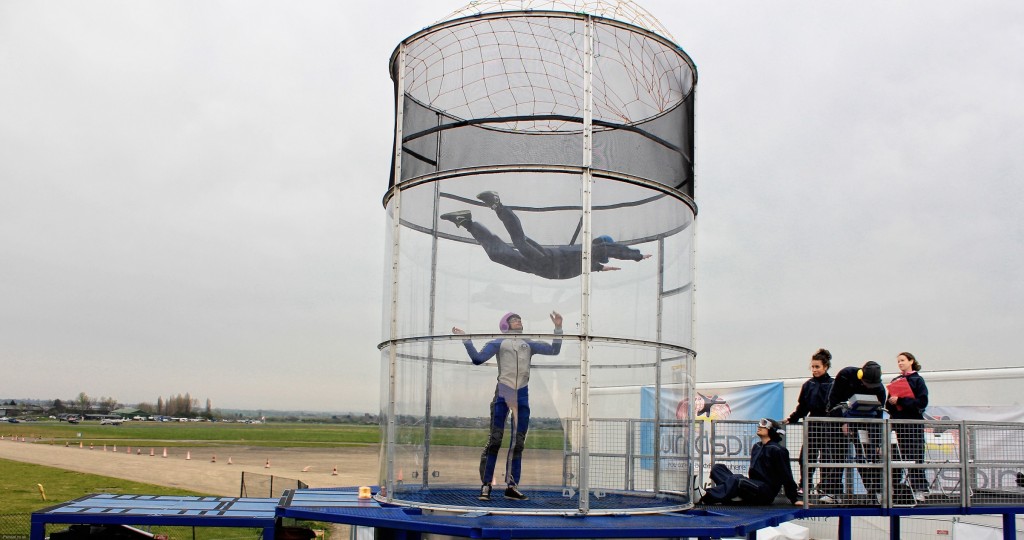 Sadly things have been more against skydiving in India than in favour of the activity. A number of skydiving centres in south India closed down over the past few years as there were issues over regulation and safety. Even when there were options available for people, it was cheaper and safer to fly to Dubai or any other international destination and try skydiving there than do the same in India.
WeFly seems to have a very interesting alternate to these problems. It was started by a dynamic duo, Mr. Amit Patel, who carries over two decades of experience in banking and finance and has multiple businesses across the globe, and Mr. Shailesh Kocharekar who is a professional scuba diver and has been involved in adventure sports for over a decade. We had a chat with Mr. Kocharekar to learn more about WeFly. Here is an excerpt from the conversation:
How did it all start?
While travelling to Dubai on a business tour in 2013. One of my business colleagues had taken me to an Indoor skydiving facility in Mirdif City Centre Mall. We I took my 1st flight with I-fly Dubai. It was an out of this world experience with my adrenaline was pushed beyond the limit. "It's like jumping off an airplane at 15000 feet with no parachute in a 100% safe & secure environment"
Once back in India, I tried to find out more about Skydiving, however realized that due to couple of mishaps, Govt. of India had banned skydiving completely till date.
This ban on skydiving in India came as an opportunity knocking and thus generated the idea of importing indoor skydiving in India and since late 2014, Mr. Patel took the initiative of sourcing equipment, suppliers, machinery, legalities and other aspects related to introducing Aero sports in India.
What is the nature of customers you are getting?
Our users/ customers are widely divided in 4 separate category.
Tourist and Locals – Our prime users are tourist, as the product is unique and is accepted as a tourist attraction by multiple Tourism departments. However we have also initiated to generate employment among locals as the entire project is MOBILE and can be moved from places to places in a span of few days.
Recreational users – People interested in adventure sports, aero sports and high adrenaline sports. Youth and kids who would love to learn to FLY!!
Skydiving Professionals – India has a huge number of skydiving professionals which is growing in numbers every day. However due to the ban on skydiving, they need to travel either to Singapore or Dubai to experience Human body flight OR Free Fall acceleration. We provide professional Level 4 -AFF training in India.
Armed Forces training: Under a protocol for mid-air combat tactics (MACT). Swat and black cats need to undergo a special training, currently only given in USA and Russia. We provide the same service in-house.
What is the early traction?
We have adopted a business plan from the west. Since this business is new to India and we did not want to try too many things at the same time. Our capacity to fly users is up to 500 + users per day. However calculating the traction in early days we expect to fly just 150 users per day. The whole strategy is to choke the supply so the demand never falls.
We have been approached by Bollywood and Tollywood producers for leasing the equipment for shootings of super hero movies.
We have strong commitments from Armed forces for training their Jawans and possible installation of a few machines at their training centres PAN India.
Since we follow a systematic and advance booking policy, we are able to gauge the traction on coming days in advance and take appropriate action, to ensure maximum revenue generation.
Do you see any close competition?
Since we are pioneers in this LOB, as of now we do not see any competition. However considering the fact, that this a million dollar business globally, we will have competitors in the near future. We have sign a bond with our supplier for 3 years, wherein all inquiries from India for indoor skydiving machines will be diverted through Wefly Indoor Skydiving.
The fact that the machine takes 4-6 months for manufacturing (depending on the manufacturer and size of the machine). Wefly will have a head start for over a 1 year until competition arrives in Indian market.
Post arrival of competitor's Wefly has a revised price and geographical strategy to be implemented.
What are your plans for the future?
Franchise: Creating a Franchise model is one of the plan for future. Where in every major city would have a Human body flight experience.
Installation of machinery for armed forces and AMC will be our prime focus
B2B Partnership: We intent to tie up with various skydiving schools and academy in India for training of skydiving professional
Corporates: Team building activities for corporates
International IP – Annually "WORLD INDOOR SKYDIVING CHAMPIONSHIP" is a big intellectual Property and we want to get India on the board.
You can find more details or book with them through their website www.weflyindia.com.