Pieces of scattered data, some photos on Facebook and a few photo prints placed on the living room wall barely tell how amazing one's trip was. Photos and videos often go into a folder on the laptop and people browse through them later, trying to put them together. This is accompanied by some messages like "Hey, what was this place called? *attached photograph* and that is exactly the problem TravelJar is trying to solve.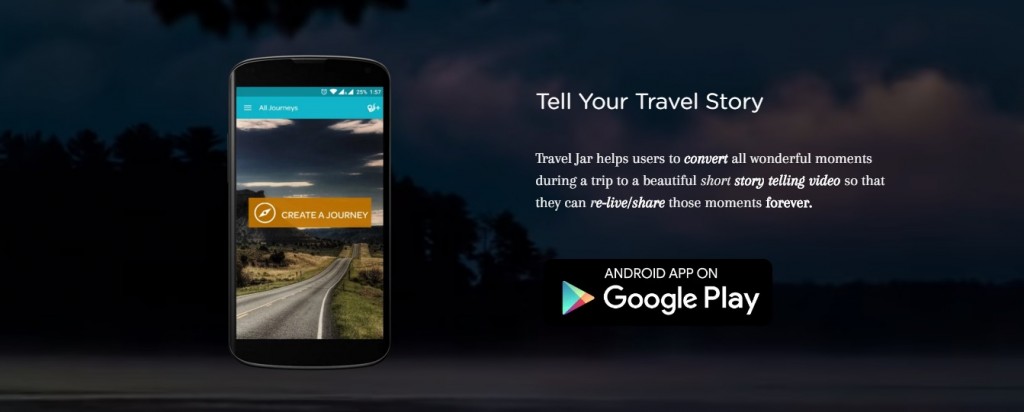 TravelJar helps its users to turn all the memories into a short video that tells the whole story so that they can revisit all the moments whenever they want. Accessible through an app, it can capture photos, videos, audio and location among other things. One can easily include the other people travelling with him/ her and sync up the data to create a collaborative memory of the trip. The video is created automatically by including the relevant bits in the correct order and includes the information synced with the friends travelling with you.
Abhinav Mittal, Founder and CEO of TravelJar and an avid traveller came up with the product out of his own problems trying to recollect his college journeys. Moreover, sharing the real travel experience wasn't easy. Being an innovator at heart, he decided to leverage technology to change this. Before TravelJar, he has held vital positions in two other startups and guided the tech team to successful products.

Abhinav is accompanied by Sachin Jain as CMO and Joginder Tanikella as Business Strategist. After successfully executing marketing strategies and campaigns for various brands, Sachin's goal is to make TravelJar biggest social platform in travel. Joginder has an entrepreneurial mind-set and has previously founded two companies including 'The first meal' which was acquired by Hello Curry for cash plus equity.
Through the TravelJar app, they are targeting travellers of all segments and simplifying the process of recording trips for them. While almost everyone has a decent video camera while travelling, only a fraction of them actually share any videos. The obvious reason being the hassle of post processing. Such people would really find great use of this app.
At this point the app is available for Android devices only however, the team is working on bringing it to iOS App Store very soon. Along with that, they will introduce new themes and templates for travellers to use so that they can add a unique touch to their videos depending on their taste. They also plan to introduce more languages so that they can reach out to non-English speaking regions as well. You can find more details about TravelJar on their website and download the beta app on Play Store.