How many times have you waited at a road junction for the data connection to work again so that you can head back to your hotel? You are lucky if you haven't because this happens often on our side of the globe. We heavily rely on internet connectivity, whether we are travelling to a new place or just getting on with our day to day life. Checking traffic status before setting off for work, calling an Uber, sharing updates on Twitter and what not. While some of these things can wait until we get home to our trusted Wi-Fi connection, others can't. For us, at least that is an option. However, there are many parts of the world where internet is just talked about, not used. Large organisations are trying to address this in one way or the other but extensive plans need extensive infrastructure and lot of time to yield any results. Until we have the kind of infrastructure that will ensure we are never disconnected, a startup is doing something to connect the millions (and us, when our network provider ditches us) and offer a way to provide basic internet services.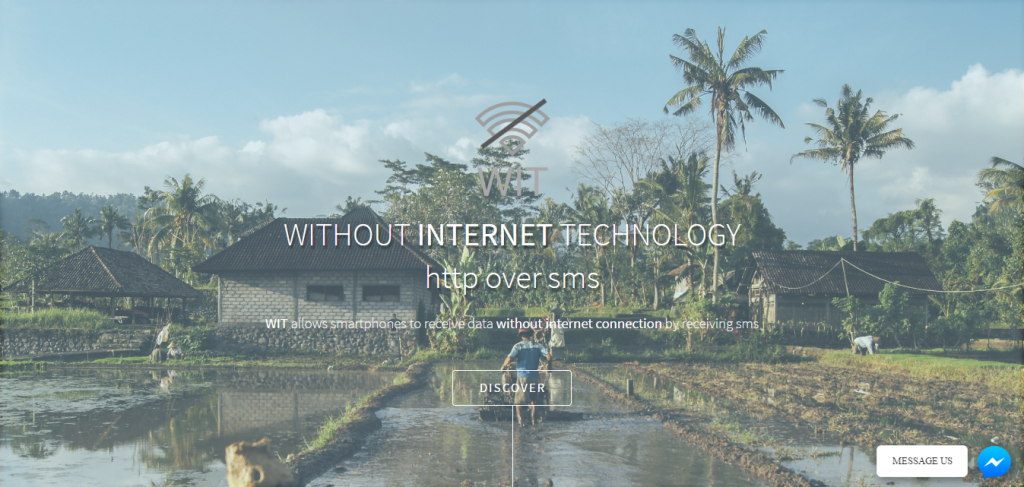 WIT or Without Internet Technology allows smartphones to receive data without the need of an active internet connection. WIT caught our attention while reading about the interesting startups that were a part of TNW Europe Hack Battle. WIT started off as an idea for the Hack Battle but ended up becoming one of those genuinely exciting products you find every once in a while.
Alessio and Davide met earlier this year and were working with two different companies accelerated in Rockstart. The duo soon realised that they have the potential to build something promising together and took a step in that direction with TNW Hack Battle. The concept was validated by numerous Uber and CM Telecom engineers and the demos they built included an app for ordering Uber and for loading a Facebook profile and as you would have guessed, both the jobs were done without internet.
Alessio shares that the prime focus is on making the technology easy to integrate. WIT is being built into a kind of plug and play mobile SDK for developers. Once integrated, the app will automatically recognise when the device isn't able to connect to the internet and the http request will be intercepted and sent to their servers which will proxy the requests and send the data back to the client app. This way, you will be able to get things done that aren't data intensive. It goes without saying that the technology isn't built to load your Instagram feed while you relax at a secluded beach but to get an Uber to take you back from that beach.
The potential is huge. Most of the mobile first services rely on a data connection. Speaking of some potential use cases in travel, Alessio talks about booking Uber without internet, obtaining traffic data for pre-downloaded offline maps or using mobile banking services without internet. Outside of it, there is around 54 percent of global population (even higher fraction in developing countries) which can have some access to information and services rather than being completely disconnected.
While the team didn't give us any names, they revealed that they have just started working with multiple companies from different countries and are also beta testing an offline on demand translator app which will be coming out by September, another interesting use case in travel.
The Chinese have done a great job of bringing smartphones to masses and WIT could serve as a bridge to connect them till the time they all get seamless internet connectivity. You can find more details about WIT on their website. You can check out their Hack Battle pitch here.