Corporate travel has been taking its own sweet time to modernize. While consumer travel has evolved with a demanding customer base, business travel still seems to be stuck with legacy issues. More than 90% of the market is still being served offline via a complex maze of travel desks, travel management companies and corporate travel managers. Multiple email exchanges between the travel desk, the human resources team, and an employee makes travel cumbersome.
Here steps in Insteract Technologies, a cloud-based platform, which offers a transparent and convenient way to buy business travel for SMEs. The Bengaluru-based company, founded in July 2015 by three friends – Anandkumar Chandran, Kiran Balimane, and Balaji Ramakrishnan – offers personalised, relevant, and cost-effective travel options to the business traveller by comparing and sourcing lowest relevant options from the market, as per a traveller's preferences and business rule.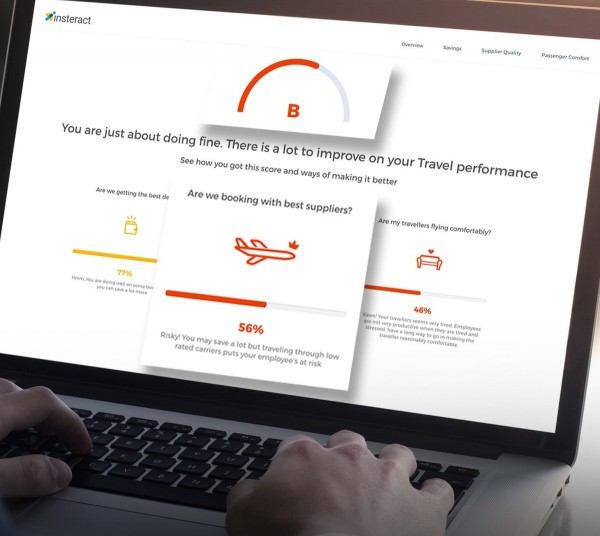 The idea for the business came when the founders were working at Verchaska (Balaji Ramakrishnan's first venture), which was building legacy software, on-premise solutions, for the global travel industry. They quit the company in 2015, and started Insteract. The three co-founders seeded the company with $250,000 and began to build a product that centralises a company's travel data, and provides analytics, benchmarking, and guidance to influence employees to make better travel decisions that save money, and comply with their company's travel policy. The product was launched in January 2016, and went live with 45 corporate customers. Since then, Insteract has acquired 400 clients.
Insteract aims to make travel planning smart and transparent for businesses. The company's 'intelligent travel agent' Hellolosa provides the end user with a real-time cost range produced by data analytics that track fares through real-time benchmarking of market. All options are benchmarked with the lowest logical market fare so customers get a clear picture of what they are buying. Insteract shows the top seven logical options to choose from. It's unique profiling algorithm evaluates each available option through numerous travel parameters that match with the behaviour of traveller with the company policy. Some of the options are exclusive to them and offer the best value.
Price cap and benchmarks are tagged to each trip request and can be viewed at any time by everyone involved in the workflow. The customer can configure workflows based on spend limits and job titles for teams of any size across the company across any locations.
At the core of Insteract lies the aim to improve the effectiveness of travel programmes. Insteract identifies insights into points of friction between a traveller and travel policy and gives recommendations to optimise travel cost. It provides an absolute and relative comparisons between the traveller behaviour and booking patterns so companies can assess where they stand in comparison to industry benchmarks.
Our take –
The party is just getting started in this space. Business travel has immense potential to become automated, more than leisure travel, because it is a more frequent activity. Corporates are finally starting to look for tools that will virtualise their travel desk function. Here, products like the one by Insteract, can deliver and improve on travel services, thanks to AI and machine learning. It will be pretty exciting to see how the company takes this forward by partnering with different elements of the travel industry, and make a dent in the legacy software business as well.