An online presence is a quintessential driving factor in today's world. Travellers feel the need of this attendance more earnestly. With the lack of community Wi-Fi, hopping online seems like an uphill task. Maximum Wi-Fi spots are either for office or personal use, which again leaves the people on the go with lesser choices. The team at Access has a different thought process and has put down a service that allows access to neighbouring Wi-Fi hotspots for a traveller.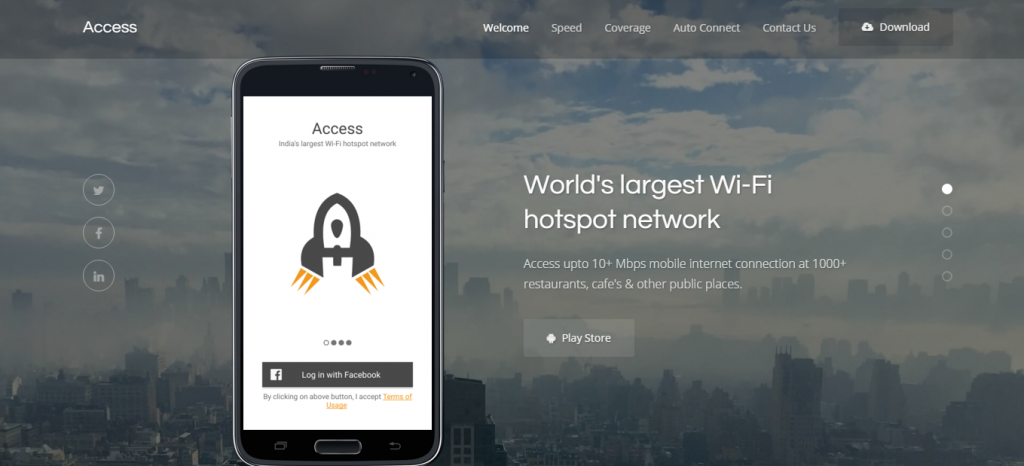 At Access, a wide Wi-Fi hotspot network is established. The app connects to the local Wi-Fi hotspot and gives an access to anyone who wants to use it. The community of Wi-Fi networks is extensive as it includes cafes, public places in the city and across the nation. The Access community allows the user to hop onto their bandwagon of Wi-Fi hotspots from corner to corner in the city without the requirement of a password.
In dialogue with Jaikishan Jalan, founder and CEO of Access:
Any remarks on the state of Wi-Fi networks in India?
There are about 99.2 million broadband users in India according to TRAI data as of March 2015. But most of these are office and home Wi-Fi or for the personal use only. By the end of 2014, India had only 30,000 commercial Wi-Fi hotspots and virtually no community (Public) hotspots. However, with the focus on "Smart Cities" under the vision of our Prime Minister, we expect the Wi-Fi market to go up to 2 million commercial & community hotspots by 2018. However, every Wi-Fi is an individual system, a network of these Wi-Fi is still missing.
Travel + Wi-Fi – Your comments
Travel and Wi-Fi don't go well. Wi-Fi is available usually at home and office, or you may know which of your favourite hangout place or café is nearby, who provides high-speed Wi-Fi. The problem starts when one goes on travel, at a new place or city, even within not so known vicinity one does not know where they can access free high-speed Wi-Fi.
What are the problems travellers face?
A few days back I met a vendor. She wanted to give me an online demo of her product. We both were in a not so familiar city; we had to hop two to three places in search of good high-speed Wi-Fi (Free / chargeable). So if there would be services which can tell me where can I get free Wi-Fi near to me, it would be a great idea and if it's a network, where I even do not need to go through the hassle of passwords and OTP's, I would love it.
Why is connecting to Wi-Fi important in the age of 3G?
Who wants 3G when Wi-Fi is available? 3G is a good to have, when we are commuting, or on the move, but cannot replace or compete with the price, speed and reliability, that Wi-Fi offers. Many a times in an indoor environment, such as café or a hotel room we do not get appreciable signal of 3G, but Wi-Fi works fantastic.
What are the problems you're solving and how it impacts the potential plans for the company?
We are trying to solve a problem, we all face every day when we are out of our Wi-Fi comfort zone at our home or office. Many times we have to rely on a mobile network, which is very unreliable considering location variations. We generally have no clue where can we get a free high-speed Wi-Fi around us, even if it's next lane. We are creating a large network of existing Wi-Fi across the city, in collaboration with local business owners, who already either have Wi-Fi for their personal office use or provide Wi-Fi (protected) for their customers. It will provide seamless, secure connectivity across the networked Wi-Fi without the hassle of passwords and OTP's.
We are working towards making the whole earth a massive Wi-Fi network. Furthermore, we dream of no dependency on mobile networks at all not even for calling by leveraging this network.
Access was founded by Jaikishan and Viraat who have more than 7 years of experience in technology space. Jaikishan has in his kitty some companies like Google, Microsoft and has a thorough knowledge in creating scalable software products for consumers. Viraat has over 9 years of experience in signal processing and built a company straight out of college. Both know each other for more than 14 years from IIT Dhanbad where they started their graduation in 2002.
Exclusive Access Traveller Program
Access has announced to support full-time travellers. They are offering to cater 5 full-time travellers by sponsoring them with INR 5000 per month for 6 months. In return Access requires them to share 30 Wi-Fi hotspots per month through Access platform. To learn more about enrollment details, visit here.
Download the app here.