Rich content plays a very important role in driving business in our industry. At the planning stage, it inspires you to travel and that is why most of the travel brands tell stories in different ways using a variety of platforms. A large volume of this inspirational content comes from travel writers, photographers and social media savvy travel professionals. TBEX is the world's largest gathering of travel bloggers, social influencers and industry professionals. It offers an opportunity for them to learn, network and explore new possibilities.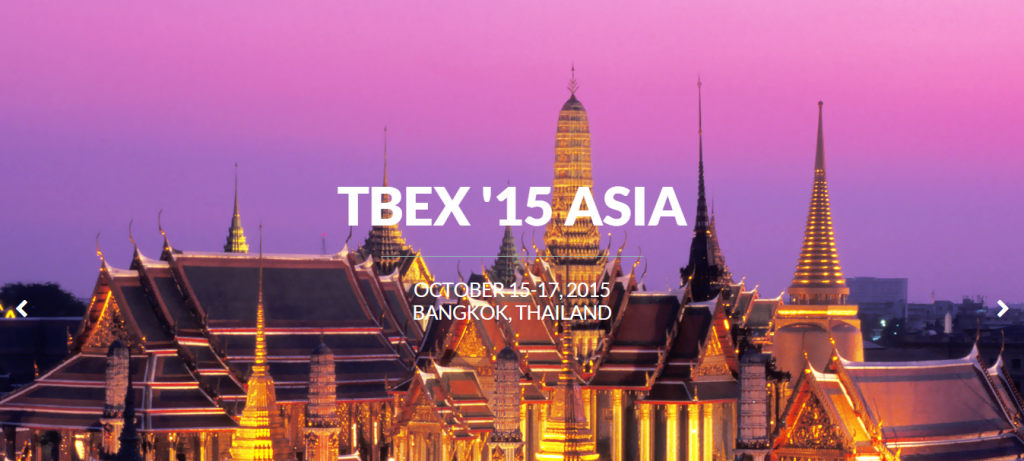 TBEX Asia 2015 will be held from 15-17 October 2015 at the Queen Sirikit National Convention Centre in Bangkok. Over 600 travel writers are expected to attend this edition of TBEX Asia with almost 30 percent of them from Europe. There will be a plethora of activities during the event including sessions around various topics. Here are some of the interesting sessions you cant afford to miss at this year's event.
#1. 'Writing workshop' by Don George
Being termed as the most influential travel writer and editor of his generation, there can't be a better individual to give you some tips on how to write great stories than Don George. He will be hosting a Writing Workshop on the opening day which will attract a lot of attention from the travel bloggers and content creators at the event.
#2. 'Dare to be Different' by Evo Terra
Mediocrity is a curse and in the age of mobile and internet when it is very easy for anyone to set up a blog and start writing, you can't afford to be ordinary. Evo Terra, along with his wife, sold everything to lead a full time travel life. With his experience of telling stories through 'The Opportunistic Travelers', he will tell you how not to blog like everyone else.
#3. 'Everything You Know About Millennials Is Wrong' by Matt Ridings
With the increasing number of millennial travellers, most travel brands, from hotels to tour providers, are trying to tailor products to suit them. But are they doing it right? In his session, Matt Ridings will try to clear out some misconceptions brands have about the millennial travellers.
#4. 'The Buying Decision:  How Travelers Consume & Use Information' by Sara Meaney
While sending out the marketing message, it is very important for travel brands to understand how the consumers receive it and make their decision. Sara Meaney comes with strong experience as a tourism marketing professional and will share insights for travel brands on how travellers consume the information they are served with.
#5. 'How DMCs and Tourist Boards Can Creative Successful Blogger Trips' by Michael Collins
Destinations often join hands with travel bloggers so that they can reach out to wider audience and promote the destination among the bloggers' community. Michael Collins will share some pointers for DMCs so that they can make the most out of the blogger associations to promote the destination.
The travel blogging scene is very different in India and other Asian countries as compared to Europe or Americas. Avid travellers and experienced bloggers Mariellen Ward, Jade Johnston & Maggie Wu will talk about, the state of travel blogging in Asia, new trends that are emerging and might also share some success secrets.
There will be many other interesting sessions during the 3 days event that will help bloggers and travel brands make the most out of their resources. Along with that, there will be Pre and Post-BEX tours for the attendees so that they can experience the local culture in the best possible manner. You can check the TBEX Asia website for complete schedule and keep a track of all the activities from the event by following #TBEXAsia on Twitter.
TBEX Asia 2015 is being supported by the Tourism Authority of Thailand (TAT), the Thailand Convention and Exhibition Bureau (TCEB), and the Bangkok Metropolitan Administration. It is also supported by some major players in the industry like Thai Airways and Skyscanner signifying the importance of travel blogging for the industry. The airline partner Thai Airways has been running special discounts for people coming to Thailand for the event. It will give a much needed boost to tourism in Thailand which got hit after the recent bombing attacks. The TBEX Asia will again promote Thailand as the amazing tourist destination it is.