The travellers in our hemisphere of the globe are more demanding in nature. They have the expectations set high and don't settle for anything less than the best value but the markets have a huge scale which means there is plenty of room for brands to grow. Growing internet connected population and changing behaviour of travellers further expand the window. The upcoming BITM 2017 offers a chance for travel brands to tap into the opportunities emerging in the region.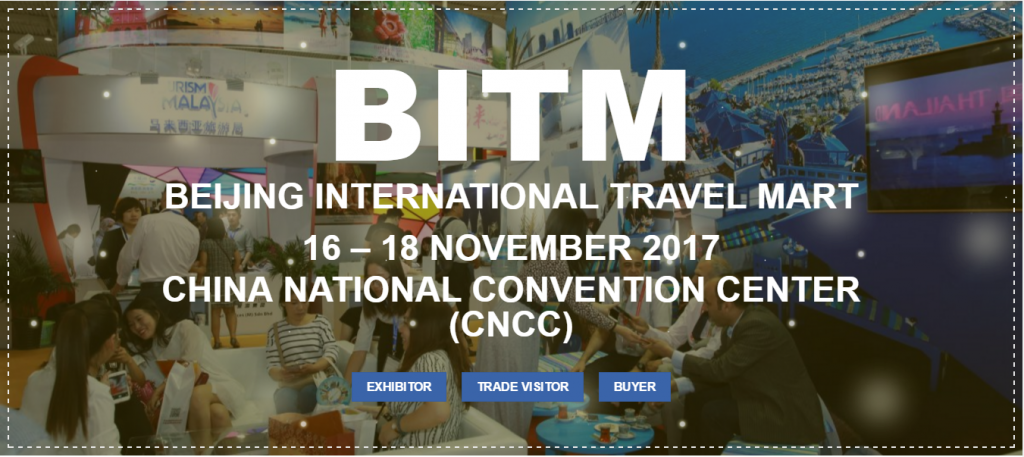 The Beijing International Travel Mart (BITM) is inaugurated by the Conference & Exhibition Management Services Pte Ltd (CEMS) in 2017. It is designed to give exhibitors the extra mileage in the dynamic and ever-growing Chinese tourism market. Here is why we think it can be a fruitful opportunity that you shouldn't miss:
Global participation
While the event is hosted in China, it attracts exhibitors and attendees from all around the globe. BITM 2017 is expected to host travel industry stakeholders coming in from 60 countries. This not only offers an opportunity to network and explore business prospects but also to better understand global markets.
Mix of industry stakeholders
The event will see participation from brands and individuals from different domains in travel. From Airlines, Hotels and activity providers to technology providers and payment companies. This further expands the possibilities of exploring synergies horizontally.
Domestic opportunity
The Chinese market itself represents a massive opportunity and with the right set of local partners having good understanding of local market, it can be a huge growth area. China's travel market is on its way to have spending of USD 422 billion by 2020 and every travel brand wants a piece of it. Among the domestic buyers, close to half have interest in Asian countries as destinations. Beijing, the city hosting BITM 2017, is also one of the top origin markets for outbound travellers.
Insightful discussions
Not only will the event host thousands of business discussions under a roof but also add further value with insightful content. This will be through panel discussions by domain experts from all over the world to deliver actionable insights and a peek into how travel trends vary across geographies. Bespoke travel is a fast emerging trend in China and the discussions will also put light on how to meet the expectations of Chinese travellers while building for scale.
BITM 2017 is scheduled to be held from November 16-18, 2017 at China National Convention Center in Beijing. You can find more details and registration options here.