Good design is not just about building a beautiful interface but rather a language. It needs to communicate well with the consumers and should be simple enough for them to understand. As the competition intensifies in online travel space, the brands are doing all they can to offer the best experience to their customers and their partners.
At the recently concluded Phocuswright India, Arthur Chapin, Senior Vice President, Global Product and Design at Expedia took the stage and shared details of the experiments that are always ongoing to build a great product. While it might not be possible for young startups to actually employ many of the technologies they put to use, it is certainly good to observe and learn from what Expedia is doing and use the learnings to build a better product. Here are some highlights from the keynote:
Observe your users
The team at Expedia spends time with both partners and consumers to observe their behaviour. Not only do they try to understand how the partners and consumers are using their own product but also many other products during the course of their day. This would help in building better products that complement the lifestyle while also offering cues about their preferences.
Ask the right questions
Arthur shared that is very important to ask the right questions to get meaningful inputs. You shouldn't ask what features your customers would like. Instead you should ask about the problems they are facing. Expedia has a research team all over the globe comprising of behavioural and psychology experts who talk to a lot of people to get crucial inputs for the product.
"It is never the feature they ask for. It's the problem that they are turning into a feature that they think will help solve."
Don't consult your friends
During his keynote, Arthur stressed on the fact that building a product for the whole world requires inputs from a diverse group. You shouldn't just rely on talking to your friends. They might have needs similar to you and won't be the right people to provide inputs on your idea (and your friends love you, don't they). The researchers at Expedia talk to over 5800 partners and 10,000 users every year to build a better product that the users don't just use but love to use. The research team also leverages Facial Electromyography to gauge how people feel while using their products.
Invest less, learn more
The Expedia team, with the help of various technologies, identifies problems faced by users. Soon after that, they are quick to jump on potential solutions with different ideas. Arthur shared that the goal is to test very quickly if they are starting to solve the problem. His advice is to change one thing at a time and try out your solution with the least amount of investment to see if there is an improvement. Once you see smoke, try to evolve from there.
Neutrals don't get you anywhere
One of the most important points he highlighted was that building a great product should involve only winning and losing. As you deal with problems one at a time, you should either win or lose to learn something new. Neutrals don't get you anywhere as you don't learn from them. It is a wasted opportunity. According to him, this practice is followed religiously at Expedia and allows them to make new meaningful additions almost everyday.
Don't build MVP targeting final product
He pointed out that at times, entrepreneurs have the wrong idea of how to go on about building a minimum viable product. The objective should be to solve a problem, not to have a final product as initially imagined.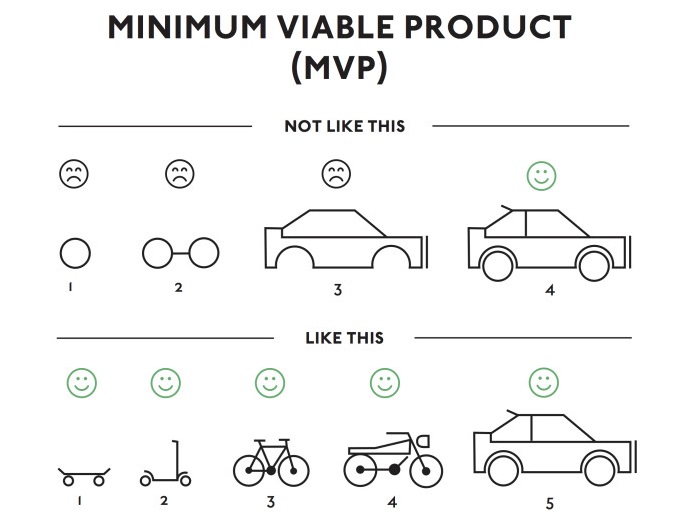 "Don't build a wheel if you want to build a car. Look at the problem it is solving, which is getting from A to B. A wheel won't solve that. It is just a part of the solution and the right MVP would be a skateboard."
He further added that it is hard to know what the final product is going to be in future which makes it even more important to not build with that in mind and instead focus on building a real solution.
We will be bringing highlights of more keynotes and discussions from Phocuswright India 2017 over the next few days. Subscribe to our newsletter below to have them delivered to your inbox.