If travel is your religion, then you will surely know the tricks of travelling smart and light! Whether you know how to pack everything in a backpack or how not to forget your chargers in hotels, a large number of travellers can find good use of your tricks. Focusing on this essential aspect of travel, Lonely Planet India and Opera came up with an interesting contest called '#TravelJugaad'.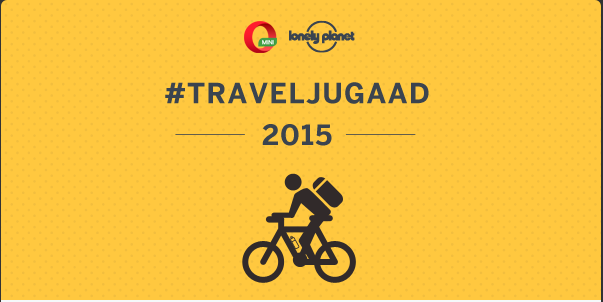 This contest started on 4th November and will continue till 24th November, 2015. As the name suggests, travellers will have to share their travel jugaads or quirky travel hacks they have discovered to take part in the contest.
Talking about this campaign, Mr. Sesh Seshadri, Director of Lonely Planet India, said, "Lonely Planet in association with Opera Mini has commenced an interesting contest for travellers and photographers titled "Travel Jugaad". Travellers are more and more digitally engaged and this contest encourages them to share their best travel hacks or jugaads, write about them and share pictures. It is our endeavour at Lonely Planet  to continuously engage with travellers via innovative online campaigns. We are very hopeful to achieve higher engagement and success."
People love to tell stories and share their experiences when they travel but internet connectivity is a challenge. This is where Opera comes in. Opera Mini can be an interesting travel hack as it optimises data use and through the contest, they are getting people to talk about all the tools and tricks for travel.
Commenting on the objective of this campaign and the association with Lonely Planet India, Mrunmaiy Abroal, Director of Communications – South Asia, Opera Software, said, "The #TravelJugaad campaign is a fun way of learning about hacks that can help travelers make the most out of their journeys. Staying connected when on the go or sharing holiday pictures with friends on social media has become as important as enjoying every minute of your travel. That's where the Opera Mini browser fits in. We call it 'the perfect jugaad to go online' because it shrinks web pages to as little as 1/10 of their original – leading to faster browsing, saving precious mobile data and helping you to stay connected even in the remotest location.

Lonely Planet India was an obvious choice for us to conduct this innovative jugaads campaign and reach out to travel enthusiasts in the country. By the end of it, I'm sure that we all will benefit from the travel jugaads submitted by participants."
Participating in #TravelJugaad contest is quite simple. The participants have to enter their details on the contest website and share the description or/and image of their travel jugaads. To earn more points they can vote for the best #TravelJugaad, submit their #TravelJugaad Facebook photos, sign up for Lonely Planet newsletter and retweet @OperaIndia on Twitter. For more details of this contest, check out this webpage.
They have already received a good number of entries.
The winners will be selected by judges from Lonely Planet who will review all the eligible entries. The entries will be judged on the creativity, quality & relevance of the description and included media.
The prizes: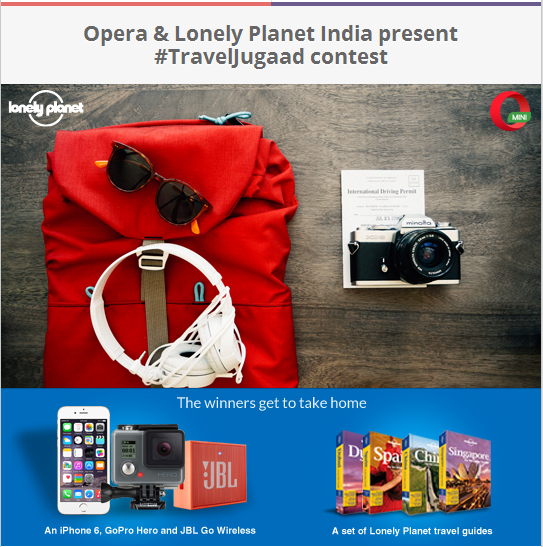 To read about the terms and conditions of the #TravelJugaad contest click here.
For all pro-travellers, #TravelJugaad is an ideal platform to share their travel hacks with rest of the community. While participants will get rewarded for their jugaads, it will be great to see a curation of some of the top travel jugaads. So if you do have a jugaad to share, give this contest a shot.