Vistara, India's finest full service carrier, has launched 'Vistara Hackathon', the country's largest of its kind in aviation. The 'Vistara Hackathon' is aimed at encouraging the young minds and draw participation from across the country to create innovative solutions that will disrupt the industry in line with the airline's vision of transforming the flying experience for travellers in India. The all-India 'Vistara Hackathon' will be held in Delhi/NCR and Bengaluru from October 7, 2017 to October 8, 2017, the registration for which is open until September 25, 2017.
Organised in partnership with IncubateIND, the 'Vistara Hackathon' will involve 20 teams from each city that will compete with each other to create new applications and tools to address aviation-related challenges in areas such as, tracking traveller behaviour, personalisation of air travel, intelligent crowd monitoring at airports, system integration with third-party APIs and software, inflight entertainment and intelligent customer targeting, amongst other challenging aspects. The solutions submitted at the 'Vistara Hackathon' will be reviewed by a panel of technology and aviation experts who will hand-pick winners, based on originality, potential for scalability and successful execution.
Mr. Phee Teik Yeoh, CEO, Vistara, said, "At Vistara, innovation is at the forefront of everything we do, from design to delivery of our products and service, and in so doing, delighting our customers. Information Technology is our backbone, which helps us stay ahead of the curve and do the right things at the right time and in the most effective way. The 'Vistara Hackathon' is a reflection of our innovative approach to leverage on technology in our effort to change the way people travel in India, and therefore, bring them the 'new feeling of flying' with Vistara."

Elaborating the airline's focus on technology, Mr. Ravinder Pal Singh, Chief Information & Innovation Officer, Vistara, said, "Vistara is the first Indian airline to have built an end-to-end IT infrastructure on Cloud. We're adopting the latest technologies to drive innovation across avenues – from maximising convenience for travellers across customer touchpoints to simplifying internal processes that lead to increased productivity and cost-saving. Technology will help bring about disruptive changes in the aviation industry, some of which we hope to discover at the 'Vistara Hackathon'."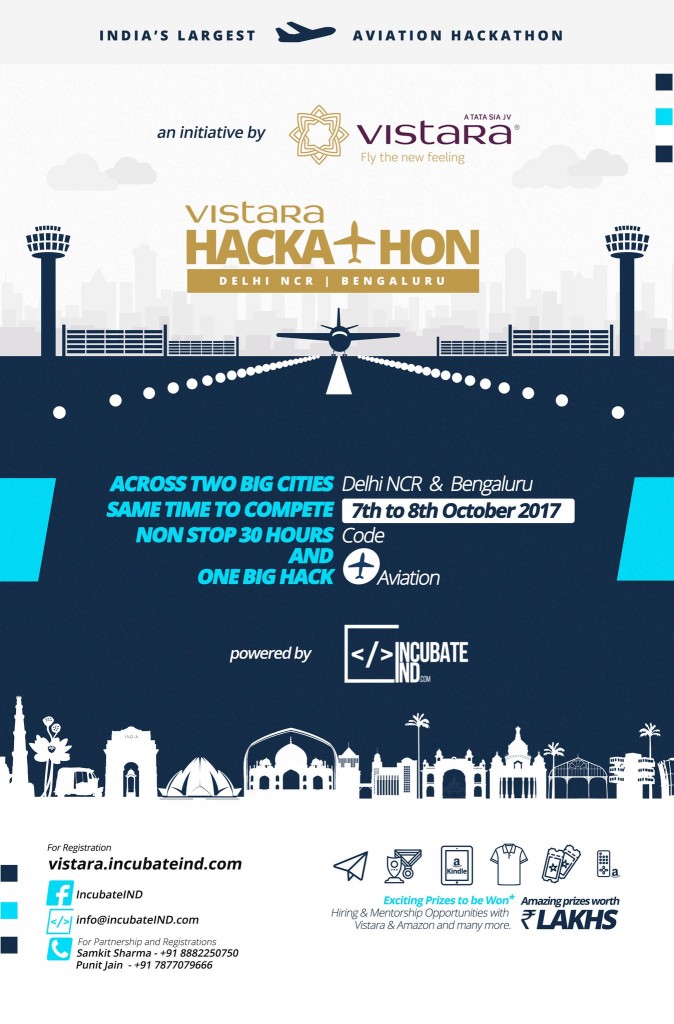 Vistara continues to invest in cutting-edge business software, mobility, Internet of Things (IoT), machine learning, big-data impacting and improving people & quality of its workplace – all with the purpose of delivering an unmatched experience across all touchpoints as well as to optimize processes and operations. In a short span of less than three years, Vistara has developed a robust technological framework to support its growth and to ensure a seamless experience for millions of travellers.